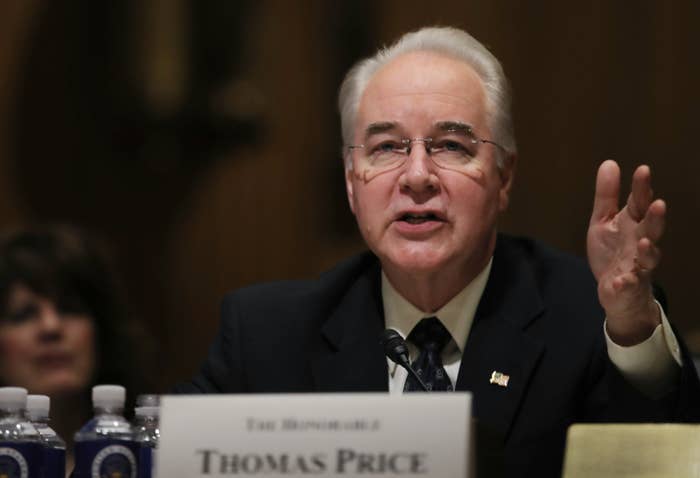 WASHINGTON — Democrats boycotted a committee vote on two of President Donald Trump's cabinet nominees for a second day on Wednesday morning, in an attempt to delay the nominations of Rep. Tom Price and Steven Mnuchin. But Republicans, fed up after two days of sitting in a half-empty hearing room, moved to change committee rules and passed both nominations on their own, sending them to the Senate floor for a final vote.

Senate Finance Committee Orrin Hatch's move to bypass a full committee vote including members of both parties is unusual, though he argued Wednesday that Tuesday's boycott was unusual as well.
"We took some unprecedented actions today due to the unprecedented obstruction on the part of our colleagues," Hatch said. "As I noted earlier, the Senate Finance Committee has traditionally been able to function in even the most divisive political environments. That all changed yesterday."
Democrats object to both Price's nomination to head the Department of Health and Human Services and Mnuchin's nomination for Secretary of the Treasury, but with just 51 votes now needed to pass them on the floor of the Senate (where Republicans control 52 votes), both are likely to pass anyway.
Still, Democrats boycotted both hearings on Tuesday and Wednesday in an attempt to slow down the nominations, hoping to get at least two Republicans to change their minds on Price and Mnuchin.
Sen. Ron Wyden, the leading Democrat on the Senate Finance Committee, has lead the charge, raising questions about whether Price used legislation to benefit financially from his shares in healthcare companies and whether Mnuchin lied in written testimony to senators about the foreclosure practices conducted by a mortgage lender when he was CEO.
Hatch's move to push the nominees through committee comes after Senate Democrats on the committee wrote a letter to Hatch Wednesday morning, asking for Price and Mnuchin to answers those questions.

"Finance Republicans just broke their own rules to jam Pres. Trump's nominees for HHS & Treasury through despite concerning new information," Sen. Maria Cantwell said in a tweet after the vote.
Hatch said Wednesday that part of his justification for moving forward with both nominees is the need for the Trump administration to have both a Treasury Secretary and a HHS Secretary in place, as the party works to repeal and replace Obamacare. "[This is] the longest transition period without a confirmed treasury secretary in our nation's history," Hatch said.
The Senate will vote on final confirmation for secretary of state nominee Rex Tillerson Wednesday afternoon. Votes on Price and Mnuchin could come later this week.