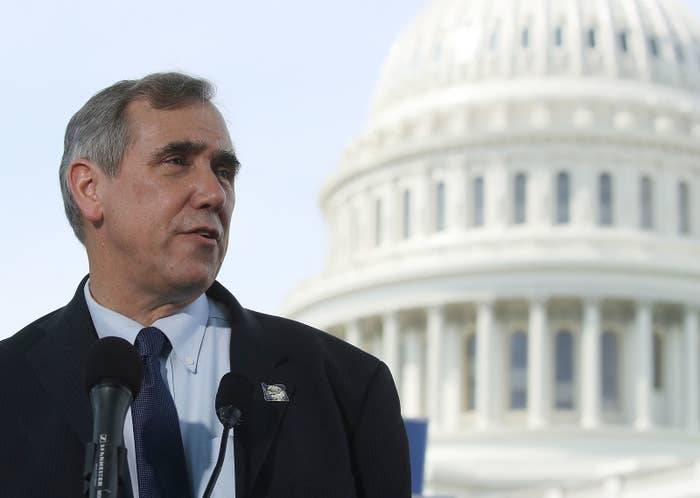 Oregon Sen. Jeff Merkley, a Democrat who has been mentioned as a possible 2020 presidential contender, warned members of his party Thursday not to "get distracted" by arguing over whether the Democratic National Committee stacked the deck in favor of Hillary Clinton over Bernie Sanders in 2016 — a fight that was reopened by former DNC chair Donna Brazile's new book last week.
"If we get distracted by fighting the battle of the last election, we're going to lose the next election," Merkley said on BuzzFeed's Twitter morning show AM to DM Thursday. "And the issues are too important."

Merkley added, however, that Democrats must ensure that their primary process is fair to all candidates, amid speculation that he may become one himself. "We have to make sure the DNC is an absolutely level playing field for the future. That's the fight we need to make sure we have going forward so that everyone has a chance to weigh in and make sure that the Democratic primaries aren't again biased in any kind of way."
Asked directly if he plans to join the Democratic primary campaign in 2020, Merkley chuckled, but didn't deny his interest. "You know, right now I think every Democrat in America knows that they could do a much better job than the incumbent," he said.
Merkley, a progressive, was the only senator to endorse Sanders' 2016 campaign and has been rumored to be mulling a presidential bid of his own, should the 76-year-old decide not to run again in 2020.
Asked if Sanders should step aside and allow a younger generation to run in the next Democratic primary, however, Merkley gave an emphatic no. "No. Not at all, not at all. He's vibrant, he's capable, he's determined and he'll make his own choices down the road," he said.
Even if Sanders takes a pass on 2020, Merkley would likely face serious competition to take up the progressive mantle in a Democratic primary. Sens. Elizabeth Warren, Sherrod Brown, Al Franken and others have all been mentioned as potential 2020 candidates.
Merkley was also highly critical of President Donald Trump during Thursday's AM to DM appearance. When asked if he agrees with some of his colleagues in the House that the president may be mentally ill, Merkley said he wasn't "equipped to make that judgement." But, he added: "He has the emotional brain of a five-year-old wrapped by a massive ego."
"Everything he's done since [he took office] has shown that he's incapable of absorbing information on complex topics, he's unable to carry on an adult conversation wrestling with he issues before us, and the way he tweets and everything else he does — he really is trapped in childhood," Merkley said. "And the world knows it and we've lost an enormous amount of leadership and respect as a result on issues that are very important to the United States."