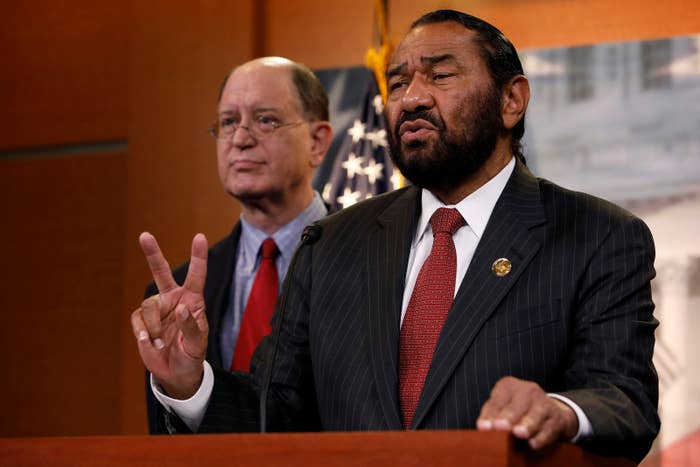 Nearly 60 Democrats voted to advance a resolution to impeach President Donald Trump on Wednesday after Democratic Rep. Al Green forced a vote in the House on the issue.
The impeachment resolution fell far short of passing, but Wednesday's vote gave 58 Democrats, many for the first time, the opportunity to publicly indicate their support for removing Trump from office. Four Democrats — Reps. Terri Sewell, Carol Shea-Porter, Joaquin Castro, and Marc Veasey — voted present.
Green has been actively pushing for Trump's impeachment since May, worrying many Democrats, including House Democratic leadership, who took the unusual step of putting out a joint statement opposing their own member's resolution on Wednesday. Democrats have urged members to wait on Congress and special counsel Robert Mueller to finish their investigations before taking such a drastic step.
Green used what's called a privileged resolution to bring up his bill filing articles of impeachment, which allows him to force a vote in the House within two days without having to get agreement from House Speaker Paul Ryan first.
Green didn't quite get his wish, however. At Republicans' direction, the House instead voted on a "motion to table" his resolution — essentially killing it with the support of 364 members, including two-thirds of Democrats in the House. While that meant that Green ultimately didn't get a straight up-or-down vote on impeachment, the vote forced members of both parties to go on the record about removing Trump from office.
In their joint statement Wednesday, House Minority Leader Nancy Pelosi and Democratic Whip Steny Hoyer said they agreed that Trump has "made statements and taken actions that are beyond the pale for most Americans." But they argued that the party needs to focus on preventing Republicans from passing their tax reform bill and allow investigators looking into possible collusion with Russia to continue their work.
"Now is not the time to consider articles of impeachment," Pelosi and Hoyer said in the statement.
Despite their statement, nearly one-third of House Democrats voted with Green to keep his impeachment resolution alive on Wednesday. "I was a little surprised by that," Washington Rep. Pramila Jayapal said, of how many of her colleagues joined her in supporting Green's resolution. "I think it reflects on the seriousness of how people feel."
Rep. Al Green, wearing an American flag tie, told reporters Wednesday he hadn't been sure how the vote would turn out either. "Going into it, I was sure of one thing: I had one vote," he said. "I didn't lobby anybody, I didn't ask anybody, but I'm grateful to those who did vote with the Constitution."
Green has threatened to force a vote on impeachment before, but was apparently convinced to stand down. This time, Green told colleagues in a letter Tuesday and on the House floor that he wouldn't wait any longer. "I refuse to sit on the sidelines while the world is considering one of the great issues of our time," he said.

"This is not about Democrats, it is about democracy. It is not about Republicans, it is about the fate of our Republic," Green wrote to colleagues Tuesday. "May everyone vote their conscience knowing that history will judge us all."
Democratic leadership, as well as rank-and-file members, have urged members like Green to hold off on impeachment talk to avoid the appearance of looking soft on the president. Many Democrats believe that impeachment should only come after investigators have uncovered solid evidence of wrongdoing by Trump and his team and want to give them time to do so. Pushing for impeachment now, they argue, will undermine their own credibility, especially if Mueller uncovers serious evidence later on.
Massachusetts Rep. Seth Moulton, who may challenge fellow Democratic Sen. Ed Markey in 2020, said Wednesday that he agreed that the timing of Green's resolution was off and that it could be politically problematic. But he voted with Green to keep the resolution alive anyway.
"I voted against tabling the impeachment resolution because I believe the charges are legitimate and deserve a hearing," Moulton said in a statement. "The timing of this resolution is poor; the legal argument could be stronger; and politically, advancing this now is inopportune. But when we vote, we should first and foremost consider the substance of the legislation, and here I agree with it."
Green emphasized repeatedly in his "dear colleague" letter Tuesday that Trump does not have to be guilty of a crime in order for Congress to impeach him. His resolution included two articles of impeachment, calling on Congress to try the president over "associating the presidency with white nationalism, neo-Nazism, and hate" and "inciting hatred and hostility" — a section which references Trump's travel ban, his transgender military service ban, his statements about the NFL, and other actions Trump has taken in office.
Florida Rep. Frederica Wilson said she was surprised to see herself mentioned in Green's articles of impeachment, which explicitly cite three times that Trump called Wilson "wacky" on Twitter. (The tweets were part of a long standoff between Wilson and the Trump administration).
"It was surreal. I didn't know my name was going to be included, and I was surprised to see it included," Wilson told reporters. "But I do want to be on the right side of history, and I think I will be."
Green told reporters after Wednesday's vote he is working on an additional article of impeachment as well.

Green would have needed a simple majority of members to support the resolution, which was not going to happen Wednesday. Republicans control the House and no member of the president's party has suggested that Congress should remove Trump from office.
Just a handful of Democrats in Congress have previously called for Trump's impeachment, while the vast majority of the party has said it is too soon to make that call and have avoided the issue at all costs. A spokesperson for Minority Leader Nancy Pelosi did not immediately respond to a request for comment.
Green was the first member of Congress to explicitly call for Trump's impeachment, but then focused on the president's decision to fire former FBI Director James Comey.
Lissandra Villa contributed to this story.
UPDATE
This story has been updated to include a statement from Democratic leaders Nancy Pelosi and Steny Hoyer, as well as Green's introduction of the impeachment resolution on the House floor Wednesday.
UPDATE
This post was updated with the results of Wednesday's vote to kill Green's impeachment resolution.