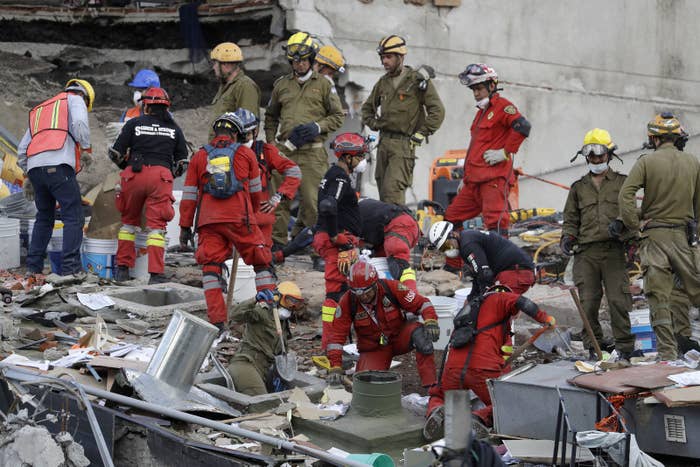 MEXICO CITY — A horrifying rumor that Mexico's government was about to demolish the remnants of a school with children still alive inside spread quickly, and Marianna Lainez had to see for herself if it was true or not.

President Enrique Peña Nieto had said emphatically the rumor, spread through social media, was not true. Mexico's secretary of defense and secretary of interior refuted the claim. News stations also debunked the false rumor, but none of these officials were sources Lainez nor the dozens of others standing outside the school keeping guard could trust.
"There's no confidence in what they say," Lainez told BuzzFeed News. "What they tell us is never real."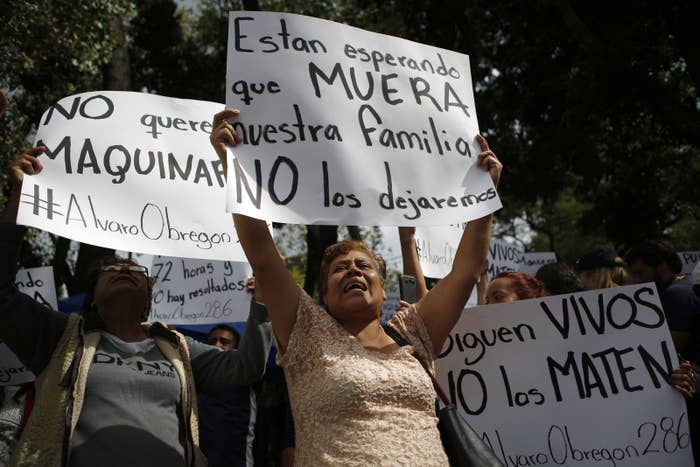 Rumors and misinformation spreading during a natural disaster is not a problem unique Mexico, which like other countries has struggled with the issue during emergencies. Yet decades of deep mistrust of the government has proven to be a distinctly acute problem for Mexico as it struggles to deal with the aftermath of two deadly earthquakes just days apart.
A history of corruption, impunity, and manipulation of news media in Mexico has helped instill a strong sense of cynicism against its government. When officials tried to push back against rumors they were planning to end rescue efforts early to demolish damaged buildings, people like Adriana Mercado Rocha wouldn't trust anything but her own eyes.
"That is our worry, and that's why we're here," she told BuzzFeed News, standing outside of Colegio Enrique Rebsamen, where 19 children and six adults died in the quake. "If they do, we'll protest immediately. We'll fill this (street) fast."

Despite the rumors, rescue workers inside the school continued to dig through the rubble manually in search of any survivors. Eleven children have been rescued and officials from Mexico's Navy said Thursday all of the students had been accounted for by the school and department of education officials.
Rescuers remained on scene, a Navy official told BuzzFeed News, to investigate signs rescuers found of perhaps one more person inside the crumpled building.
Yet statements from President Peña Nieto and other Mexican officials have been unable to quell suspicions about the government's intentions, despite their efforts to help those still trapped three days after the deadly quake.
"The moment they give the order, the navy is going to use heavy machinery, and it's over," Arturo Barraza, a motorcyclist who was helping to distribute medicine and food to neighborhoods damage by the quake said. "That's because the navy follows orders without question."
Despite the repeated statements issued by Mexico's government, neighbors Alondra Acevedo Diaz and Diego Xique Badillo travelled to Colegio Enrique Rebsamen to check.
Although no civilians were allowed inside the school because rescue efforts were still ongoing, the two asked to be allowed in to make sure crews were still looking for survivors.
"It's important to prove these rumors wrong, because we're worried," Badillo said. "We want to make sure there are no demolition teams here."
The two were allowed in.
"It's true," Diaz said while taking pictures to show her neighbors. "They are working with their hands, and they will continue to rescue people."
Some people standing outside the school cited what they thought was an unofficial deadline of 72 or 90 hours that had passed and they believed allowed the government to start tearing down buildings, regardless of whether there were survivors inside.
"It's not true," said Hilario Duran Tibircio, chief of the navy's human rights department, about the supposed deadline. "There is no heavy machinery inside, except for a truck used to haul away heavy debris."
BuzzFeed News witnessed crews continuing rescue operations and searching the rubble of the school, but several people outside remained doubtful.
"You saw that happened with that whole matter of Frida Sofia," Adriana Mercado Rocha said, citing the reports of a 12-year-old girl supposedly trapped in the school which turned out to be, according to Navy officials, untrue. "They manipulate things."
Despite official statements that all children have been accounted for, Rocha said she continues to hear rumors there are still children trapped in the school.
Even news reports by one of Mexico's oldest television news network, Noticieros Televisa, is viewed with doubt.

"It's the medium that is going to say what the government wants," Barraza said.
Instead, many have relied on unofficial and community-based sources of information, such as Facebook, Twitter and WhatsApp groups. The groups have helped send help where it's needed, spread information about missing people and even direct civilian help across the city.
Those social media platforms have also been susceptible to rumors and false information that have quickly ricocheted across the country and fueled the suspicions many continue to hold over politicians and even emergency crews.

It's also why the government of the state of Morelos is now facing accusations of withholding donations that were intended for earthquake victims. The government relief agency known as DIF has not responded to the accusations but instead posted numerous videos online in the past three days showing workers physically handing donations to people.

Despite the rumors, for a community suspicious of local and federal government, unofficial channels and groups have become a way of life. Mistrust has made small towns and metropolitan centers like Mexico City alike self-reliant as it remains skeptical of the federal government's response.

It was that mistrust that led a group of volunteers known as Topos Azteca, or Aztec Moles, to help with the massive search and rescue effort, crawling their way through openings of collapsed buildings to locate survivors inside.
The group was founded in 1985 by volunteers who banded together after another powerful earthquake killed about 10,000 people. The government was overwhelmed by the catastrophe, and the group stepped in to fill the void.
"It was something that was needed, but we needed a huge earthquake to realize it," said Fernando Ivarez, a member of the group. "In a catastrophe, the government is never going to have all the resources."
Topos Azteca has once again stepped into help in Mexico City, climbing into the rubble and, in so doing, earning the trust government officials seem to lack.
"They see us like one of their own, like a peer," Ivarez said. "We're someone that comes to help and they see our hope to save someone so, we're the same. They can relate."
For many, they are trusted more than the emergency crews being led by the Mexican Navy.

"All (Topos Azteca) want to do is help the people," Barraza said. "The Topos (Azteca) have been, because of their excellent and years of work, the best rescuers."
The fact they are not connected to a political party or government agency, in the eyes of people, leaves them untainted.
"You have to earn their trust," Ivarez said. "That's earned with time."