This Is Why Brands Say "Bae"
"To borrow a millennial phrase, we're on cleek," said Taco Bell's incoming CEO. "Not everybody knows what I'm talking about right now. That means you're on point."
"On cleek" was a mangling of "on fleek," an actual piece of teen speak that really does mean "on point." But why was a grown man trying to pull off "fleek" on an investor call?
A new Twitter account, @BrandsSayingBae, delighted the Internet this week, calling out chains from IHOP to Taco Bell for imitating teen vernacular on social media as part of their earnest pursuit for consumer engagement — a holy grail sought through "baes" and "on fleeks."
The screenshots are entertaining, poking fun at Jimmy John's for replies like "whatcha waitin for bae," or Applebee's for tweeting "#WontonTacos on fleek." The account's bio reads, sarcastically: "It's cool when a corporation tweets like a teenager. It makes me want to buy the corporation's products."
@BrandsSayingBae's current location, according to its bio: Hell.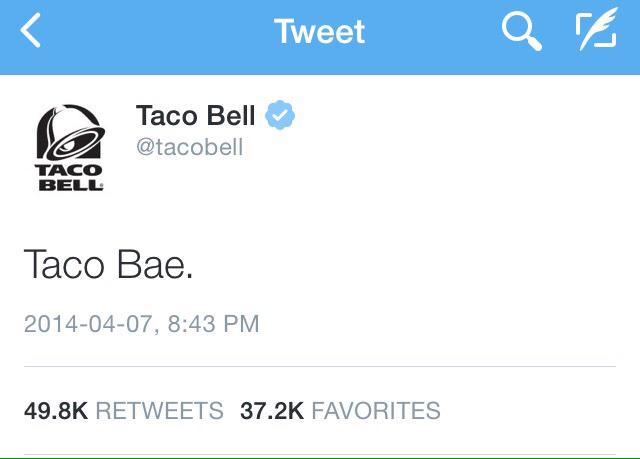 So why do brands actually say "bae"? Taking a look at recent conference call transcripts, companies speak earnestly of their attempts to "engage" with those digitally-savvy and elusive millennials, connect one-on-one, and have real "conversations." They love to note that they have millennials of their own in the house — an age group typically classified as 18-34. Greg Creed, who will become the CEO of Taco Bell and Pizza Hut owner Yum! Brands on Jan. 1, went so far as to say, "We're in the publishing business, we are no longer in the marketing business."
"There's not a millennial that wants to be marketed to," Creed told analysts and investors on Dec. 11. "What everyone wants to have is a dialogue with a brand. And a dialogue happens because you're engaged with your customers, you're not marketing at your customers."
His deputy, Brian Niccol, went on to proclaim Yum's messaging to be "on cleek." His repeated use of "on cleek," in place of "on fleek" is perhaps the best illustration of how earnestly brands are trying to relate to the young consumer — efforts that can earn chuckles from an audience aware that such accounts are not run by teenagers.
"When we do the brand message consistently, we end up in a place where, to borrow a millennial phrase, we're on cleek," Niccol said, pronouncing it "cleek." "Not everybody in this room probably knows what I'm talking about right now. That means you're on point, all right? That means you have momentum. That's how millennials talk about, 'You get me.'"
He went on to note that Taco Bell is "on cleek" because of how well it knows its customers. He noted, also, that Millennials populate the world with about 100 million selfies a day.

Of course, Yum! Brands isn't unique in its social pursuits, though the company is probably the most candid. McDonald's spoke last November about its efforts to cultivate one-on-one relationships with customers.
"We're moving from mass one-way push communications and we're building deeper, one-to-one relationships that go beyond our restaurants," Chief Brand Officer Stephen Easterbrook said. "These relationships are about personalized, fun, social engagement that's interactive, holds the customer in, and works their way,"
Denny's CEO John Miller touted his chain's social media efforts and Millennial-targeting earlier this year, noting: "We think we talk to them really well." He highlighted Denny's success on Tumblr, College Humor and other social platforms, as well as its high Klout score.
The Klout Score "is how you watch how you're viewed and favored...few are among the top brands of any brand, including McDonald's or Starbucks in Klout scores, which is mostly a millennial score," said Miller, who added he has "several" children in the targeted age group. "People like the brand, what we stand for, how we talk to them and the positions we take."
So that's why brands say "bae."