We Have Internet On Planes — Can We Stop Getting Ripped Off For It?
Gogo lets us send email while hurtling through the sky. If only opting out from its monthly charges were as simple.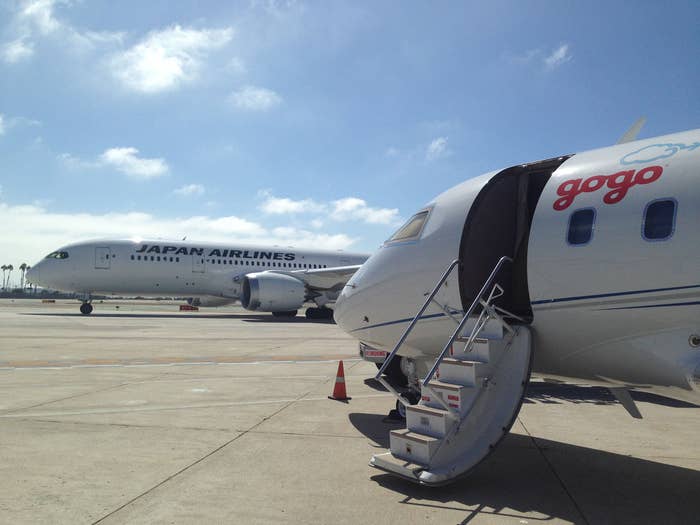 There's an undeniable magic to browsing the web in the sky: sending emails among the clouds, keeping up with happenings on the ground while 35,000 feet in the air.
For the majority of fliers, this service is provided by Gogo, a Nasdaq-listed company that has built up a $1.6 billion valuation by making the once-fantastical prospect of in-flight Wi-Fi a reality on the bulk of U.S. domestic flights. But despite its great technical achievements, there's one thing not included in Gogo's slick infrastructure for signing up and paying for its service: a cancel button.
Due to the high price of a single session, Gogo makes its monthly access option highly lucrative for consumers — on a trip to San Francisco last month, I knew I needed the internet both ways, making a $50 monthly pass cheaper than purchasing two single-day passes for $30 each. There was no middle option.
But then comes the catch: You keep paying that $50 every month, even if you aren't using the service. Gogo doesn't send receipts for monthly charges, and doesn't offer an option for consumers to request receipts. While you can now cancel two days before the next billing date to avoid a charge, it used to be seven days. And to get that cancellation, you need to either call customer service, chat with a representative, or email Gogo. Apparently a "cancel" option on its website just isn't something the company wants to offer.
"It all just feels to me that they intentionally built this system to bill people who aren't using it," said Ken Rutsky, who heads a marketing consultancy in Mountain View, California, and was charged for a month of service he didn't want. "You're just not thinking about Gogo if you're not in the air. I think they know that."
There was once a loophole by which you could remove your credit card information via the site and thus avoid being charged. But a customer service representative told me that the information can no longer be removed if the monthly pass is active. You can avoid a monthly charge without contacting customer service by placing a "hold" on your account page — it's good for a single billing cycle, but then the charges start back up again. While there was once an option to buy a single, nonrecurring 30-day pass, Gogo got rid of that in mid-2011.
A Gogo spokesperson said the company decided to "take a pass" on commenting for this story after reviewing a detailed list of questions from BuzzFeed News. Gogo declined to explain why it doesn't offer a "cancel" button, why it got rid of the 30-day pass, and why it doesn't send monthly receipts for payments.
Companies have long sought to draw consumers onto subscription plans for all kinds of goods. But more recently, a new host of web companies is making it easier than ever for customers to sign up for recurring services, then inserting hurdles for keeping track of those payments and canceling them. The new cleaning service Handy, for example, makes users phone in to cancel their subscriptions — the catch for redeeming its widespread "$29 for a 3-hour cleaning" introductory offers. Blue Apron has asked users to submit an email before passing along a cancel link. LinkedIn has also fielded complaints for offering "free trial" versions of its premium services that automatically roll over into paid subscriptions after a month.
Netflix, Hulu, and Birchbox, which all sell popular monthly subscriptions, have "cancel" buttons in the account management section of their sites, making it simple to opt out of the services. Hulu, unlike Netflix, also allows users to opt into email notifications for credit card charges while Birchbox keeps users in the know by sending them shipping notifications each time its monthly package is sent for delivery.
"Businesses that auto-renew with zero usage — it's a terrible business policy," said Rutsky, the consultant. "They have a great service when it works, and it's pretty reliable. But they have a monopoly so they don't seem to care about their business practices and it's frustrating as a consumer, because you have no recourse."
One way to cancel a recurring monthly charge: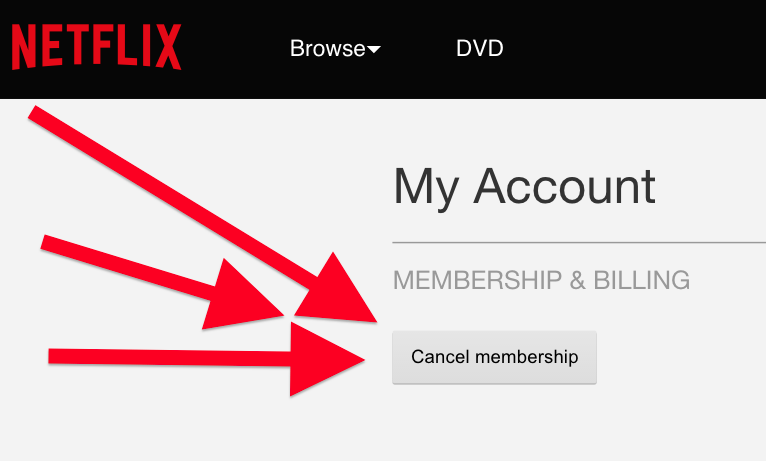 Gogo's way:

Gogo's reluctance to issue refunds to customers who believe they were unwittingly charged has only reinforced this belief. The company instead offers credits to disgruntled customers. Only if "circumstances make this unacceptable" is a refund "allowed," according to Gogo's response to a June complaint filed with the Better Business Bureau.
Financially, this seems to be helping the company: Gogo said it brought in about $133 million in revenue last year from individual sessions and $88 million from subscriptions, which together accounted for more than half of the company's total revenues. In 2011, individual sessions, including sales of the nonrenewable 30-day pass, brought in nearly $51 million in revenue, compared with about $27 million from monthly subscriptions.
"At the end of the day, they're in the business of making money, and by doing a recurring charge, they're going to generate more revenue," Andrew DeGasperi, an analyst at Macquarie Securities, told BuzzFeed News. "I'm not saying it's this way for everyone, but for many people, $50 a month could be overlooked when it comes on your card, so it does promote some stickiness as far as the revenue they generate."
That sticky approach to monthly billing isn't just a customer service issue — it's a legal one, too. The company has been fighting a class-action lawsuit for more than a year that's tied to the recurring monthly charges.
The people suing Gogo — a man from New York and another from California — allege that Gogo's website, when they used the service in 2011 and 2012, failed to communicate that a one-month pass was in fact a monthly subscription. While the service is now advertised as recurring, that wasn't the case at the time, they claim.
Adam Berkson, from New York, says he was unknowingly charged $104.85 for the last three months of 2012; Kerry Welsh, from California, said he didn't realize he was getting charged hundreds of dollars between September 2011 and December 2012, according to court documents filed last year.
The lawsuit didn't mince words about Gogo's intentions with its subscription service: "Gogo possesses a strong ulterior motive to charge its customers' credit and debit cards on a recurring basis because, upon information and belief, it generates thousands, if not millions, of dollars in revenue for services that are not redeemed," lawyers for the plaintiffs wrote last year.
The lawyers continued: "Moreover, the in-flight Internet service is often used by executives and business travelers who do not personally review company and work-related expenses. For this reason, these charges may go undetected for months, or even years, particularly given the obscure manner in which [Gogo's] website displays account information."
Gogo declined to comment on the case; lawyers for the plaintiffs didn't respond to multiple emails and voicemails seeking comment.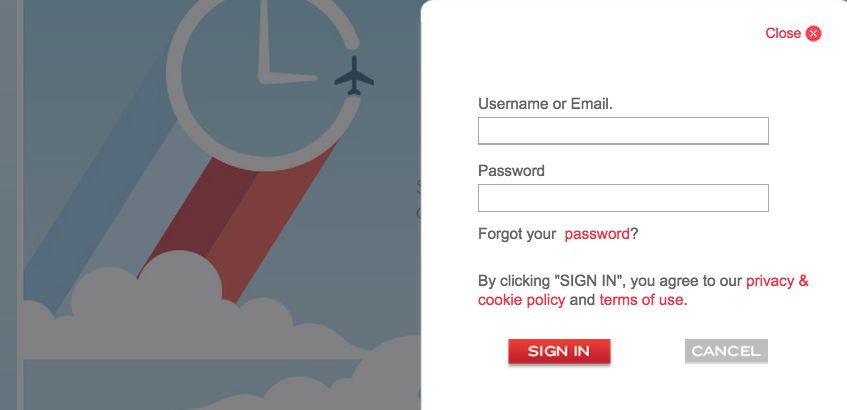 The company attempted to have the lawsuit thrown out on the grounds that its terms and conditions require users to take any disputes first to arbitration, not court. But in April, a district judge in Brooklyn rejected the move, in an 83-page memorandum that referenced everything from psychological studies on whether the average internet user reads the "terms of use" to a John Oliver joke last year, when the comedian remarked on his HBO show, "If Apple put the entire text of Mein Kampf in their user agreement, you'd still click 'agree.'"
The judge, Jack Weinstein, criticized Gogo for not displaying the terms prominently on the sign-in screen, or requiring users to scroll through the terms before being allowed to continue. He said at that time the suit could move forward; the parties have been trying to resolve the case since then.
The lawsuit opens Gogo up to big potential expenses and, if it drags on in court, could draw more scrutiny to its billing practices as well as other companies operating like this.
But for the time being, there is little in the way of recourse for consumers who feel duped by recurring monthly subscriptions, other than reading the fine print and remaining vigilant about upcoming billing dates. Fliers who need the internet can also purchase Gogo passes ahead of time for a cheaper price than on the plane and avoid entering the recurring fee system that way.
While the Federal Trade Commission's "Restore Online Shoppers' Confidence Act" touches on subscription services, it simply says that companies must provide "simple mechanisms for a consumer to stop recurring charges from being placed on the consumer's credit card, debit card, bank account, or other financial account," without specifying just how simple those have to be.
"There is an area of things that aren't illegal but that the market polices itself on," said James Kohm, associate director of the enforcement division at the FTC's consumer protection bureau. "Obviously, companies don't want to piss off their customers too much."
In Gogo's case, though, there isn't an alternative, and the frustration abounds. "If you're happy to take my money without talking to a person, or let me upgrade without talking to a person, you have to let me downgrade or cancel without talking to a person," said Ron J. Williams, the managing partner for ProofLabs, a strategy, design, and product development firm, who racked up five months of unwanted charges on a company credit card. "That has to be the new standard in 2015."
DeGasperi, the Macquarie analyst, noted Gogo would endure "a minimal impact to add a cancel button to the account page."
Brooke Hammerling, the founder of Brew Media Relations, said she was reviewing a credit card bill some time ago and discovered that while she had been using Gogo on a pay-as-you-go basis, the company was charging her a subscription fee at the same time, extracting twice the revenue. The subscription was canceled, but once she got a new credit card and used it on Gogo's website, it somehow started back up again. When she brought the issue to Gogo, the company's representatives were "crass and abrasive," she said.
"I'd much rather fly JetBlue and use their internet," she said, adding that Gogo is "absolutely a reason" to avoid airlines using its service.
To that point, Virgin America, a Gogo customer, recently announced plans to partner with Gogo competitor ViaSat for Wi-Fi on some new planes in an apparent bid to compete with JetBlue's "Fly-Fi" service, another in-flight WiFi offering that competes with Gogo's. Such competition, ultimately, could determine whether Gogo changes its tune.
"I will probably hesitate before I pay them for a day on a flight," Rutsky said, "because despite the fact there's tremendous value in the service, there's not value if you're not using it."