Victoria's Secret has long been known for its push-up bras, even selling garments that promise to boost a woman's chest by two cup sizes.
But these days, it has a new message in store windows: "No padding is sexy now!"
The abrupt change in messaging comes as the major lingerie seller looks to tap into the trend in "bralettes," which have become super popular in recent years.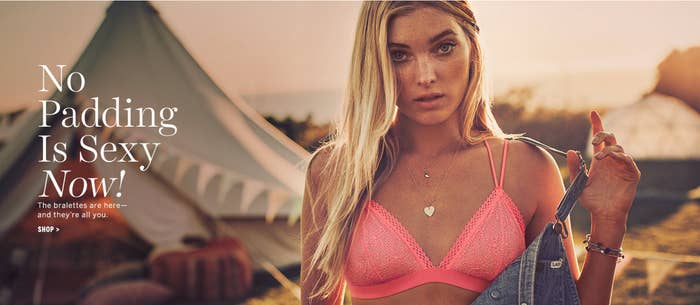 The unlined, lacy garments, typically meant to be shown off as part of an entire outfit, are part of the music festival look that many stores have been highlighting lately. Bralettes have also been pointed to as one reason Aerie, owned by American Eagle, has seen its sales skyrocket in the past year.

The "no padding is sexy" line from Victoria's Secret — which for years has touted the cushioning in its bras and associated big breasts with attractiveness — has raised some eyebrows. Some have also pointed out that bralettes aren't an option for women who need padding and support in their bras.
From a Victoria's Secret commercial in October:
This month, the company is airing a TV commercial focused on bralettes, featuring three models. One model asks another: "What do you like, Tay?" She responds: "Being free...let the bra show and just bring it on."