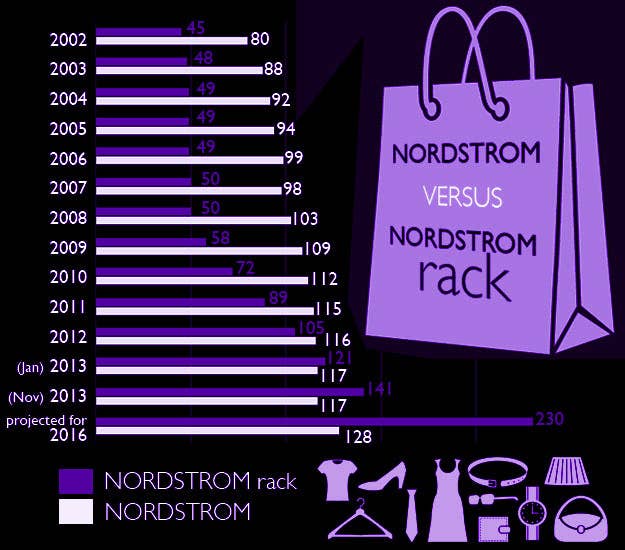 Every few weeks, Nordstrom Rack announces a new opening: Greenville, S.C., Tulsa, Okla., Livingston, N.J.
There are now 141 of the discount stores, outnumbering Nordstrom's 117 full-line department stores, and that gap will blow out in the next two years to 230 against 128, dramatically changing the makeup of what the high-end retailer is today.
Nordstrom, which started expanding the discount chain in earnest during the recession, is enjoying a taste of the billions consumers spend at off-price brand behemoths TJX and Ross Stores. But it's also figured out how to get twentysomethings into some kind of Nordstrom property without destroying the formula that works for its existing, affluent customer base. With Rack, along with online flash-sale site HauteLook, Nordstrom is successfully wooing young, cash-strapped shoppers, with the hope that they'll turn into spenders at the pricier, full-line stores later in life.
"In spite of our efforts over the last 13 years, our customer has aged," Nordstrom President Blake Nordstrom said at a Goldman Sachs retail conference in September. "Where the bigger opportunity lies is acquisitions of a younger aspirational customer, again, without alienating the customer that's paying the rent."
By primarily utilizing the web and channels like Rack for attracting younger customers, Nordstrom is avoiding repeating the mistakes of its $40 million "Reinvent Yourself" campaign from 2000, when provocative ads and too-edgy fashions in its main stores rankled some longtime shoppers. The challenge of continuing to serve a core, reliable customer while attracting a younger, cooler audience is one that many retailers, such as J.C. Penney and Talbots, have struggled mightily with.
While Nordstrom has made moves in its full-line stores to attract that generation, like adding clothes from British retailer Topshop and expanding its Savvy department, much of the effort seems to be happening off the premises. Recently, Nordstrom said that purchases from HauteLook — which very much skews younger, and boasts 14 million email addresses — can be returned at Rack locations, not full-line stores.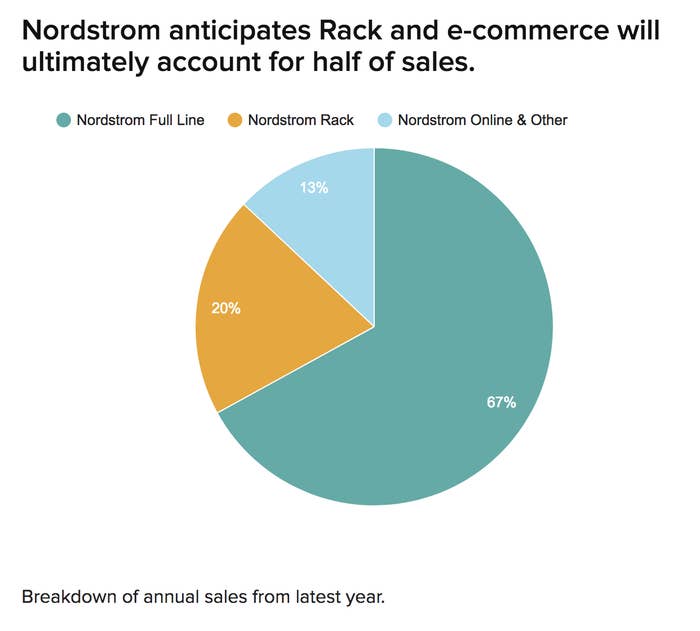 Importantly, the brands sold at Nordstrom Rack, like Joe's Jeans, Vince Camuto, and Eileen Fisher, are on board with existing at both chains — a requirement, given the pace of expansion. JPMorgan analyst Matthew Boss said in a note earlier this month that 49 of the top 50 brands in Nordstrom's full-line stores sell directly to Rack today, compared with just 10 of the top 50 a decade ago.
Only 18–19% of the merchandise in Rack actually comes from full-line Nordstrom stores, which is typical for off-price retailers, although consumers often believe they're getting excess inventory at such places and in outlets. It stands to reason that percentage will fall as more Rack stores are built. Nordstrom is careful only to mark a higher price if it was actually sold at that level in stores, the company said.
"There are always vendors that will make product for those," said Matt Berglass, a headhunter specializing in retail at Berglass + Associates in New York. "A lot of the cuts for TJX, obviously it's not overbuying, or bad sizes or seconds. That is merchandise made by manufacturers and brands for their businesses."
It's easy to see why Nordstrom wants to double down on the off-price business: America is more obsessed with it than ever. Outlets have been booming in the past few years while regular malls have faced limited growth. Further, the biggest players in the off-price space — TJX and Ross Stores — have been among the best, most consistent retailers since the turn of the century.
TJX, the owner of TJ Maxx, Marshalls, and Home Goods, hasn't posted a drop in same-store sales in the past decade while Ross has had just one. In that time, Macy's has posted five. TJX is now, in fact, only slightly smaller than Macy's with $25.9 billion in annual sales last year. (Ross posted $9.7 billion while Nordstrom's Rack division reported $2.45 billion.)
While Saks, with its Off 5th outlet chain, and Neiman Marcus, with Last Call, are clearly tapping into the trend as well, Nordstrom's push is far more aggressive and more successful in terms of sales. It also has a superior online presence to both of those chains and to TJX and Ross, Berglass noted. Joe's Jeans executives said at a December 2012 conference that Macy's, which has been rolling out numerous brands geared toward millennials, is aiming to capture some of the 18- to 26-year-olds shopping at Nordstrom Rack.
Of course, the pace of expansion begs the question: Will the presence of so many more Racks than full-line stores hurt the high-end appeal of the Nordstrom brand? Analysts and investors have asked executives variations of that query for the past couple of years, especially recently, and the company is firm that it will not.
Blake Nordstrom says the company's best-performing Racks are those close to a full-line store, suggesting shopping at one breeds interest in the other rather than squashing it, and they intend to build the two close to one another in the future. It helps Nordstrom stores stay fresh, by unloading some inventory to Rack, and keeps the retailer top of mind among consumers who end up going to both.
"There is a synergy between the two," he said at the September conference. "There is integrity in the pricing of each of those entities and the customer understands what we're doing, and it enables us to attract more customers. That customer that shops in both venues…is a bigger spender for Nordstrom."