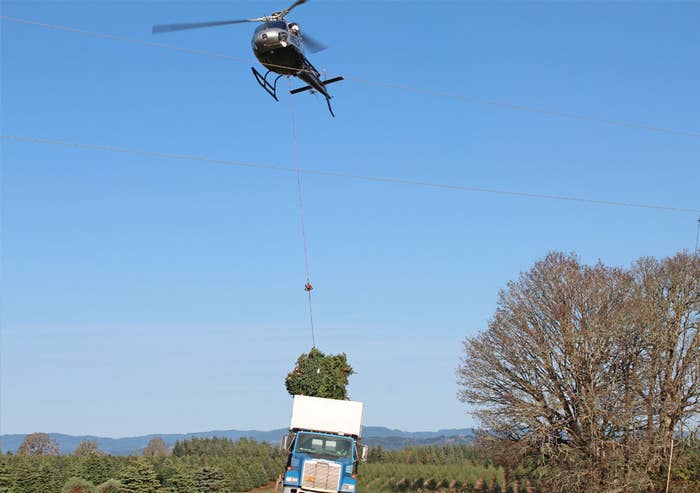 As the helicopter hovers above Yule Tree Farms, about an hour south of Portland, Ore., I understand why I was advised to skip breakfast. We are directly over a stretch of pristine Pacific Northwest Christmas tree country where rows of evergreens, the sole crop on Yule's 2,500-acre farm, dominate the landscape. And unlike the pilot, who during the holiday season airlifts as many as 800 Christmas trees an hour to start their journey into someone's living room, my stomach is doing cartwheels.
Upon landing, we're greeted by a beaming Joe Sharp, Yule's 63-year-old owner. He noted on the drive over in his appropriately forest-green pickup truck that, "back in the old days, these Christmas tree choppers were flown by Vietnam vets — now it's mostly former commercial pilots." It's just one of the many Christmas tree facts he will toss out throughout the day.
This year marks Sharp's 20th harvest in a sleepy industry that surges to life for just six weeks — from around Nov. 1 through Dec. 12 — every year, his livelihood tied to tradition. He estimates he's sold 10 million evergreens in the past two decades, equal to a harvest of roughly 500,000 a year. Almost half his crop goes to Home Depot, which many may not realize is now the nation's biggest retailer of fresh-cut Christmas trees. The chain anticipates selling a record 2.8 million trees this season, up from around 2.5 million last year. That's about 8%, a huge proportion, of the 24.5 million trees the National Christmas Tree Association says were purchased in 2012.
So the holiday madness is big business for Sharp. His regular 40-person staff nearly quadruples to 150. He charters two to three choppers daily to lift bundles of trees from the farm, and contracts with roughly 600 drivers to transport them to Home Depots in Washington, Colorado, New Mexico, and Arizona. And then he waits to get paid once customers buy one of his trees, which take as long as 10 years to grow, and retail for $40 on average.
For Sharp, the waiting isn't so bad, especially when juxtaposed against the booming artificial-tree market, where fake trees have gotten better in quality and appearance in recent years. He's just glad people are still buying the real thing.
"There's two reasons that people buy real trees," the Oregon native said. "The first one is family tradition, and the second one is the fragrance. Those are the two kind of tipping motivating factors that keep people in the business."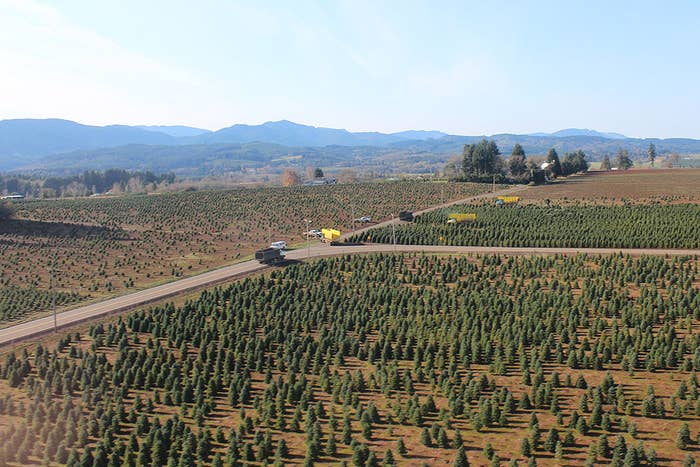 Oregon Leads the Nation in Christmas Tree Sales
Oregon, with its mild climate, gentle slopes, and quickly draining soil, sells more Christmas trees than any other state. North Carolina and Michigan trail it by a wide margin.
Yule grows Douglas, Noble, Fraser, and Grand firs, each with slightly different fragrances and needle retention. (The Douglas fir is Oregon's state tree.) Saplings spend their first two years in a nursery before being planted in neat rows at Yule. The newest acres resemble a sea of Charlie Brown Christmas trees.
Once the trees are planted, annual trimmings limit their growth to about a foot a year — if left alone, they could rocket to 30 feet in 10 years. The vast majority of people buy 6- or 7-footers, which take between seven and ten years to grow given the annual trimmings, which is, as Sharp says, a long time to wait for a return on investment.
After the trees are cut, farmhands sling them into bundles of 10 to 15, and it's time for the coolest part of the Christmas tree transportation process: the helicopters.
Using long sturdy cables called tow lines, the choppers snag one or two of the 800-pound bundles and navigate them into waiting backhoes with remarkable accuracy. Observing the speedy pickups and drops, many of which take just a minute to complete, is like watching an arcade game played out in the clear blue Oregon sky.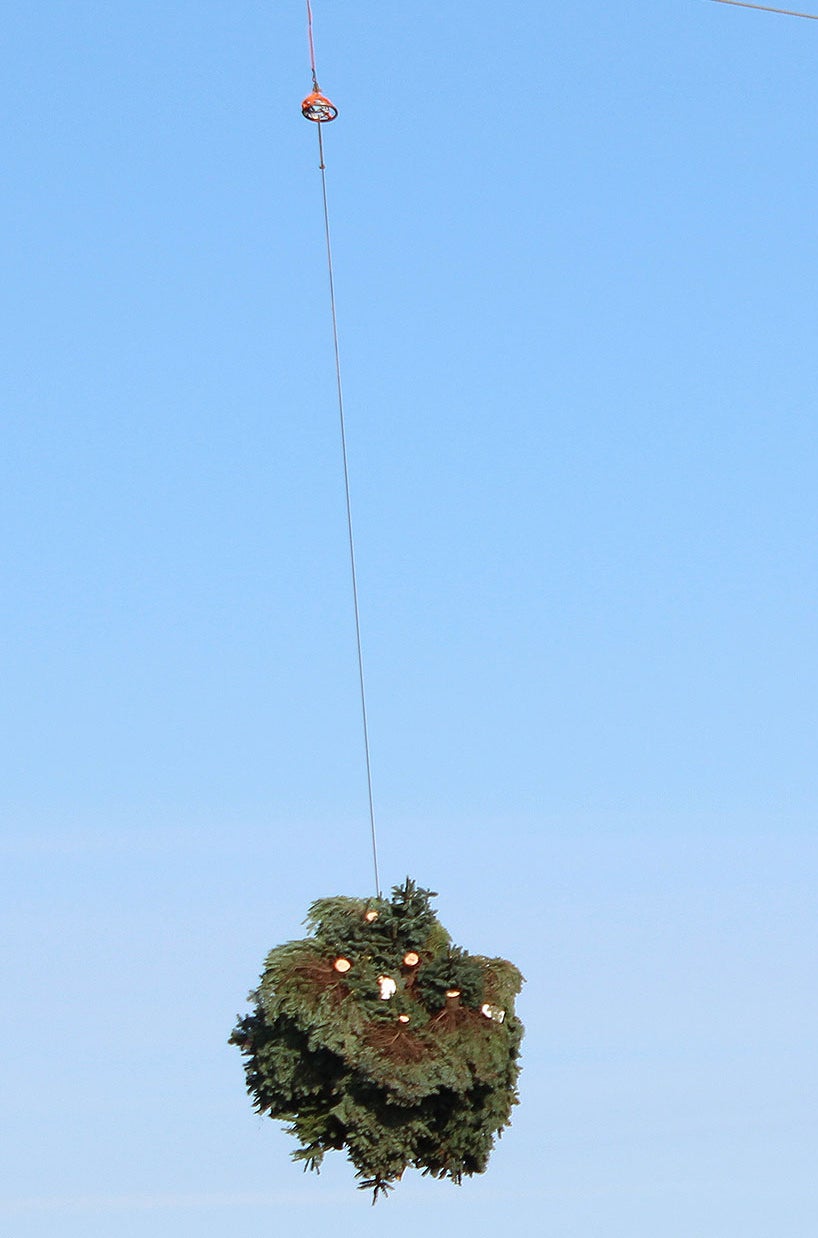 The first and most important step in the unbundling process, which takes place in a warehouse on the farm, is putting each stump into a jarringly loud machine called a shaker. As the name implies, the shaker jiggles out loose and dead needles from the firs while a worker holds them in place.
Sharp said that when he first got into the Christmas tree business, one of the biggest deterrents to buying a fresh-cut tree was the mess they make. "We have invested literally hundreds of thousands of dollars in shakers … All that stuff stays here, whereas before it was in the truck, in your house," he said.
The trees are then placed onto a conveyor belt on the same machine and emerge tied up with rope.
Some trees are then loaded individually on a truck — we watch one that's bound for a Home Depot in Washington — each checked off on a clipboard until the vehicle is full. Others targeted for non-local delivery are stacked on boards 30 at a time and squeezed together by a machine called a "palletizer," morphing them into 2,000-pound cubes of greenery.
Sharp checks the weather obsessively for this last leg of the journey, recounting a storm in northern Texas years ago that left two inches of ice all over Dallas, making it impossible to shuttle trees in or out. The memory of a blizzard in Seattle that left a foot of snow on the ground had hardly faded when that happened. It's hard to exaggerate what a big deal an unexpected snowstorm or heat wave is when selling merchandise that becomes largely irrelevant after Dec. 25.
"You can't be late," he said. "You just can't. If you're late here, it's over."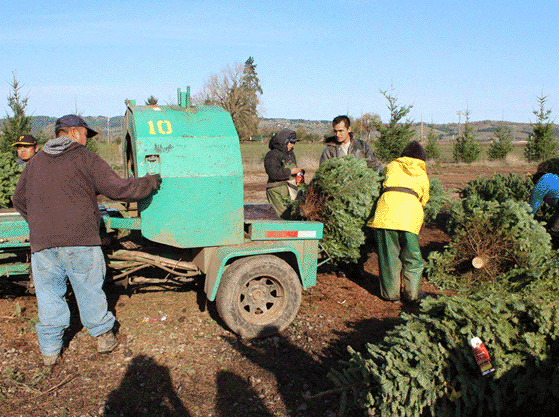 The Evolving Distribution of Christmas Trees
The Christmas tree industry over the last two decades has been relatively stable in terms of the prices growers command and the number of trees sold. Outside of the introduction of artificial trees, the biggest change has probably been in distribution, shifting from grocery stores and corner lots to massive big-box retailers like Lowe's and Home Depot, which are now even selling trees online. Just last Thursday, Home Depot teamed up with Uber to deliver live trees to customers in 10 cities.
For Home Depot, which made $75 billion in sales for the year ended Feb. 3, 2013, snapping up more of the $1 billion Christmas tree industry isn't going to change the direction of its business. But adding to its holiday merchandise gives the retailer the chance to drum up business in the fourth quarter, which is its lowest volume period. (Spring, not surprisingly, is the highest, as folks spruce up their homes and lawns, planting gardens and buying grills ahead of the summer months.)
In addition to trees, the retailer, which has more than 2,200 stores, has also been offering customers a greater variety of holiday décor, such as wreaths and Elmo yard decorations. The result: a quadrupling of sales of such items since 2004.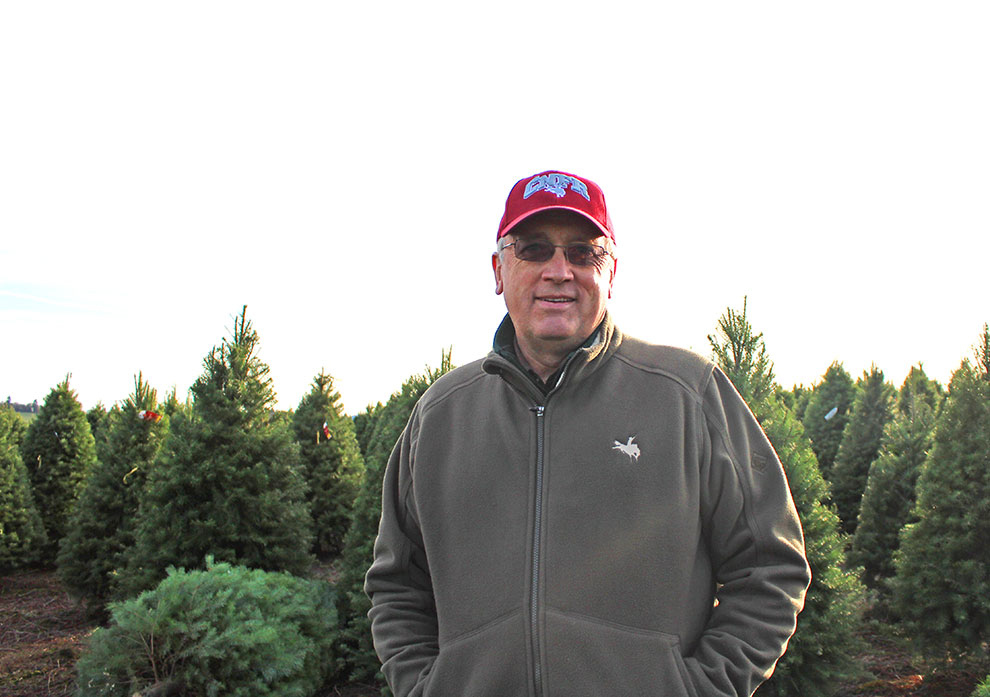 The National Christmas Tree Association said 10.9 million fake trees were sold last year for, on average, about $30 more than the price of a real evergreen. Though Home Depot sells artificial trees, the company believes fresh-cut trees are regaining favor, driven by more environmentally conscious shoppers and the emerging trend of buying additional smaller firs outside of a "main" tree.
"We're selling tabletops that are 3 or 4 feet for customers that want to do an individual tree for each of their children's rooms — that's now a strong trend," Home Depot live goods merchant Mike Duvall told BuzzFeed. He also noted that slim-line, lighter trees seem more popular, possibly because they're easier to carry for "single moms or ladies staying in the workforce and not raising children."
Home Depot is also making it easier for consumers to choose fresh-cut trees over fake ones, selling a "pre-lit" line that comes with a string of lights already on it and another line of trees that are already positioned in a stand.
"For a while there was a decline driven mainly by artificial trees, but I think with people focused on green, more and more people are coming back to live Christmas trees," Duvall said. "You can't beat the scent of a live Christmas tree. There's something traditional about it."
As for Sharp, he imagines he'll stay in the business another five or six years before retiring, a few million more trees left in him.
When I ask him what his favorite Christmas tree trimmings are, he thinks for a moment.
"Nothing," he said. "Maybe a string of white lights. I just appreciate the beauty of the tree."