It's the first "fix" that's the hardest. After that, the experience becomes addictive.
So says Katrina Lake, the 31-year-old Harvard Business School graduate who founded Stitch Fix, the buzzy e-commerce startup that mails users five items a month pegged to their tastes, as determined by a combination of algorithms and human stylists.
Seventy percent of people who get their first Stitch Fix box end up getting another within 90 days. The company's goal is for customers to keep at least two of the five items, a conversion rate that would draw the envy of the most successful brick-and-mortar retailers.
Therein lies Stitch Fix's biggest challenge as it continues to scale — the company already employs more than 1,000 people — beyond early adopters: Data doesn't always align with varied tastes of female shoppers.
"Honestly, I'm very skeptical of all things that come in the mail, just because I feel my body's very unique and even with measurements, the clothes might not look good," Lainey Monroe, a 28-year-old in Fairfax, Virginia, who signed up after hearing a friend rave about the service, told BuzzFeed News. "I got my first box and I absolutely loved the style, I loved the materials, but some of the sizing was a little bit off, so I didn't end up keeping any of it. I filled out a notecard with suggestions, and they did a lot better with the second one, but I wasn't quite willing to dish out $350 for one small thing. So I sent it back with an update on measurements."
Monroe says she plans to stick with the service in hopes it improves. For its part, Stitch Fix needs its human and data recommendation cocktail to be even better — its business model depends on that.
Stitch Fix, founded in 2011, is off to a strong start with an impressive team of executives from places like Netflix, Nike, Crate & Barrel, Walmart.com, Stella & Dot and Lululemon. In other words, talent that meets at the intersection of technology, style, and mass retail, where Stitch Fix's business model resides.
The company divulges few metrics but it's said to have raised $46.5 million in funding to date, and may have an annual revenue run rate in the ballpark of $150 million, Re/code reported in June. (That's almost one-fourth of American Apparel's annual sales.) A virtual army of pro-Stitch Fix mommy bloggers post regularly about the silk blouses and baubles in their deliveries, and the charismatic Lake and her business have been featured everywhere from the New York Times to Good Morning America. Notably, Stitch Fix, based in San Francisco, has managed to become a hit in both major cities as well as rural locations like Sheridan, Wyoming, and Plains, Georgia.
Stitch Fix became even more notable this summer after Nordstrom paid $350 million in stock for Trunk Club — a similar, though pricier, subscription-box service for men. The purchase was "a great validation for the model," said Lake, who added the company "certainly appreciates the credibility it gives to our space." (Monroe, who is a compliance coordinator at a pharmaceutical company, said her friend discovered Stitch Fix while Googling "Trunk Club for women.")
More from Stitch Fix's style profile: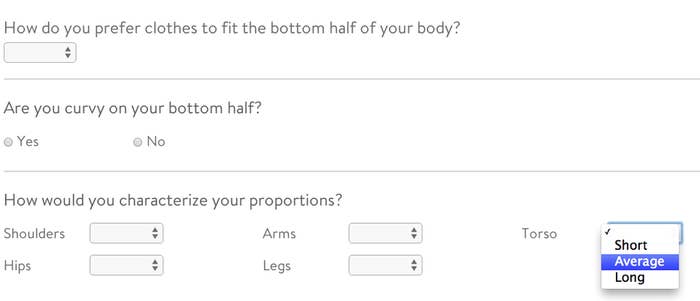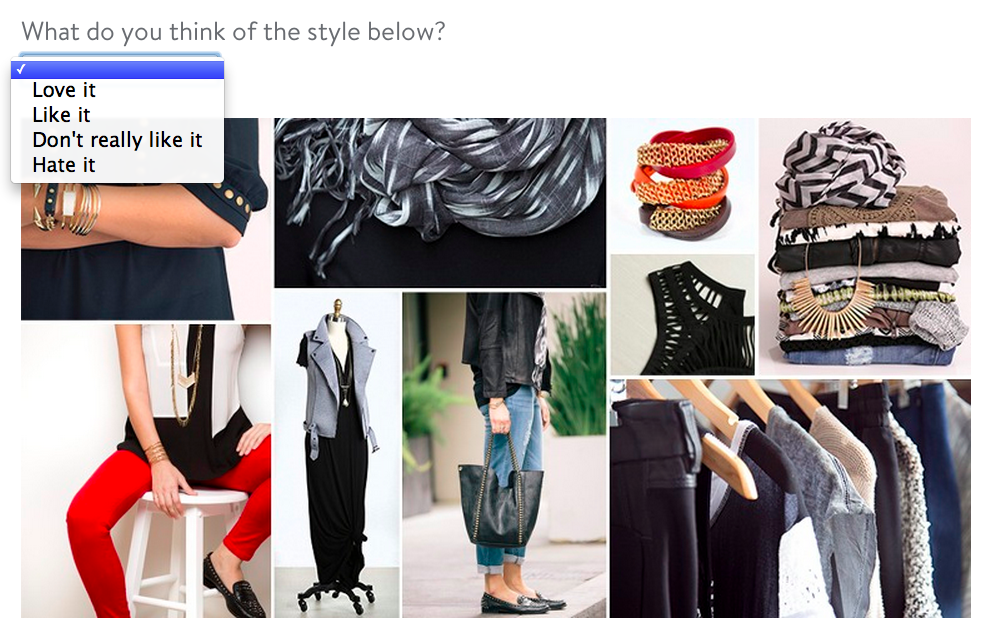 Data collection isn't an issue for Stitch Fix like it is with traditional retailers, since customers volunteer plenty of information to make each delivery worthwhile. Stitch Fix also doesn't have to worry about customers wandering past stores — they're getting directly into the home. The merchandise is tailored to customer preferences, killing the necessity of having to make big bets on "it" items. And "markdowns" can take place in a custom manner by filtering, say, an $88 Splendid top that doesn't sell with a higher-end customer to one who can't pay more than $50 for a shirt.
"We have an immense amount of very meaningful data from our clients that helps us serve them, and in a traditional retail model, you just don't have that," said Lisa Bougie, Stitch Fix's chief merchandising officer. Bougie worked at Gap in the '90s and most recently oversaw direct-to-consumer for emerging markets at Nike.
Stitch Fix's customers range from teenagers to senior citizens, but its core is women in their late twenties and thirties who are pressed for time or who live far away from a mall. Stitch Fix executives and customers interviewed by BuzzFeed News compare the clothes and prices to those from retailers like Gap, Ann Taylor, Anthropologie, Express, and Nordstrom.
Human stylists ultimately choose the five items that go to customers, providing users with the sense they're getting the personalized advice you'd typically find in a boutique or higher-end department store. But the stylists rely heavily on algorithms developed by Stitch Fix's chief algorithms officer, Eric Colson, to inform their choices.
"We don't have opinions here, we have hypotheses," Colson said in an interview with BuzzFeed News. "And we test them to make sure we're acting in our clients' best interest." Colson said he sees parallels between Netflix, where he previously led its data science and engineering team, and Stitch Fix, both culturally and organizationally.
Stitch Fix's initial survey asks users for their height, weight, and bra size, as well as questions like: "How do you prefer clothes to fit the bottom half of your body?" and "What do you like to flaunt? What would you rather keep covered?" The stylists, who account for most of Stitch Fix's 1,000-plus employees, then provide what Colson called a "second round of feedback that's much less expensive." As part of the personalized experience, they use links to users' Pinterest boards, LinkedIn, and Twitter accounts to help advise selections.
Users who don't purchase anything will be out $20; if they keep something, the $20 goes toward the purchase. A typical box might cost $250 to $300, though customers can ask for cheaper or more expensive deliveries.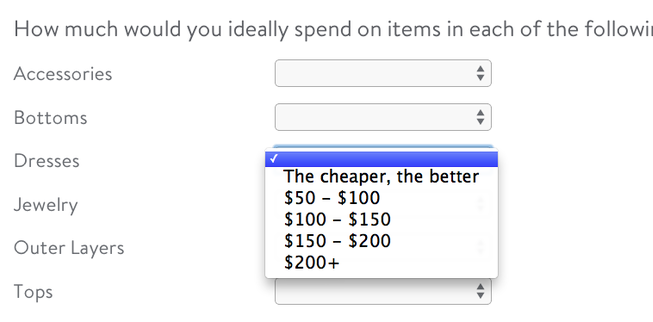 Stitch Fix has faced new hurdles as it has expanded — among them, making sure that its vendors, which number around 200, are loyal.
Adweek reported in August that a Stitch Fix customer and blogger was outraged when a pair of shorts were mailed to her with two price tags: one from Stitch Fix for $68, and another from Nordstrom Rack for $24.95, for an apparent markup of more than 150%.
An apology and price-match commitment followed the mix-up, which Lake said was a result of a vendor shipment error that hasn't happened again. Bougie said the incident compelled Stitch Fix to ask partners about their intentions with working with off-price retailers, and if so, communicating the startup's expectations.
Another challenge is, of course, getting the first couple of boxes right, particularly as it pertains to sizing, which Bougie described as a crucial factor.
As successful as Stitch Fix is, it differs from Trunk Club in that women are simply harder to curate for than men. They're pickier, their measurements are more varied, and they're more apt to view shopping as a social activity. Self-description is also a challenge in early boxes.
"Someone in Utah may not be as edgy even though they think they're the maximum amount of edginess compared to someone who says they're edgy in California," Colson pointed out.
Lake declined to comment on an exit strategy for Stitch Fix or if it had any talks with Nordstrom, saying only that the company could be as big as any retailer.
For its part, Nordstrom said it liked how Trunk Club built its business "by focusing on customer service and fashion, combined with a great offline and online shopping experience for men's [clothing]," spokesman David Evans said in an email to BuzzFeed News. "While the women's apparel market is larger, the menswear market is sizable and highly fragmented, which creates an opportunity," he said.
"We haven't made any announcements about women's, but we listen to our customers and are always looking for ways to better integrate the offline/online customer experience for all of our customers," he added.