Starbucks To Post Calorie Counts At All U.S. Stores Starting June 25
The move is a step ahead of federal menu-labeling requirements that are supposed to go into effect this year. Say farewell to your ignorant bliss.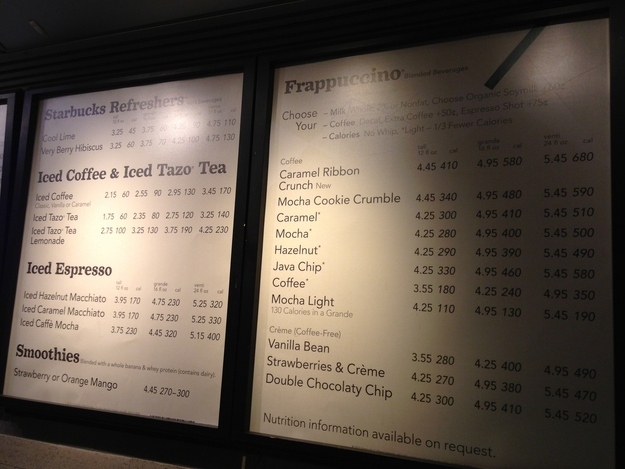 Starbucks will start displaying calorie counts on menu boards and pastry cases at all of its U.S. locations starting June 25, the company announced Tuesday.
The calorie counts are already available on the Starbucks iPhone app and website, as well as in print brochures, so the company say it is taking this step to extend its "commitment to wellness" and to expand its transparency. The change also comes ahead of an expected move by the U.S. Food and Drug Administration that would force chains with 20 or more locations to make similar disclosures by the end of the year. New York City and California already have such requirements, so the knowledge that there are 480 calories in the chain's raspberry scones won't be jarring for all.
Starbucks, which is looking to sell more food and tea in addition to coffee, said adding calorie counts is the latest in a series of wellness steps taken over the past 15 years. Since 2007, Starbucks has been using 2% milk rather than whole as its standard for beverages in North America, a change the company says has saved customers 17 billion calories a year, or almost 5 million pounds of fat.
Starbucks offers a variety of beverages under 200 calories, though playing with the menu on its website, you can hit 680 calories with an Iced Venti Caramel Ribbon Crunch Frappuccino blended beverage with whipped cream.
As of March 31, Starbucks had 12,995 company-operated and licensed stores open in the America region.