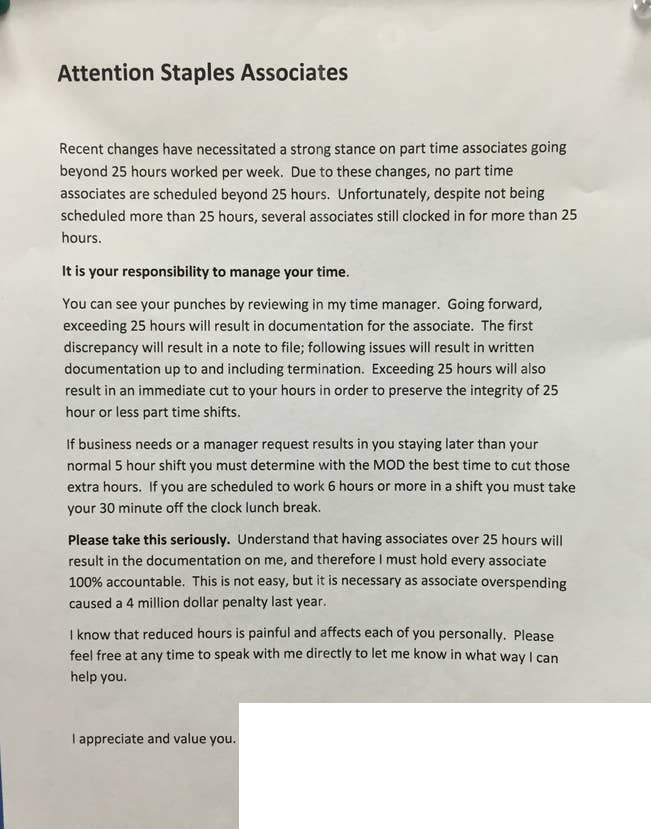 Last year Alice*, 19, typically clocked anywhere from 25 hours to 40 hours a week at the Staples store where she works as a part-time staffer. The hours were great, she says, because she loves her co-workers and uses the job to help support her family.
She started working at Staples around the same time the office-supply chain was making headlines by forbidding its part-time employees from working more than 25 hours a week. The rules, rolled out in the lead-up to the Affordable Care Act, were seen by many staff members as an effort by the company to avoid paying benefits to "full-time" employees — classified under the law as anyone working more than 30 hours a week.
But for most of 2014, the rules didn't really affect Alice or her colleagues, who regularly exceeded the threshold and were still considered part-time. That all changed this year, though, as the employer mandate kicked in; if Staples doesn't pay benefits for people working more than 30 hours a week, it could face up to $3,000 in penalties per person.
Now, Alice is working far fewer hours — and if she clocks above 25, she may be fired.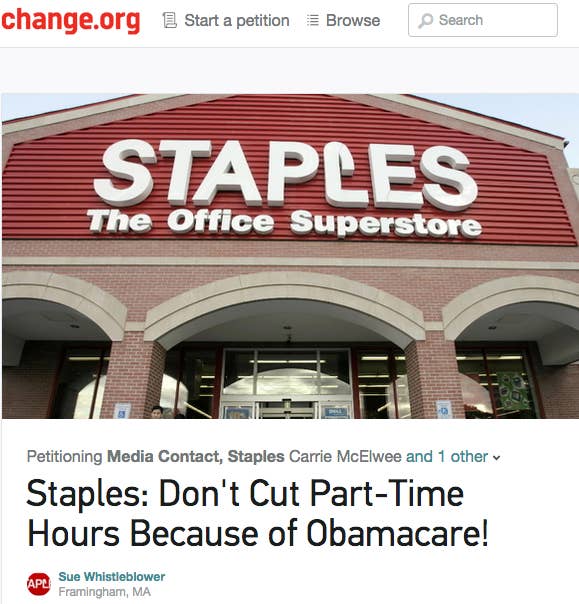 "Before January, it was a smack on the wrist if anyone went over 25 hours — they got an email scolding them saying, 'You went over 25, try not to do that,'" she told BuzzFeed News in an interview on the condition of anonymity, given she still works at the company. "But now it's become really serious...they've threatened to write up managers and every person that goes up over 25 hours."
Alice is one of five current and former part-time Staples employees who spoke with BuzzFeed News about the retailer's strict new policies this year, now that the Affordable Care Act provision requiring companies to offer health insurance plans to full-time employees has come into effect. Many others on a Staples employee subreddit corroborate these accounts, speaking of managers and associates getting written warnings and threats of termination for working even 10 minutes above the 25-hour weekly limit.
The employees who spoke with BuzzFeed News said they are now only scheduled up to 20 hours a week if they work in one of the worst-performing stores, and 23 hours a week at others. They all used to get more than 30 hours during good weeks. They said they are frequently told to leave early now, even if they're scheduled for additional hours. All told, it can result in $200 to $400 in lost wages per month for each employee. For these low-income workers, that's a lot of missed groceries, tanks of gas, utility payments, and, paradoxically, health care expenditures.
One employee shared the notice published above, which was recently posted in a Staples store. "Recent changes have necessitated a strong stance on part time associates going beyond 25 hours worked per week," it begins.
"Going forward, exceeding 25 hours will result in documentation for the associate. The first discrepancy will result in a note to file; following issues will result in written documentation up to and including termination. Exceeding 25 hours will also result in an immediate cut to your hours in order to preserve the integrity of 25 hour or less part time shifts."
The message goes on to point out that "associate overspending caused a $4 million dollar penalty last year." After noting that the new rule is "painful and affects each of you personally," it ends with: "I appreciate and value you."
In response to inquiries regarding the message and claims from employees, a Staples spokesperson told BuzzFeed News the company's policy on part-time worker hours "pre-dates the Affordable Care Act by many years." The policy has been in place for more than a decade, he said in an emailed statement, and "some managers may have reiterated the existing policy to our associates as part of our ongoing efforts to improve the efficiency and competitiveness of our stores."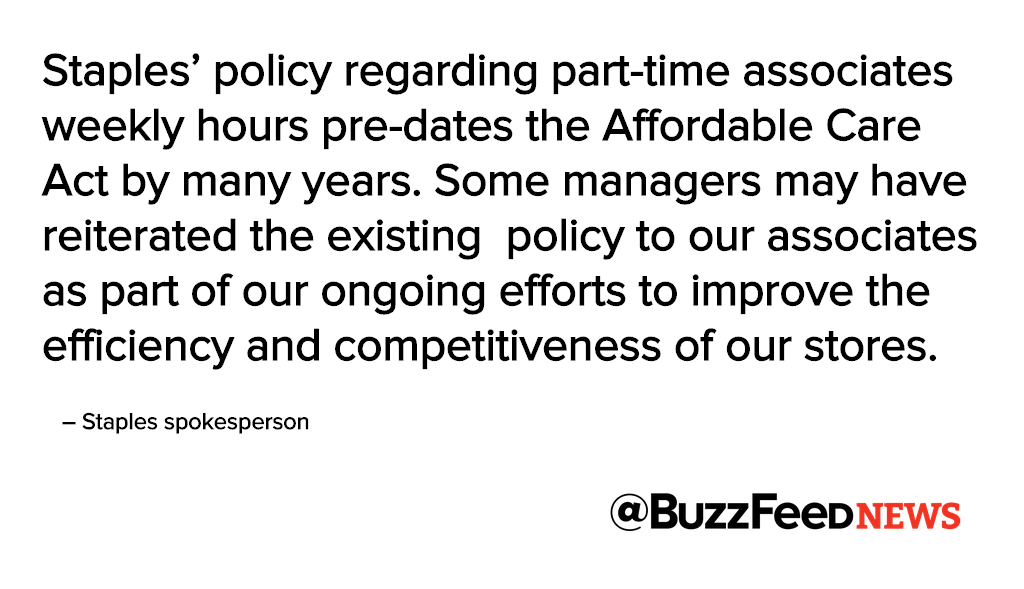 With sales in a slump, Staples has been under pressure to close underperforming stores, lay off employees, and cut costs. Amazon, Wal-Mart, and Target have all grown and eaten into portions of the office supplies business in recent years, and much of the market has moved online. While Staples has become one of the country's largest e-commerce operators — Internet Retailer lists it as America's third-largest online seller, behind Amazon and Apple — sales from physical stores are declining. In the quarter ending on Nov. 1., which contained the crucial back-to-school shopping season, North American same-store sales fell by 4% compared to the year prior, while online sales rose by 9%. Overall, sales in North American stores dropped 6% to $2.83 billion.
In response to the online shift and other market trends, the office supply industry has been rapidly consolidating in recent years. This month, the chain announced plans to merge with Office Depot, in a deal that if completed would leave the U.S. with just one national chain of office supply superstores, and likely lead to additional store closures.
While policymakers have long been concerned about companies shifting their workforces to part time from full time because of the ACA's employer mandate, another issue seems to be the number of part-time employees whose hours are being trimmed to ensure they won't qualify for benefits.
"That segment of the workforce is what we would call variable-hour workers, where we try to get the right number of people on the floor at the right time," said Neil Trautwein, vice president of health care policy at the National Retail Federation, the industry's biggest trade association. "We wouldn't take a salaried or full-time employee below 30 but for these variable employees who are always trying to work more, it creates a hard stop at 30."
"It is always within the employer's standpoint to set how much an individual employee works for him or her," he added. "And some of those retailers would argue that their business is selling goods, not providing health coverage — that is a tough argument."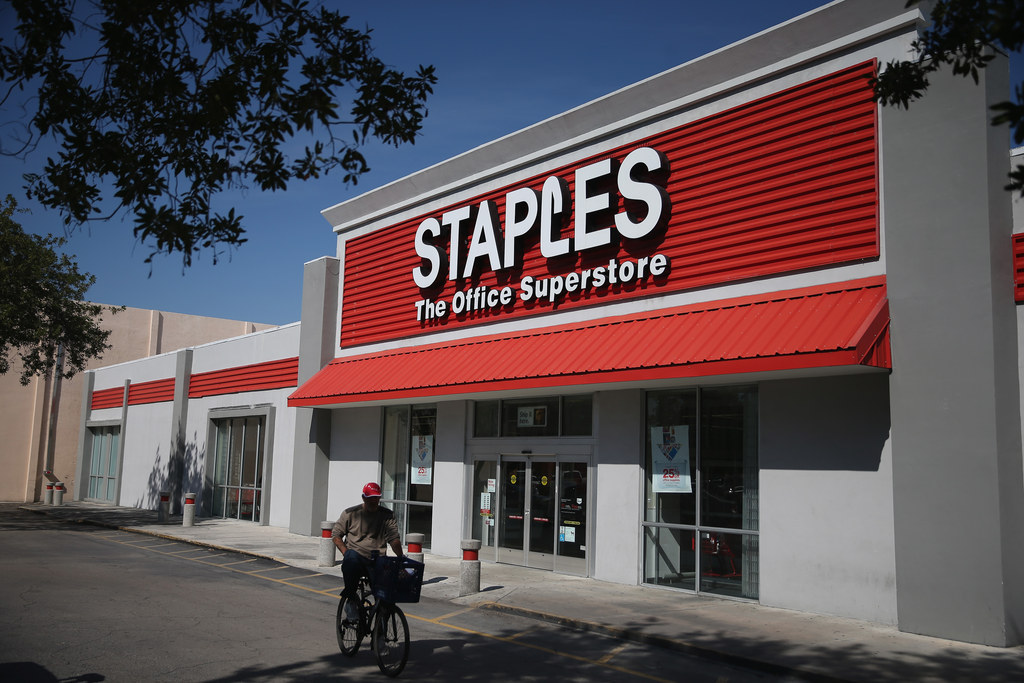 The White House says "there is no evidence" that defining full-time employment at 30 hours a week under the ACA "has caused a broad shift to part-time work to date."
Republicans and lobbyists for companies employing swaths of part-time laborers are pushing to redefine full-time employment under the ACA to 40 hours a week. Obama has vowed to veto it, saying it would "significantly increase the deficit, reduce the number of Americans with employer-based health insurance coverage, and create incentives for employers to shift their employees to part-time work."
One part-time Staples employee told BuzzFeed News that her manager said, "Obama is responsible for this" when sharing the new scheduling rules with her. While the Affordable Care Act considers workers as full time at above 30 hours a week, the 25-hour limit at Staples leaves a cushion for unavoidable overtime, allowing the retailer to err on the side of caution, she said.
"I've already been working a second job, so I just increased my availability there," she said, pointing out she's in a much better position than some of her colleagues, who don't have that option. Her other job is at another large retail chain, which provided its part-time associates with healthcare benefits prior to the passage of ACA. Business has been unaffected at that chain, she said.
"Honestly, I think the Affordable Care Act is a good thing, and I think everyone should have healthcare," she said. "I think companies that are deciding they don't want to pay out benefits, it shows how much they really don't care about their employees."
Another part-time employee who shared her story said she's a single mother earning just under $10 an hour. She commutes an hour and a half to Staples, and used to finagle more than 35 hours a week, despite being scheduled for 28, with a combination of overtime and skipping meals and breaks. Now, she can't get more than 20, and says the scheduling is so "haywire," she has to find another job.
One part-time employee, a student, said he lost his job at the end of last month as part of broader cutbacks at Staples. Stores have been relegated to four different tiers, as illustrated through a leaked organizational chart posted to Imgur. This employee said his store was a Tier 4, the lowest, which resulted in a number of positions being eliminated. Starting last month, if anyone worked over 25 hours at his store, the associate, general manager, and district manager would all get written up, he said.
Christine Komola, Staples' chief financial officer, noted in August that the company sought to cut $250 million in costs last year and "at least" $500 million during the next two years.
"Salesforce productivity — we've basically done significant reinvestment in our sales specialists, but that's been done through challenging our office supply model and kind of redeploying and eliminating where appropriate," she said at the time. "Our retail store labor has changed pretty dramatically in how we've set up those kind of labor pools and tiering of the stores."
Staples employed 46,361 full-time and 36,647 part-time associates as of Feb. 1, 2014. In 2009, the company said it had 57,291 full-time and 33,834 part-time associates.
The fifth employee, who has had his hours cut from up to 35 a week last year to 25 this year, emphasized that general managers at stores are being held responsible for associates staying below the threshold, emailing schedules to district managers on a weekly basis, if not more frequently. This employee views Staples' actions as management "making its employees suffer to prove that Obamacare has failed."
While architects of the ACA hoped companies wouldn't manage their labor forces this way in response to the law, they're unable to do much about those who do. And in the absence of any recourse, it's the part-time workers who are suffering.
FiveThirtyEight reported last month that while data illustrating this issue is extremely limited, it appears as if a few hundred thousand workers are seeing fewer hours because of Obamacare. "That's small in the context of an economy with 150 million workers," Ben Casselman wrote. "But it isn't a minor issue for those workers. Most of them are among the economy's most vulnerable: low-wage, part-time workers who likely have few other options."
It's uncomfortable for companies to discuss these matters publicly, given the backlash that tends to accompany such behavior. Last year, Staples was highlighted as a high-profile employer cutting hours, after a Change.org petition tied to its new limited-scheduling policies went viral. A spokesman for Staples initially defended the 25-hour a week limit as having been in effect for more than a decade. Once BuzzFeed News showed him December 2013 internal memos on "talking points" for "implementing" the policy, which was described as "new," he ceased responding.
Alice, the 19-year-old employee, said she's actually on her father's insurance plan and wishes she could convince Staples to let her work more hours with the guarantee that she won't ask them for benefits. With the way things stand now, she wants the full-time worker definition changed to 40 hours a week.
"I would really love it if that bill got passed," she said, after thinking about it for a moment.
"I don't think a lot of people understand it really affects those of us who are stuck in these retail jobs or whatever," she said. "I know a lot of people who I work with have families and have been in retail for a long time, and I myself am trying to help my family out financially, and we can't get the hours. Obamacare in theory is a great idea but corporations are so selfish, they're going to find a loophole and in the process, they'll hurt us, the little people, before they'll take a hit themselves. So it's us that gets stuck with the short end of the stick."
*Name changed at the request of the source.
December 2013 Staples memo outlining 25-hour policy; it wasn't enforced harshly until this year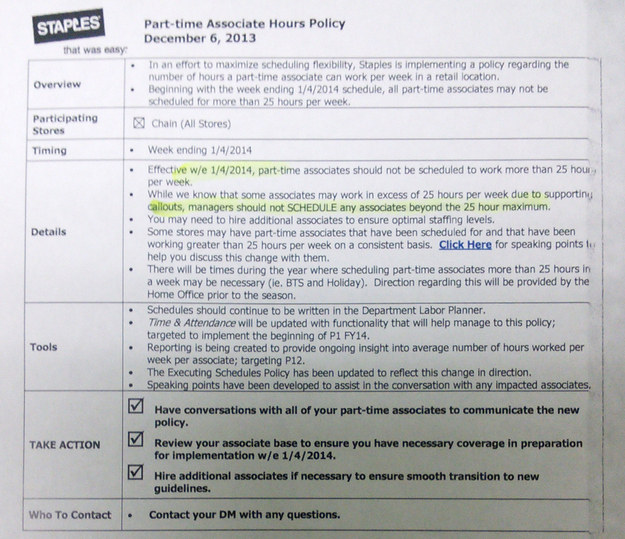 Talking points as part of guidelines in December 2013 memo