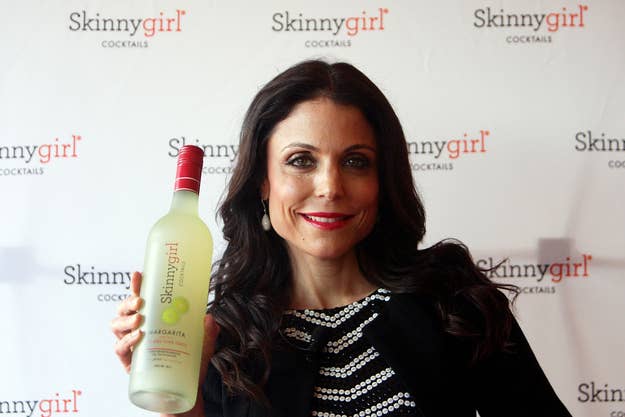 The glory days for Skinnygirl Cocktails may be over.
Beam reported Wednesday that comparable sales of Skinnygirl Cocktails, the low-calorie alcohol brand created by ex-reality TV star Bethenny Frankel, plunged 26% last year. It was the worst performer of the company's spirits, which saw sales increase 2% overall. A number of Beam's brands, including Pinnacle, Laphroaig, and Knob Creek, saw double-digit sales jumps in 2013.
Beam bought Skinnygirl in March 2011 for an undisclosed amount, saying that the brand had "strong consumer equity and momentum, particularly among women seeking convenient, low-calorie premium cocktails." Its most popular product is the ready-to-serve Skinnygirl Margarita, which contains 100 calories per 4-ounce serving. It also sells other ready-to-serve cocktail flavors like mojito and piña colada, and has expanded into low-calorie wines and vodkas. The brand, which operates under the tagline "drink like a lady," says on its website that "Skinnygirl Cocktails isn't just a drink; it's a lifestyle."
Skinnygirl's comparable sales rose 19% in 2012, the first full year Beam operated the brand, indicating a promising future. It's categorized as one of Beam's "rising stars," which are spirits that have "excellent growth profiles" and gets "substantial advertising and marketing program support to drive expansion." While Beam doesn't disclose actual figures for Skinnygirl, executives said in October that the brand accounts for roughly 2% of the company's sales, which would be $50 million of $2.55 billion in revenue last year.
In explaining the reverse in fortunes, Chief Executive Officer Matthew Shattock said on conference calls last year that it was tough to cycle against "really explosive growth." He blamed bad summer weather for hurting Skinnygirl's sales, because it caused retailers to devote less display space to the brand, which is "three times more reliant on impulse purchases." The whole ready-to-serve cocktail category, which makes up 60% of Skinnygirl's sales, was hit by the unfavorable weather, he said.
He remained optimistic on Skinnygirl though, saying that "calorie control cocktailing for women is an important concept," and Frankel, who was on The Real Housewives of New York City, might help reinvigorate the brand with her new talk show.
"Bethenny Frankel, our partner, will be coming back on the airwaves herself with her new daytime talk show, which I think will help inject the awareness and excitement that the brand needs," he said at a conference sponsored by Barclays in September.
However, Frankel's talk show has received consistently low ratings, drawing about one-tenth the viewers of Judge Judy. And more recently, the reality star has been fighting to seal documents related to the Skinnygirl business as part of a class action lawsuit filed in 2011, RadarOnline reported last month.
Beam, which is being acquired by Japan's Suntory Holdings in a $16 billion deal, will not provide public earnings targets for 2014 or hold a conference call to discuss last year's results because of the pending transaction, it said in today's earnings release. So its rationale for Skinnygirl's performance will remain a mystery — but the numbers make it clear that 2013 was a bad year for the brand.
Beam's Comparable Sales for 2013