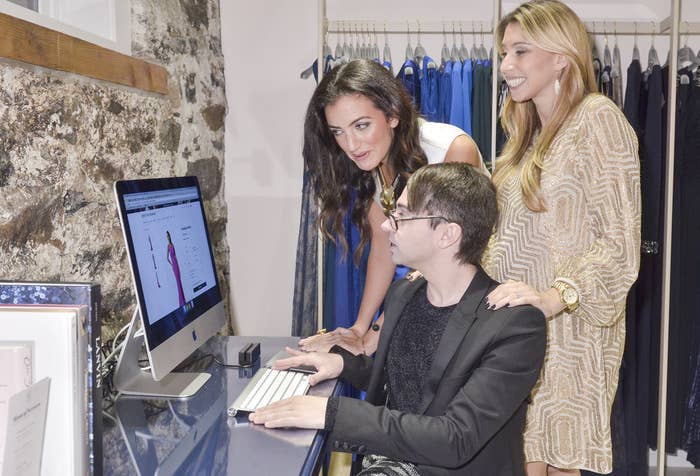 Rent the Runway's supposedly exclusive private label dresses are showing up elsewhere online at discount prices, in some cases for hundreds of dollars less than the retail prices listed by the site.
When one customer complained after seeing a Slate & Willow dress she ordered — which Rent the Runway said retailed for $595 — on sale at Nordstrom under a different label for $118, a customer service staffer gave her a refund. The representative did not make clear that the Slate & Willow brand she rented was a Rent the Runway creation.
After BuzzFeed News asked about the price discrepancy between the two dresses, the company dropped its retail price by a whopping $250. Now, the listing for the once-$595 dress says its "retail price" is $345.
Until Friday, Rent the Runway said this dress had a retail value of $595.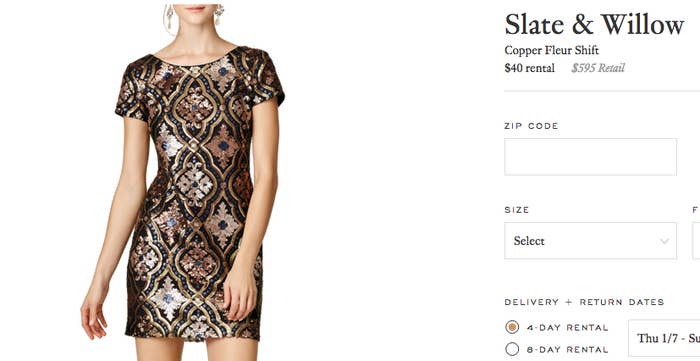 Now it's $345.
At Lord & Taylor's website, a copy of the dress cost $129 last week and is now on sale for $97.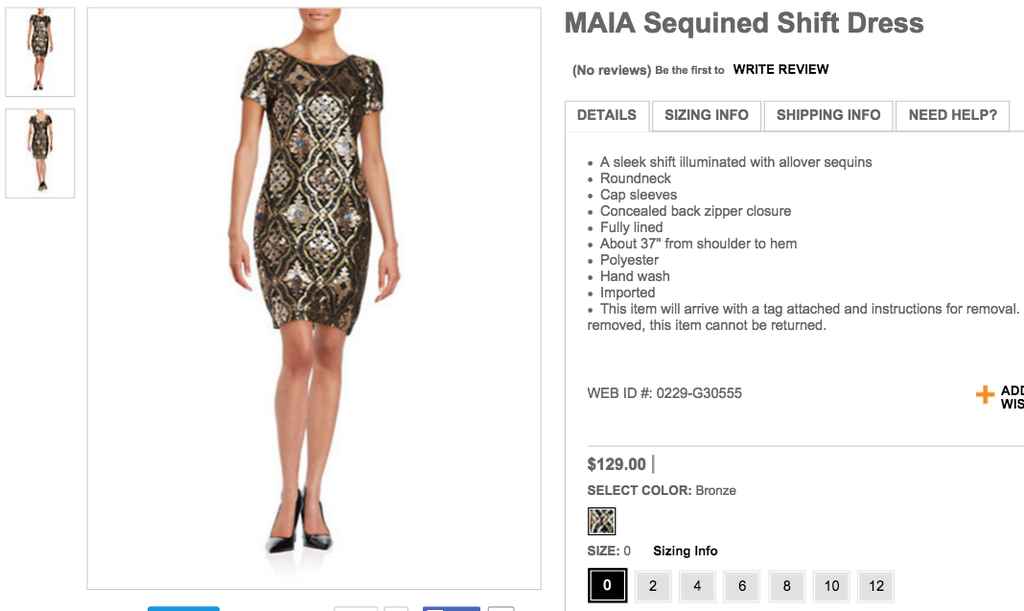 Last week, BuzzFeed News reported that Rent the Runway has quietly introduced two in-house labels on its website: Slate & Willow and Ella Carter. Both appear alongside well-known designer labels like Badgley Mischka and Nicole Miller and are marketed as if they're high-end brands.
While the items frequently receive great reviews from customers, the startup doesn't disclose either brand's origins on its website, or explain that its high "retail prices" are not based on what the products sell for in stores. (Slate & Willow and Ella Carter are trademarked by Rent the Runway and not sold at retail.)
Rent the Runway told BuzzFeed News that the labels were created to "fill the voids in the marketplace" and that it would "love for our customers to know that these styles are exclusive to RTR."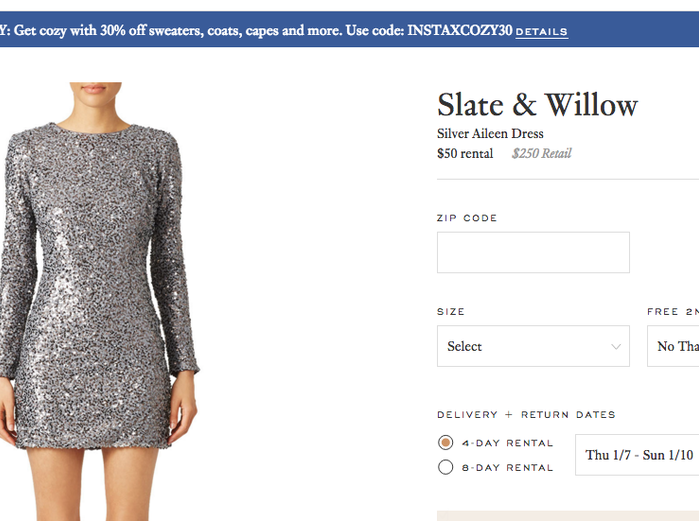 The company did not explain that to one woman who rented a Slate & Willow dress in October, then saw an identical version on sale at Nordstrom for a fraction of the retail price claimed by Rent the Runway.
The woman, who wished to remain anonymous, showed BuzzFeed News the emails she exchanged with a customer service rep, asking why the Slate & Willow "Copper Fleur Shift" she thought was valued at $595 and rented for $40 was available at Nordstrom.com for $118 under the "Maia" label.
The rep responded: "The dresses do look identical but Slate and Willow are a company that does business directly with RTR. I will refund the order if you would like the purchase the dress at Nordstrom."
The shopper accepted but noted that she still felt "like I'm being scammed," adding: "I feel like Slate and Willow is a company made up by Rent the Runway to mask the fact that you're buying the dresses wholesale for very cheap."
To that, the rep said: "I actually received a follow up on the situation. Some designers actually allow us to use a different name for our website. I sincerely apologize if you feel like RTR is not being honest. We have a ton of other designers you could rent from if Slate and Willow is not a designer you trust. Our company would be in serious trouble if we were disloyal."
Rent the Runway told BuzzFeed News on Friday that it "looked into it" and that the Slate & Willow "Copper Fleur Shift" should list a retail price of $345 instead. It has since changed the price on its website, but didn't respond to questions about the customer service exchange.
Von Maur is selling this Maia dress for $118. The similar Slate & Willow dress, on the right, lists a retail value of $348.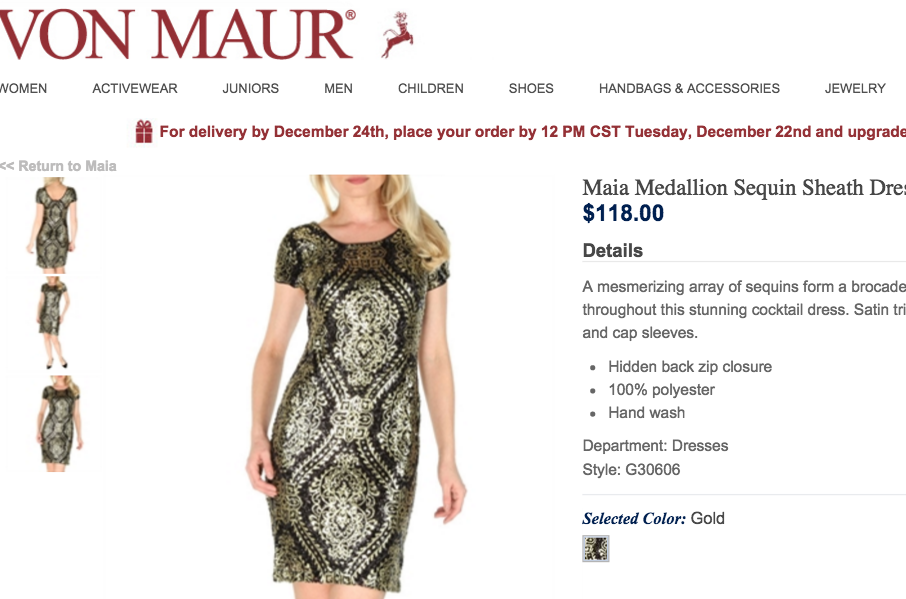 A number of Rent the Runway's Slate & Willow dresses are available on department-store websites such as Nordstrom, Lord & Taylor and Von Maur for much less under the "Maia" label.
Nordstrom told BuzzFeed News that Maia, which it only sells online, is owned by a company called Donna Ricco, which is in turn owned by a clothing distributor called ZG Apparel.
A designer at ZG, who spoke on the condition of anonymity, said he designed a bunch of dresses at a company called FYC Apparel a couple of years ago, which were sold to Rent the Runway. FYC was then absorbed by ZG, which began mass producing the same designs under the Maia name, he said.
Rent the Runway said companies like Lord & Taylor and Nordstrom can sell a similar version of its dresses for less "because they purchased it from a manufacturer that acquired the manufacturer we had worked with — and these companies likely bought a higher volume, driving down the cost."
While costs can fluctuate based on country of production, order volume and workmanship, the gaps between Rent the Runway's "retail price" and similar items online is large. The Slate & Willow "Letty Dress" with black sequins lists a suggested retail of $395. It's made in the U.S. and 100% polyester. A copy at Nordstrom's website from Maia, called "Sequin Jersey Fit & Flare Dress," is imported and made up of 95% rayon and 5% spandex. The Maia one costs $108.
"What our listed retail prices reflect is a markup that retailers with in-house labels apply over the price of production," Rent the Runway told BuzzFeed News. "The markup we apply to the cost of production is typically under the industry standard."
This Slate & Willow Letty Dress costs $45 to rent, with a listed retail price of $395.
A dress that looks the same under the Maia label is on Nordstrom's website for $108.
Fortune reported last month that Rent the Runway isn't yet profitable, though it may bring in between $70 million and $100 million in revenue this year. The high retail prices on its private products is notable because the company frequently discloses the total retail value of items rented out in a year as a metric of its success. CNBC reported that number as $809 million for 2014, while Inc. recently said the company is on track to hit $1 billion by the end of this year.
Gilt Groupe has also sold private-label goods as if they're designer items, and landed in hot water for it, as Vice noted this summer. The company, which has made up in-house brands like Alex + Alex and Zoe + Sam, now includes this description on such goods: "This brand is available exclusively on Gilt. It was created in collaboration with our preferred brand partners to bring you great style at an accessible price point. Slash-through price based on price(s) of similar but not necessarily identical product."
Rent the Runway said last week that it's "in the process of redesigning our designer pages now to house more info."
This Rent the Runway dress is $50 to rent with a $370 retail price.
It was originally $98 then cut to $29.40 at Nordstrom Rack.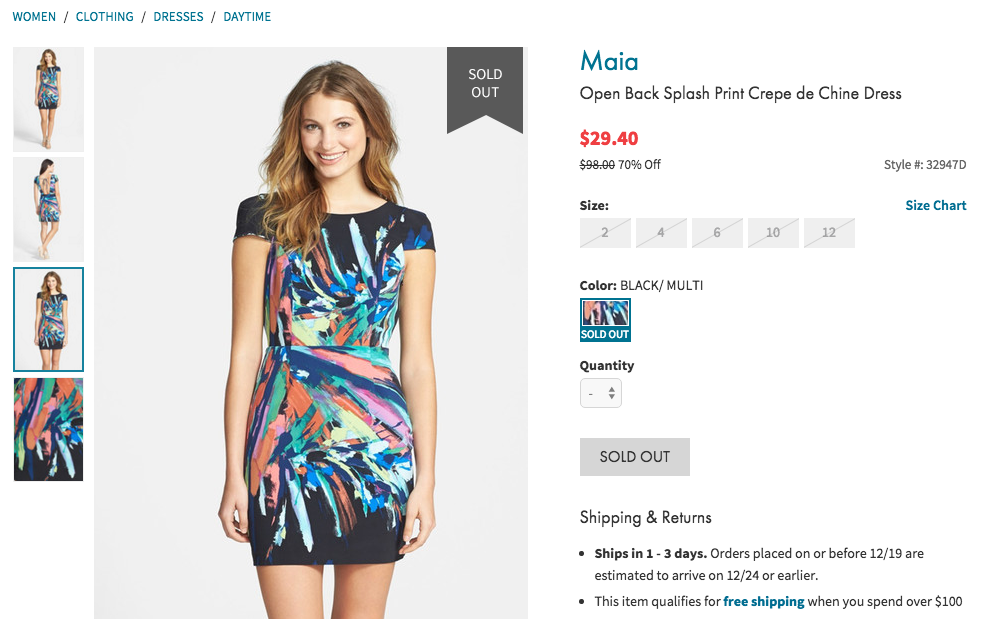 A Slate & Willow dress with a $348 retail price was on Nordstrom's website for $65, according to Polyvore.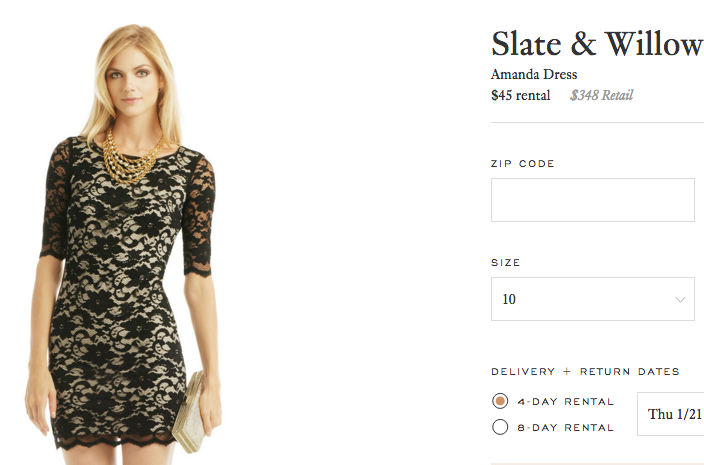 A $470 retail price on the Slate & Willow dress. Polyvore shows a similar version cost $45 at one point from Nordstrom.