Ralph Lauren unintentionally gave enormous discounts to a ton of shoppers Sunday after a promotional code meant for employees and their family members leaked online.
"Yesterday evening, a special promotional employee discount code was shared online without the company's authorization and has since been deactivated," Ralph Lauren representative Ryan Lally said in an email to BuzzFeed. He did not reply to multiple requests asking if the discounts — 65% on full-price merchandise and 40% on sale items — would be honored.
But a source inside the company said if customers selected overnight shipping and their order hasn't yet been canceled, it will probably be delivered. The retailer is assessing the validity of orders for standard delivery, with special scrutiny on those totaling more than $800, said this person, who spoke to BuzzFeed on the condition of anonymity. It's honored the majority of purchases — which number in the thousands — already, the person said.
The codes went viral on Twitter yesterday and showed up on discount websites like Slickdeals.net, getting plenty of use before expiring at midnight. While some questioned whether leaking the code was a planned marketing stunt, the company representative and other sources said it was not. A woman who works for the retailer mistakenly shared the information with a friend, who sent it to another friend, and so on. The retailer wasn't able to deactivate the associated codes because it couldn't remove the employee from its system right away, according to the source at Ralph Lauren.
Ralph Lauren has already canceled orders from customers who went overboard with the discount, including some who used it on items like a $5,700 chandelier and handbags that cost more than $1,000, the source said. The retailer did let some shoppers get away with free monogramming, though, this person said.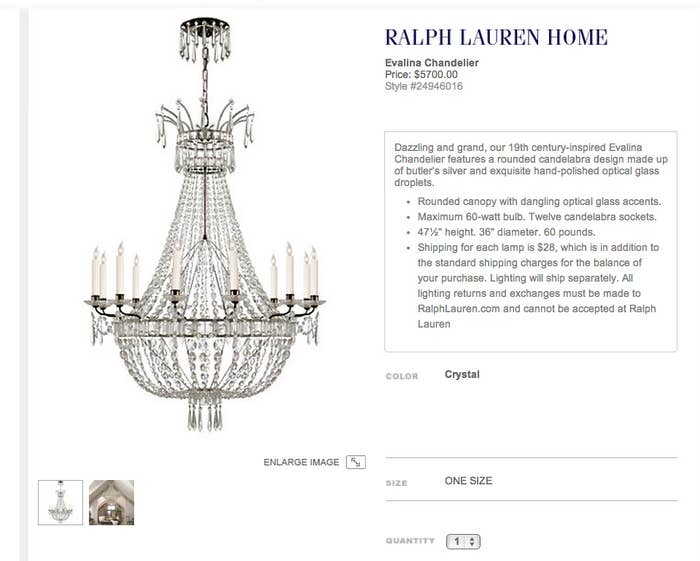 Ralph Lauren's employee discounts are restricted to people who work at the company, their partners and dependent children, according to the retailer's website. They can be accessed using an employee's six-digit ID number and birthday, or through a special promotional code for that pool of family members. Some Instagram and Twitter users shared the compromised employee's information through a screenshot of a text, though the majority of customers appeared to be exchanging the promotional code. According to analytics company Topsy, people started tweeting the information Sunday morning.
Many people have been posting screenshots of their purchases on Twitter and Instagram, depicting hundreds of dollars in savings.
Ralph Lauren, which also owns Polo and Club Monaco, makes almost $7 billion a year in annual sales.
Ironically, the error may have actually helped the retailer manage its inventory, since a bunch of its unsold fall and winter merchandise was going to go to its own outlets and chains like Macy's and Marshalls, the person said.
An Instagram user posted an employee's information for the 65% discount before posting a separate picture of the actual code
This person saved $400 on a purchase that ended up coming to $227.90
The code cut a thermal's price to $15.75 from $45
Even more deals here:
Some orders were successful...
While others weren't so sure what might happen: