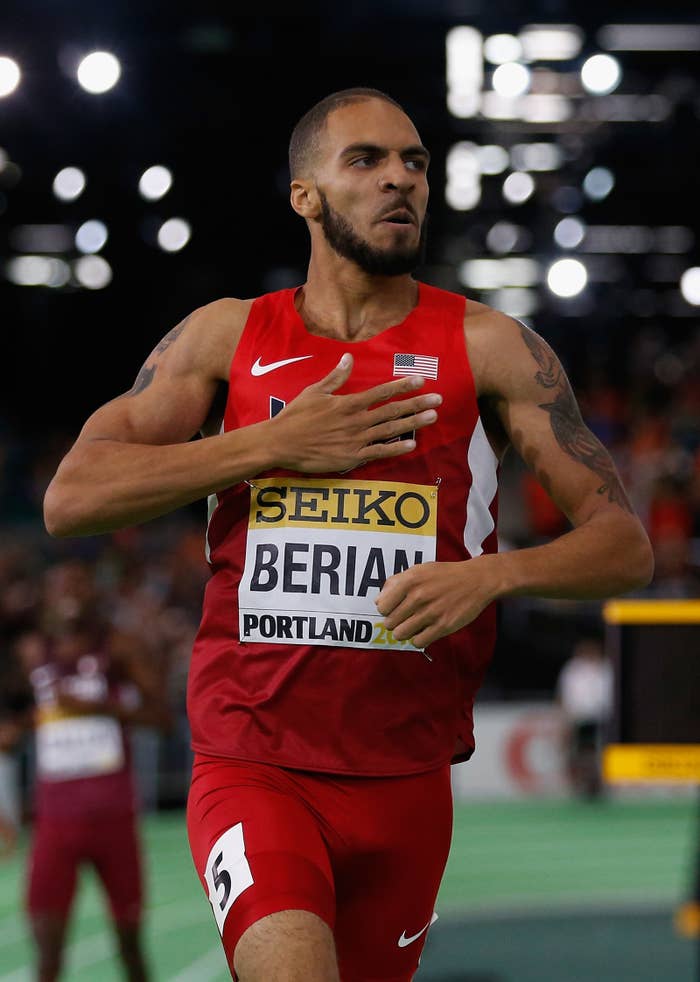 Nike has dropped its lawsuit against star U.S. runner Boris Berian, just one day after a judge rescheduled his final ruling in the case — and just as the unusual legal battle began to attract more public attention.
Nike has been suing the 23-year-old Olympic hopeful for allegedly breaching the terms of a contract that ended last year but gave Nike the right to match competing offers for 180 days. Berian, the world indoor 800-meter champion, hasn't had a sponsor this year as the dispute has blocked him from signing with New Balance.
"Nike legitimately exercised its right to match the New Balance offer and believe we would prove this at trial," the company said in a statement shared by ESPN reporter Darren Rovell. "It is important that agreements endorsers, endorsees and agents sign together are appropriately upheld."

On Wednesday, the judge hearing the case said they would make a ruling next week, just days before the U.S. Olympic qualifying trials.
"As a running company, we also recognize that this is a significant time for Boris and in light of the judge's decision to delay the ruling until June 28, the eve of the Olympic Trials, we decided to eliminate this distraction for Boris," Nike said. "Therefore, in the interests of the athlete, we have dismissed our case. We wish Boris the best of luck and success in the future."
A Nike spokesman confirmed to the Wall Street Journal that Berian is no longer a Nike athlete.

Hawi Keflezighi, Berian's agent, told BuzzFeed News in an email at 11 p.m. on Thursday that he hadn't been in direct contact with Nike. But the statement indicates that Berian "can proceed with another footwear partner," he said, adding that they will "explore these opportunities tomorrow."

"We are pleasantly surprised," he wrote. "We are thankful to all that supported Boris during this frustrating process."

The case has picked up more attention in recent weeks, pitting a major American company whose brand is built on its relationship with athletes against an unexpected rising star in the U.S., who was flipping burgers at McDonald's just a couple of years ago.
The lawsuit wasn't a good look for Nike, which served the runner with court papers at a track meet last month. Berian and his supporters have maligned Nike online, posting pictures of sneakers that say Free Boris over the swoosh and using the #FreeBoris hashtag in tweets and Instagram posts.
All the while, Nike has insisted it just wants Berian in its gear — mostly, its shoes, given the swoosh already appears on all Team USA uniforms. The company has said in court documents that Berian's breach "will cause irreparable harm to Nike" and that it "hopes Defendant will compete and succeed."

While the trials may have had something to do with it, it's possible that Nike was influenced by additional recent coverage of the case in outlets ranging from the Wall Street Journal to Sports Illustrated and Deadspin. This week, Keflezighi's launched a crowdfunding campaign to raise money for the lawsuit, which he described as a "David vs. Goliath battle."
As of Thursday evening, the fund had brought in more than $4,000.
But more importantly, Boris has been #Freed.