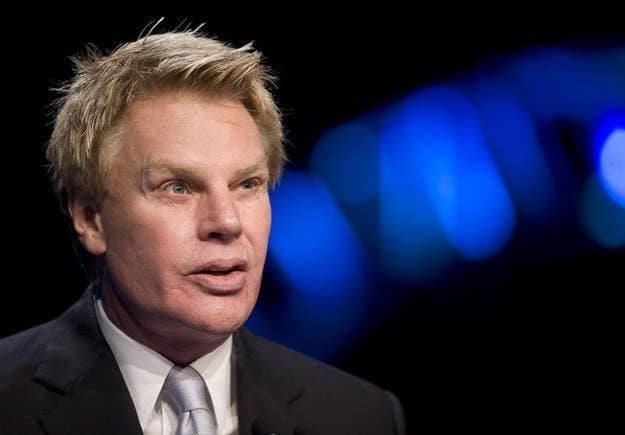 Mike Jeffries, the deeply controversial modern-day founder and chief executive officer of Abercrombie & Fitch, has retired from the company effective immediately without a successor in place.
The company said in a statement today that its nonexecutive chairman will become executive chairman, and that he and three other executives will "oversee the company's strategic direction and be responsible for managing the company's day-to-day operations until a new CEO is appointed." The board said it has hired a search firm to recruit a replacement for Jeffries. Shares shot up on the news.
This is an enormous shift for Abercrombie, which also owns Hollister, and follows a year of extreme pressure from shareholders and company insiders on Jeffries to depart. While the 70-year-old is credited with coming up with Abercrombie's sex-meets-Ivy League aesthetic in the '90s and making it the coolest teen retailer for an era, he's lost favor as sales have faltered and teens' tastes have changed. Shareholders have swooped in, demanding changes and calling for his ouster. Abercrombie, in response, replaced much of its board, brought on new brand presidents and renegotiated a shortened contract with Jeffries. Jeffries has also been unpopular on the internet after the viral resurrection of comments he made to Salon in 2006, saying Abercrombie only markets to "cool, good-looking people."
"While we believe Mr. Jeffries played an integral role in the company's success for nearly two decades, it has been apparent that the brand has lost its luster in recent years," Richard Jaffe, an analyst at Stifel, wrote in a note today. "We think it took management, led by Mr. Jeffries, too long to acknowledge the need to transition from the company's previously successful aesthetic of an aspirational, New England prep-inspired teenager. We believe a new CEO, preferably from outside the company, will need to be able to accelerate the ongoing merchandise turnaround and offer merchandise that once again resonates with today's teenager."
Jeffries, who has been in charge since 1992 and once ran the retailer with little oversight, has been rapped in recent years for flagrant use of company funds on the corporate jet, hotels, and the excessive involvement of his partner in the business. An embarrassing 40-plus-page airplane manual containing instructions on how to treat him and his partner on the corporate jet — down to underwear specifications for the staff — was uncovered as part of a now-settled lawsuit filed in 2010 by a former pilot.
The manual also specified that attendants had to wear black gloves for handling silverware and white gloves for laying the table; the song "Take Me Home" had to be played when passengers arrived in the cabin for return flights; and it included different seating arrangements for Jeffries's dogs based on which were traveling.
In the 90s, Jeffries turned Abercrombie, which once made safari and camping gear for the likes of Ernest Hemingway, into a provocative teen clothier, using unique and innovative marketing strategies. The attractive store employees were called models, black and white Bruce Weber photography decorated the walls and the A&F Quarterly's soft-core porn vibe outraged conservative groups. The shops were like nightclubs and cologne drenched the air. It was all cool enough to command $70 for jeans and $40 for graphic t-shirts; American Eagle and Aeropostale were considered lower tiers of the preppy Abercrombie brand. From 1995 through 2008, Abercrombie's annual sales shot up more than 20-fold while the retailer's net income increased more than 50-fold.
"It is impossible to overstate Mike Jeffries' extraordinary accomplishments in building Abercrombie & Fitch to the iconic status the brand now enjoys," Arthur Martinez, the company's new executive chairman, said in the statement. "From a standing start two decades ago, his creativity and imagination were the driving forces behind the company's growth and success. Going forward, we are confident in our talented senior leadership team and the steps we are taking to revitalize our brands and business."
In recent quarters, Abercrombie, which brings in more than $4 billion in annual sales, has seen sales plummet both domestically, where it's shuttering stores, and internationally, where it pursued some costly, ill-advised expansions. The company is up against quickly-growing fast-fashion behemoths like Forever 21 and H&M, off-price chains like Nordstrom Rack, and a resurgence in surf-and-skate styles with retailers like Zumiez and Tilly's.
"It has been an honor to lead this extraordinarily talented group of people," Jeffries said in today's statement. "I am extremely proud of your accomplishments. I believe now is the right time for new leadership to take the Company forward in the next phase of its development."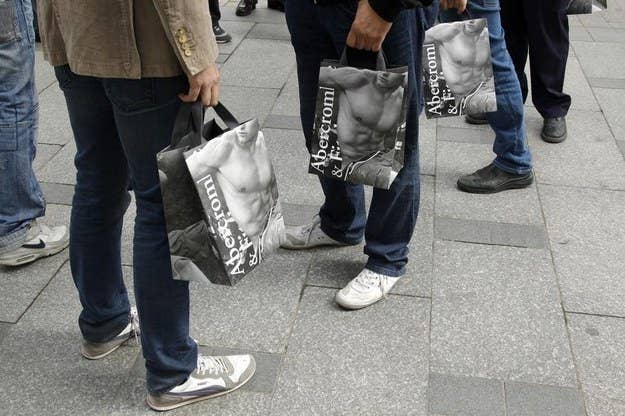 Updates with more details on Abercrombie's business.