Since Lululemon's early days, the pricey yogawear brand has taken its cues from a fictional muse named Ocean.
Ocean is a fashionable, professional 32-year-old woman who's unmarried but engaged; she makes $100,000 a year, owns her own condo, and has an hour and a half to work out every day, as noted by the New York Times. Ocean has her act together, and she's willing to shell out $100 for stylish pants she can wear to both yoga and brunch to help her keep it that way.
After years spent with a singular obsession on Ocean — a kind of aspirational Barbie for educated, affluent women — Lululemon has ramped up its focus on her Ken. He's a man named Duke.
Duke is a few years older than Ocean, a "mindful athlete" who's competitive, well-rounded, and likes a variety of physical activities, executives say. Felix del Toro, who heads up Lululemon's men's efforts, has described Duke as "discerning" and "someone you'd want to be friends with and someone you'd want your sister to marry." Like Ocean, he's willing to pay a premium for clothes he can wear to the gym and hang out in, while looking good at the same time.
When Lululemon starting doubling down on the men's market in early 2013, it was met with a healthy amount of skepticism: Did men like Duke really exist? And if they did, could a brand so centered around women tempt them away from the likes of Nike and Under Armour?
As it turns out, yes they do, and yes they can. Today more than one in every seven dollars spent at Lululemon is for men's items, and sales of men's gear grew by 15% in the most recent quarter, almost twice as fast as overall sales at the company.
That's a bigger deal than it may seem, because getting men to buy clothes once exclusively worn by women is a very tough sell. While pretty much any macho sports or surf brand can slap a logo on a women's T-shirt and stand a good chance of gaining traction, there are few precedents for a women's brand being proudly worn by guys — think college guys in Lilly Pulitzer shorts, or ballplayers wearing Victoria's Secret boxers.
Nick Wilde, a 26-year old from San Francisco, said he openly refers to the Lululemon bag his girlfriend gave him in March as his "Lulu," comparing it to how girls might refer to designer purses as "my Gucci" or "my Prada." Chris Phillips, a 39-year-old who lives in Brooklyn and started shopping the brand six months ago, sees its subtle logo as a way to signal taste and style, like "the urban version of a car."
And Cody Reichard, a 28-year-old professional ice hockey player in Indianapolis, said he and "a lot of pro guys wear it," partly for the 10% discount they get, and mostly because it's so comfortable.
Ice hockey players! Blood and blades and all.
Until recently, Lululemon's cultural cachet with women had men taking a largely confessional or defensive tone when declaring their love for the brand. John Jannuzzi, writing for GQ in February 2014, said that for dudes, walking into a Lululemon is "like venturing into a nail salon: you feel as though all your testosterone was checked at the door."
His piece elaborated on "weighing [his] masculinity against clothes that have a logo that looks like a lady's wig" to seeing "the light of the Pace Breaker shorts," a daunting but rewarding journey he urged other men to undertake.
Comedian Pete Holmes was on Conan that same month. The host joked that every time he saw Holmes, the comedian was clad in "sweats and flip-flops." Holmes, grinning big, was quick to correct O'Brien: "Those aren't sweats, Conan." He was wearing "Lululemon," he specified, eliciting laughter from the audience. He continued: "High-end yogawear. I like to look like McConaughey between movies."
But the days of men masking their Lulu loyalty with layer of macho self-deprecation are coming to an end. Now they're flaunting it.
"I was a Nike guy forever and ever and ever, and once I started paying more attention, in the gym, I would say 50% of the guys are wearing Lululemon," said Michael Chernow, the co-owner and general manager of the mega-popular Meatball Shop in New York. "It's probably been somewhat of a challenge to tap into the men's space, because when they think of Lululemon, they think of women's yoga gear ... but I will say this — they are really making a lot of headway."
The restaurateur, who's 35, is a formal part of Lululemon's efforts to appeal to men. Before opening a new store, the retailer traditionally researches a community and asks popular fitness instructors and yogis in the area to be "brand ambassadors" — a grassroots strategy that's helped it rack up sales per square foot that rank just behind Apple, Tiffany & Co., and Michael Kors.
In the lead-up to its first standalone men's store in Manhattan's Soho neighborhood, which opened in November, Lululemon needed male ambassadors. It invited Chernow, an entrepreneur who's athletic, but doesn't make his living from it, to join a roster of more typical advocates.
The meatball visionary hadn't worn Lululemon before the company reached out to him — but now he's a zealot. "I'm a true believer," he said. "I love the brand. It's not just a black stretchy pant brand."
In building out its men's line, Lululemon kept the same logo and name, and with the exception of the Soho location, it's carried in the same stores that mostly sell to women. Some have questioned whether men would want to don the logo at all or if it's "too feminine."
"We have a lot of conversations around the logo, and the placement, and the brand name and how we've opted to reinforce the brand and be equally relevant to both genders," Del Toro, the men's division head at Lululemon, said in an interview with BuzzFeed News. Del Toro, who joined the company in early 2013 after years at Gap and Calvin Klein, said "it would take away from what we're doing if we created a separate brand for him."
Lululemon has separate Twitter and Instagram accounts at the tongue-twister handle @LululemonMen. While the main accounts put the company's curvy logo against red and aquamarine backgrounds, the dude version rests against black. And while the main account earnestly says it's "creating components for people to live long, healthy and fun lives," the men's version is decidedly more chill: "If you're up for adventure, a good sweat and a cold beer, we'll get along just fine."
Lululemon's men's merchandise now makes up about 15% of its business, a slight increase from the 13% reported in 2013. That would equate to roughly $270 million based on Lululemon's $1.8 billion in sales for the year through Feb. 1.
While that's small-fry compared with the many billions in revenue commanded by Nike and Under Armour, Lululemon, which is pricier than both those brands, has reported higher sales growth for menswear than its overall business for each of its last four quarters. The new Soho store is thriving, and the company is gaining traction with redesigns of the men's area in a few flagship stores — some have separate entrances for guys, a clear invitation for those who might balk at shopping in what many still consider a women's clothing store.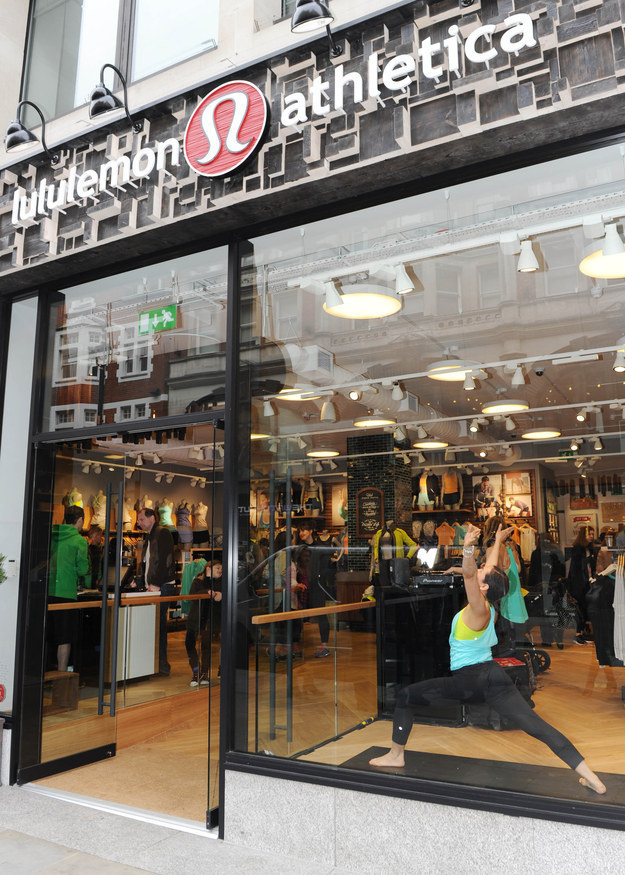 Getting men to walk through the doors without a woman leading the way is a big challenge for the company. Guys are largely introduced to Lululemon through a wife, girlfriend, or other lady in their life, and Del Toro says he'd "like to write a personal thank-you note" to every woman who's led a man to the brand.
A salesperson at the Lululemon women's store in Soho said her boyfriend loved the brand once she began working there and buying him items — he never would have wandered into the store on his own, she said, citing the bright colors and sea of women.
The company knows women will always be a gateway for many men's first Lululemon exposure. But the real prize will be getting men to commit of their own volition. "Guys tend to be loyal, they're more like dogs, very loyal," Del Toro said. "Once a guy embraces a brand, he's in it."
Wilde, the 26-year-old who lives in the Bay Area, says he started observing more women wearing stylish athletic clothing while working in the Fillmore, "a very trendy district in San Francisco with a lot of posh yoga moms."
"I started to notice designs on the yoga pants, and eventually went into the Lulu store," said Wilde, who works at Habitat Horticulture, a living walls company. "I didn't know what it was... I walked in one day and was feeling the material like a little kid. It was the best material I've ever felt in my life."
All of the men I spoke with were struck by the versatility of Lululemon's clothes and bags — they're easy to wear to work, at the gym, at brunch, and elsewhere, they said. It hits that same "athleisure" market that's been a runaway success with American women, and enticed everyone from the Gap to Nike into making stylish workout clothes. Lululemon has been betting it can create that market for men, too — of its three categories for menswear, only one is "sweat," while the other two are "post sweat" and "no sweat."
The clothes at Nike and Under Armour "don't cross over as much," Phillips said. "It's more purely gym stuff and it is not as modern or as tailored looking. It just looks like gym clothes."
"Under Armour to me is kind of more like a high school teenager market," Wilde said, contemplating Lululemon's rival. "Kind of, you're on a travel soccer team, whereas Lululemon is grown-up, sexy. They started the industry, but Lululemon took it to the next level."
He added: "I think guys have gotten more open-minded in the last 10 years to not really care about a company that was primarily a women's brand. Under Armour is so branded as men's dominated, football, et cetera. Lululemon is more like exercise and fitness all around."
Those more open-minded men will be crucial, because it's still not easy for a women's clothing brand to branch out into menswear, and few have ever pulled it off. Del Toro conceded as much, noting it's "typically the other way" around, especially in the male-dominated world of athletic apparel.
But the company is doing something right: Phillips says he now has six pieces of gear from Lululemon, which is a lot, given most of his clothes come from the same four brands.
"I'm not the workout junkie either," he said. "But maybe that's part of how Lululemon got me."