You've probably heard this story before: In a sunny office overlooking the San Francisco Bay Bridge, a casually dressed executive pitches a reporter on the technology-driven disruption overtaking his industry, and how his company will come out on top.
But in this case, the company in question is no startup — it's Gap Inc., the 45-year-old mainstay of suburban shopping malls that's home to Middle America's favorite clothing brands: Gap, Old Navy, and Banana Republic. And the pitchman is Art Peck, the 59-year-old digital chief of the company, who will take over as its CEO in two-and-a-half months and get working on the enormous task of reshaping Gap for the 21st century.
Today, there are nearly 3,600 Gap, Banana Republic and Old Navy stores around the world, and Gap Inc. rakes in upwards of $16 billion in annual sales. More than three-quarters of that still comes from America, where it's the country's biggest specialty retailer, meaning it operates more of those mall stores outside of department stores than anyone else.
The company has made it so that you can spend a lifetime in Gap clothes: Get born and play in BabyGap and Gap Kids, and grow up and spend the weekends in regular Gap. Go to work in Banana Republic. Bring the whole family to Old Navy, and save some money at the outlets. Work out in Athleta. Go high-fashion in Intermix and Piperlime. You get the idea.
But American retail has undergone radical changes in the past decade, and Gap knows this better than anyone. It is heavily invested in shopping malls at a time when mall traffic is on the decline and internet sales are booming. It's known for its denim in an era where, increasingly, women and men are walking around in stretchy leggings and jogger pants instead of jeans. Above all, it's got a hell of a lot more competition.
Peck, however, is optimistic. He believes the smartphone and e-commerce are responsible for the retail industry's most radical change since customers moved to suburbs and began shopping at big-box retailers like Target and Walmart in the 1950s and '60s.
"The most exciting time to be in a business in terms of opportunity is when there's disruption," he told BuzzFeed News this week at Gap's San Francisco headquarters, in his first sit-down since he was announced as CEO last month. "It's the globalization of the industry in which we are one of the few truly global players, it is the collision of digital and physical that's going on which is going to really redefine the whole customer experience... and then it's the continued evolution of how we bring product to market."
He holds up his iPhone. "While honoring our stores and having our stores be a great expression of the brand, this" — he gestured to the device — "...is really going to be the expression of the brand that most people engage with most significantly," he said. "How do you bring everything this device can bring into a store?"
The smartphone, Peck believes, may eventually elevate the Gap experience in a suburban mall to the level of a flagship big city store. It will empower customers and ultimately, he believes, sell more clothes.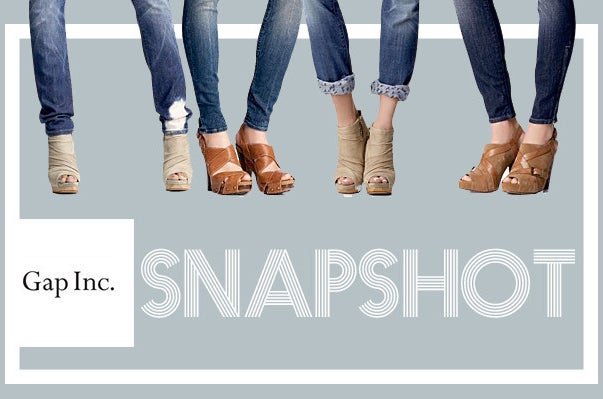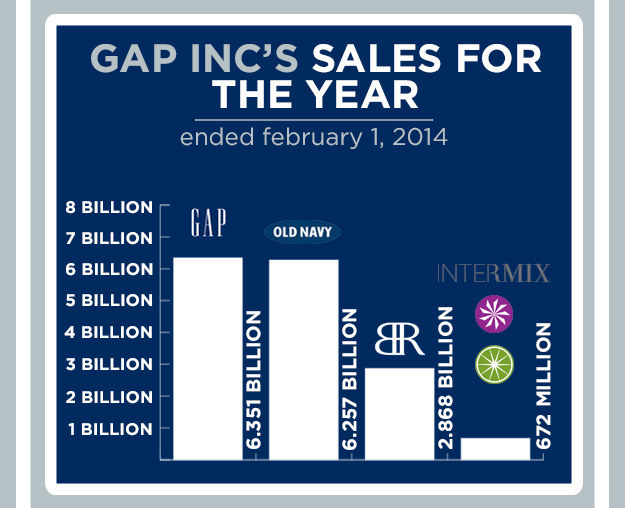 For all the excitement, Peck admits there's quite a bit of uncharted territory ahead. "Visits to good malls are not down, but the number of store visits inside a mall are down, which says to me that people are planning their store visits as a function of their engagement with the brand, oftentimes expressed on a smartphone," he says. "I would argue nobody's figured out what exactly the aspirational, holistic, emotional expression of a brand like a Gap or a Banana Republic or an Old Navy looks like when it shows up on this device right now."
It's no mistake that Gap chose its "digital guy" to replace outgoing CEO Glenn Murphy, although Peck is not just a digital guy. He has worked tightly with some of the most promising parts of Gap's business, joining the company in 2005 after 23 years at the Boston Consulting Group.
He worked with Murphy on getting the company into China and building its global growth plan, led its big outlet business, headed Gap North America, and internally, led the acquisitions of Athleta in 2008 and Intermix in 2012. (Athleta, Gap's answer to Lululemon, has recently been heralded as Gap's fourth big brand, a major bet that it will one day stand alongside Old Navy, Banana Republic, and Gap.)
For the past two years, Peck enjoyed a broad role as president of growth, innovation, and digital, which encompasses Gap's efforts to integrate its stores and the web, its $2 billion-plus e-commerce business, and the growth of what Gap calls its emerging brands: Athleta, Intermix, and Piperlime. Murphy said last month he couldn't "make a personal commitment" to planning the next phase of Gap's future, and will pass the reins on to Peck, a Harvard Business School graduate, on Feb. 1.
Peck notes that the last couple of years have been spent "building the foundation for digital innovation and so now we're at a place where we can start lighting these things up." Gap has, by now, enabled Wi-Fi in more than 1,100 North American stores, where it has just under 2,700 locations overall. It rolled out Reserve-in-Store for all Gap and Banana Republic U.S. locations. It's just starting to offer in-store ordering for delivery at 1,000 stores and has been testing a digital loyalty program at Banana Republic.
Peck says the new way to measure a retailer's traffic is "footsteps across the lease line or unique visitors to our websites." He added: "The numbers are going in a way where, very quickly, the majority of traffic will be digital as opposed to people walking into our stores."
"I had a conversation with the senior field team of Banana Republic the other day and I told them, as much as I would like to tell them how this collision of digital and physical is going to evolve in a nice linear, sequential way, I think it's going to be messier than that," he said. "It's really going to come down to having the capacity as a company to try different things, to throw some stuff at the wall... It's really hard to predict how it's all going to shake out when you're giving customers things that they never really had before."
According to Liz Dunn, founder and CEO of retail consulting firm Talmage Advisors, it's that kind of talk that has some in the industry considering Peck as more of a "visionary leader," as opposed to the operations and team-building approach of outgoing CEO Murphy. He's fascinated by the evolution of customer behavior, drawing ideas for Gap from how top museums are adapting to the digital age and experiences like a recent meal he ordered and paid for via tablet at a pho restaurant in San Francisco's East Bay.
He tends to answer questions in the spoken equivalent of bullet points, perhaps a vestige from his management consulting days. He also has something of a Silicon Valley streak, with an office that contains a conference table but no desk.
"The desk, I think, is a residual symbol of power that I don't feel is really useful in my workplace because it's a way of putting a barrier between yourself and another person in a lot of respects," he explains. "They also become places where stuff can collect on them. As you see, I really try to keep paper out of here. And so from that standpoint, I'm just not that into desks."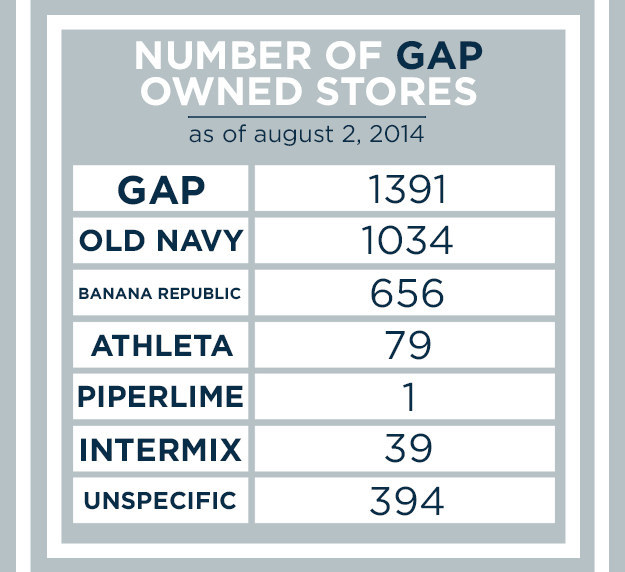 For all of Peck's thoughts on the fusion of stores and the web, he's well aware that it's the product that comes first. If a customer doesn't like any of the sweaters at Old Navy or Gap, it doesn't matter if they can order it online or find out if it was made with ethically sourced cotton on their smartphone. The phone "is an enabler but it has to sit on a foundation of consistently great product across all of our brands," he said.
To some, the core Gap brand could be doing better. While it accounts for less than 50% of the company's sales, it's the heart and soul of Gap Inc. and the barometer by which Wall Street measures the company.
Unlike 15 years ago, Gap now has to duel for wallets against fast-fashion retailers like H&M and Forever 21 along with off-pricers like Nordstrom Rack and T.J. Maxx, which are commoditizing clothing and fighting aggressive price wars, while giving shoppers a wide breadth of swiftly changing styles in their stores. Japan's Uniqlo, which is slowly but steadily expanding in the U.S., is its own unique threat, having set its sights squarely on Gap's target market in a bid to do what Gap became famous for: outfitting America in high-quality, fairly priced basics. Jerry Storch, a consultant who was previously the vice chair of Target and CEO of Toys 'R' Us, described Gap's, and by extension Peck's, challenges to me as such: "Denim is bad, women's apparel is bad, logo apparel is bad, and mall traffic is down very sharply."
One challenge, Peck says, is that the retail sector has a bit too much clothing on offer relative to demand from consumers, which is leading to constant discounting. "It's like any other industry, where having products in our stores that are differentiated versus the competition in a meaningful way means that you don't have to just incessantly compete on price," he says.
While much is made of Uniqlo's U.S. entry, the company has yet to make a splash in suburbs and is tiny compared with Gap and its brands. Peck says he's been to Uniqlo and while he respects the company, and thinks there's much to learn from it, he has doubts about its ability to take hold in middle America.
"It'll be very interesting to see how they do as they move out of the downtown areas of major cities into the suburbs where the brand is less known," Peck said of Uniqlo. "It's different for any competitor to express the brand in 90,000 square feet on Fifth Avenue than it is in 6,000 square feet in a suburban shopping mall, but I absolutely respect them as a competitor and they do some things that anybody could learn from. Mass color and blow-up key items — it's a great key item business and they're very good at it."
Gap has a number of bright spots in its business, including its online sales and foray into China. Athleta, in particular, is growing at a rapid clip, and lands right in the sweet spot of a national move towards athletic-leisure, or athleisure, apparel. Other lines, like Gap Fit, have gotten in the trend too.
"This is a category that's growing at a multiple of what the overall apparel category is growing at," Peck said. "I see there being room for all of our brands to have a play. Old Navy has a terrific active business as well that's growing very rapidly. We're going to be doing a collaboration with Intermix and Athleta in one of our designer labels that we're really excited about as well."
Asked if the rise of athleisure harkens a long-term decline for denim, as Storch alluded to, Peck pushed back, saying he thinks athletic apparel is "an 'and,' not an 'or'" in people's closets.
"The denim market, if you step back and look at it, has had its ups and its downs — it's probably a little less interesting right now, but let's remember that we came out of a period a couple years ago where the denim market, whether it was indigo denim, boyfriend denim, destructed denim, colored denim, novelty denim, when it was white hot, and it couldn't remain that hot for a while," he said. "I'm very confident the denim market is going to be back and that it's an important place in her closet and always will be."
Significantly, in an era where the global fashion industry is becoming dominated by a handful of giant brands — H&M, Uniqlo, Zara — Gap has what it thinks is a major edge: It's the only one with a distinctively American identity.
Indeed, when asked what the core Gap brand stands for, Peck offered up three words: "It's American, clearly, it's optimistic, and it's casual."
"Where we take the brand globally, that is the soul of what the brand is," he said. "And who, in whatever culture you're in, doesn't want to embrace the casual American optimism? It's sort of, in a way, what this country, especially the West Coast, is all about. I think that's what it is and what it will always be."