Lululemon Stock Plunges Below Price Of Single Sports Bra On Grim Earnings
The once-golden yoga-wear company is quickly losing its shine on Wall Street.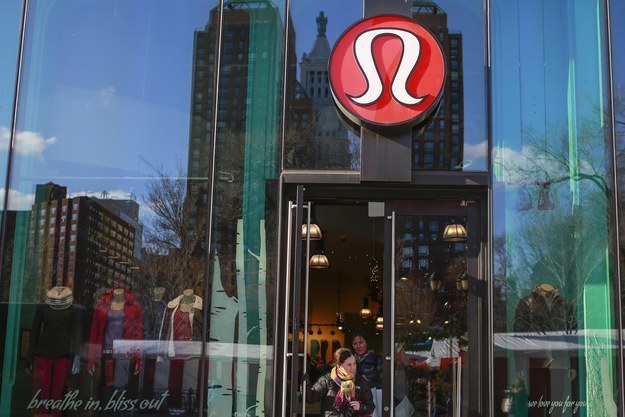 You can't even buy a Lululemon sports bra for the price of one of the retailer's shares today.
Lululemon's stock plunged as much as 16% to $37 a share on Thursday after the yoga-wear company reported a 4% decline in comparable store sales in the first quarter, forecast another tumble for the second quarter, and cut its full-year earnings forecast. It also announced that Chief Financial Officer John Currie will retire by the end of this fiscal year, dealing a second blow to the company's executive team after longtime, well-liked CEO Christine Day exited in the wake of Lululemon's sheer-pants scandal.
It's a precipitous decline for Lululemon's stock, which was trading at $82.28 a share a year ago. (The company's sports bras tend to sell for around $48 each.) Since then, the company has had to deal with a slew of negative press tied to its overly-sheer pants, the fallout from Day's exit, embarrassing comments by founder Chip Wilson, and increased competition from Gap's Athleta, Under Armour and Nike.
Today's results add to what's already been a rough week. Just yesterday, Wilson issued a press release calling for shareholders to oust two of his fellow board members just hours before Lululemon's annual meeting began, a surprising move that likely reduced investors' confidence in the company's management.
Wilson, who owns 27% of the company's shares, said his successor as chairman, Michael Casey, a former Starbucks executive, and fellow board member RoAnn Costin, who leads private equity firm Wilderness Point Investments, are "heavily weighted towards short-term results at the expense of product, culture and brand and longer-term corporate goals." He said that he voted against reelecting Casey and Costin and urged others to join him "to increase shareholder value." Wilson stepped down as chairman in December to focus on other ventures like his meditation startup, Whil, following a wave of bad press over offensive comments he made about women's bodies.
Lululemon responded with its own press release yesterday, rebutting his accusations and saying that the board is focused on strengthening the company's foundation, fueling innovation, and expanding internationally. Both directors were reelected in spite of Wilson's complaints.
On its investor relations page, Lululemon displays a line from its manifesto: "Friends are more important than money"