Lululemon's controversial founder rattled the yogawear company yet again on Wednesday when he issued a press release calling for shareholders to oust two of his fellow board members, just hours before the company's annual meeting began.
Chip Wilson, who owns 27% of the company's shares, said his successor as chairman, Michael Casey, a former Starbucks executive, and fellow board member RoAnn Costin, who leads private equity firm Wilderness Point Investments, are "heavily weighted towards short-term results at the expense of product, culture and brand and longer-term corporate goals." He said that he voted against reelecting Casey and Costin and urged others to join him "to increase shareholder value." Wilson stepped down as chairman in December to focus on other ventures like his meditation startup, Whil, following a wave of bad press over offensive comments he made about women's bodies.
Lululemon was swift to respond with its own press release today, rebutting Wilson's accusations and saying that the board is focused on strengthening the company's foundation, fueling innovation, and expanding internationally.
"Contrary to Mr. Wilson's assertions, Lululemon's board members are aligned with the company's core values and possess the necessary expertise to successfully lead Lululemon forward," the company said.
Its annual meeting was set to begin at 12 p.m. PT in Vancouver, where Lululemon is based.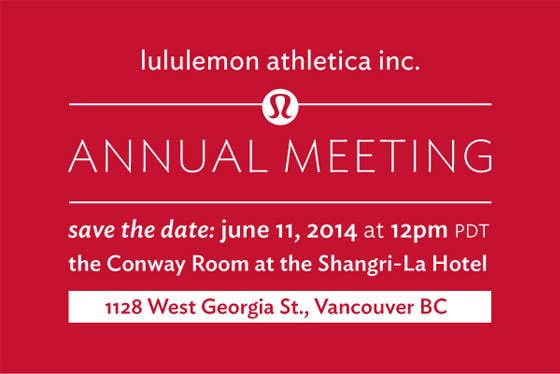 Wilson, who founded Lululemon in 1998, has become a liability for the company in recent years. His exit as chairman in December was viewed as a positive by analysts, who cited his "micro-management style."
Wilson spurred outrage from Lululemon customers in the fall after saying on Bloomberg Television that the company's yoga pants "don't work" for all women's bodies, and that some of the problem is "about the rubbing through the thighs." After that, a number of Wilson's troubling past remarks were publicized, including the notion that "cigarette-smoking power women who were on the pill" caused growing instances of breast cancer in the 1990s and that birth control has caused the divorce rate to rise.
Wilson, who says he returned from Australia to help Lululemon deal with its see-through pant debacle last year, clashed with former Chief Executive Officer Christine Day, an ex-Starbucks executive who spent roughly six years leading Lululemon. Wilson is said to have clashed with Day on the vision for Lululemon, and his involvement created confusion on who was in charge, according to an investigation by Fortune last year. In November 2011, he had the phrase "Who is John Galt?" printed on Lululemon tote bags (a line from Ayn Rand's Atlas Shrugged) without Day's knowledge, according to the Wall Street Journal. The bags rankled customers, and Day had to quickly replace them.
Costin has been on Lululemon's board since March 2007, while Casey joined in October 2007.