J.C. Penney Shutting 33 Stores By May, Cutting 2,000 Jobs
The struggling department store company made the announcement a week after Macy's said it would lay off 2,500 employees and shutter five stores.
J.C. Penney shares have plummeted while the rest of the market has fared better.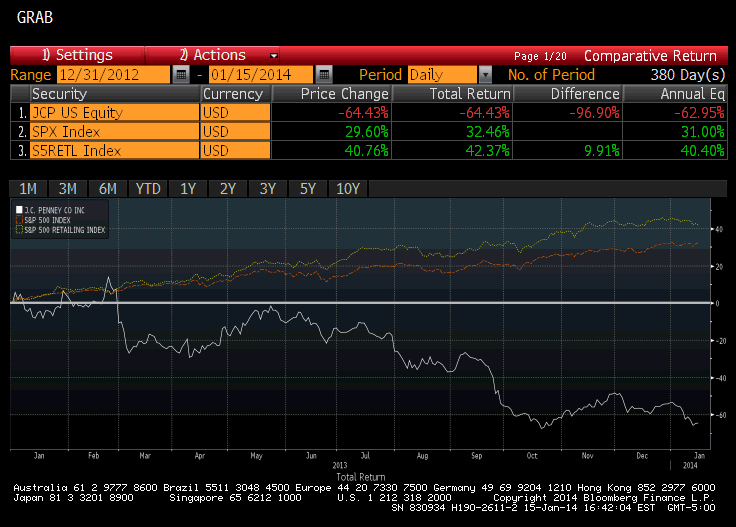 J.C. Penney plans to close 33 of its worst-performing stores, eliminating about 2,000 jobs, so that it can "focus its resources on the company's highest potential growth opportunities."
The retailer, which has about 1,100 locations, said the closings will be complete by early May and save the company roughly $65 million annually beginning this year, though it will take a pre-tax charge of $26 million for the fourth quarter and $17 million in future quarters. J.C. Penney's stock, which has taken a beating in the past year, was relatively unchanged in trading after the market closed.
J.C. Penney is struggling to recover after the disastrous 17-month tenure of ex-Apple retail chief Ron Johnson erased $4.3 billion in sales, or a quarter of the chain's business, in a single year. Johnson was replaced by his predecessor, Mike Ullman, in April. But still, the stock has plunged 64% since the end of 2012 while the rest of the market has flourished. It lost enough market value to be removed from the S&P 500 last year.
Still, J.C. Penney isn't alone in closing underperforming stores. Even Macy's, the strongest of U.S. department store chains, said last week that it was closing five stores and slashing 2,500 jobs as part of a cost-cutting plan that would save it $100 million a year.
"While it's always difficult to make a business decision that impacts our valued customers and associates, this important step addresses a strategic priority to improve the profitability of our stores and position J.C. Penney for future success," Ullman said in today's statement.
J.C. Penney stores that will be closing: