Venus Fashion, a Florida-based clothing company, has spent years fending off a slew of Chinese competitors that use stolen images of the company's clothes to market cheap knockoffs to U.S. shoppers via dozens of websites.
Now, a new policy adopted by the federal government is giving those Chinese sellers yet another advantage over Venus and other American businesses.
In March, the government upped the value of merchandise that can be shipped to the U.S. tax- and duty-free "by one person on one day," from $200 to $800, saying that the change would reduce paperwork and fees for Americans shipping in goods from abroad. The $800 limit already applied to tourists bringing back goods in their suitcases, but the lower limit applied to goods being shipped. "This inconsistent treatment is not practical," a House Ways and Means Committee report said, recommending the change.
But the new limits also gave a big break to companies in China and elsewhere, which ship cheap, often counterfeit clothes and electronics directly to American homes, with minimal oversight. Because the companies ship individual packages direct to customers, no taxes or duties are levied on their goods — costing U.S. taxpayers millions, and giving yet another advantage to overseas sellers.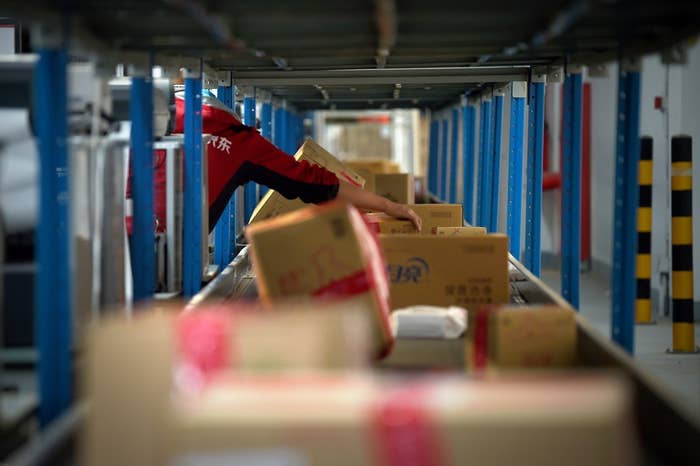 At the same time, American companies like Venus, which import fabrics and finished clothing in bulk, still pay the same import duties and taxes they always have — often in the ballpark of 20%, baked into the prices consumers see online and in stores. They also must comply with more rigorous controls and standards at the border, while single packages from China generally pass through without a second look.
"This doesn't make any sense," Venus CEO Jim Brewster told BuzzFeed News. "It's telling me to move my distribution center to Mexico because then I could import stuff — to the extent I do — to Mexico, then split it up and send it to the United States."

The frustration reflects broader tension between U.S. and Chinese retailers, whose disputes over intellectual property issues have heated up as more consumer spending happens online. Last week, Tiffany & Co. joined Michael Kors and Gucci in leaving one of the world's biggest anti-counterfeiting groups after Chinese e-commerce giant Alibaba — which has been a major platform for the selling of such goods — was allowed to join. Alibaba was later suspended from the group.
But some U.S. businesses were big supporters of the change in policy. When the law enabling the change was passed in February, Paypal released a statement saying the bill "has been major trade priority for PayPal over the past couple of years." The payments company said the law "allows PayPal merchants overseas to more easily access U.S. customers."
Brewster's company, Venus, has had its site design knocked off by a number of the new Chinese counterfeiters.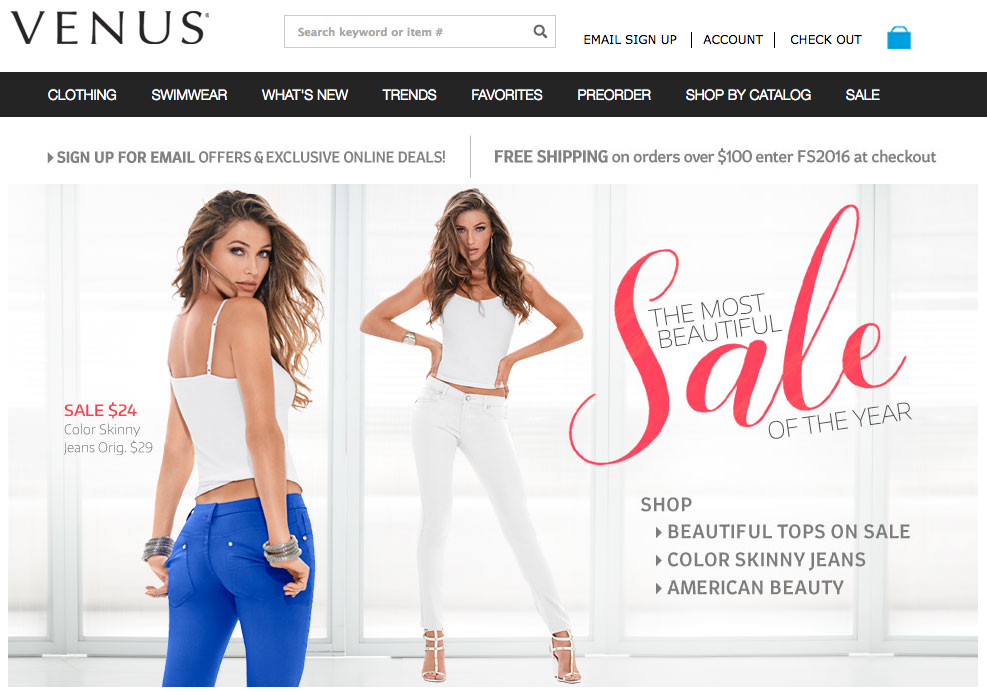 Venus, which employs about 700 people, has been asked by its directors why it chooses to remain in Florida, paying the duties and taxes that the peddlers of its cheap knockoffs do not. "I have our board saying, 'Well, why would you bring all this stuff in here and pay all these duties? Be economical — you could cut prices 10% if you do the same stuff these guys are doing,'" Brewster said.
Do I Have to Pay Tax?
The low prices aren't always helping consumers. A BuzzFeed News investigation last month detailed how a group of cheap Chinese clothing companies, using names like DressLily, TideBuy, and Zaful, have been able to flourish through advertisements on Facebook and Google, despite thousands of complaints over their business practices from women in North America.
On DressLily's website, one "Help Center" page is labeled "Do I have to pay tax." The answer is "maybe," depending on country, but the site says it's the shopper's job to figure it out.
According to DressLily, "Usually, importing big quantities of goods from overseas is controlled by your country's customs quite strictly, but smaller quantities can be imported more freely."
Adding insult to injury for American sellers, at the end of March China tightened is policies on shipments from overseas online retailers to Chinese consumers, raising the so-called "parcel tax" and subjecting the goods to tariffs and other taxes for the first time.
For packages entering the U.S., the Customs and Border Protection Agency says consumers become "importers" once they receive the items, and as importers, are "responsible for assuring that the goods comply with a variety of both state and federal government import regulations."
If a counterfeit seller ships thousands of wedding dresses to customers across the U.S., "nobody's paying duties or taxes on it, not the exporter or the consumer," said Jon Liney, a board member of the American Bridal and Prom Industry Association. "If one of our members does — they pay duties and taxes on every single one of those pieces and that is realized in increased costs to consumers...we can't afford to do it on a one-piece-at-a-time basis."
Overseas sites selling direct to American shoppers "just don't have any of the same costs of doing business," said David Wilkenfeld, the CEO of PromGirl.com, which is headquartered in New York and has about 120 employees. "We spend a tremendous amount of money on video, on photo shoots, on models, stylists, Photoshop, and these sites just come along and they upload our images. I think it gives them the ability to afford to pay more for Google AdWords because they're cutting out so many costs."

To his point, when searching "prom dresses" on Google, the first screen of results shows just ads for sites based in China, such as FabBeautyDresses.com and PromLover.com. It's easy to find examples of each using photos of designer dresses with their own watermarks and selling them for hundreds of dollars. A "visit us on Facebook" link for FabBeautyDresses.com mysteriously redirects to a page for Izilady.com, which is filled with angry comments from consumers.

The real dress, followed by the imitation at FabBeautyDresses.com.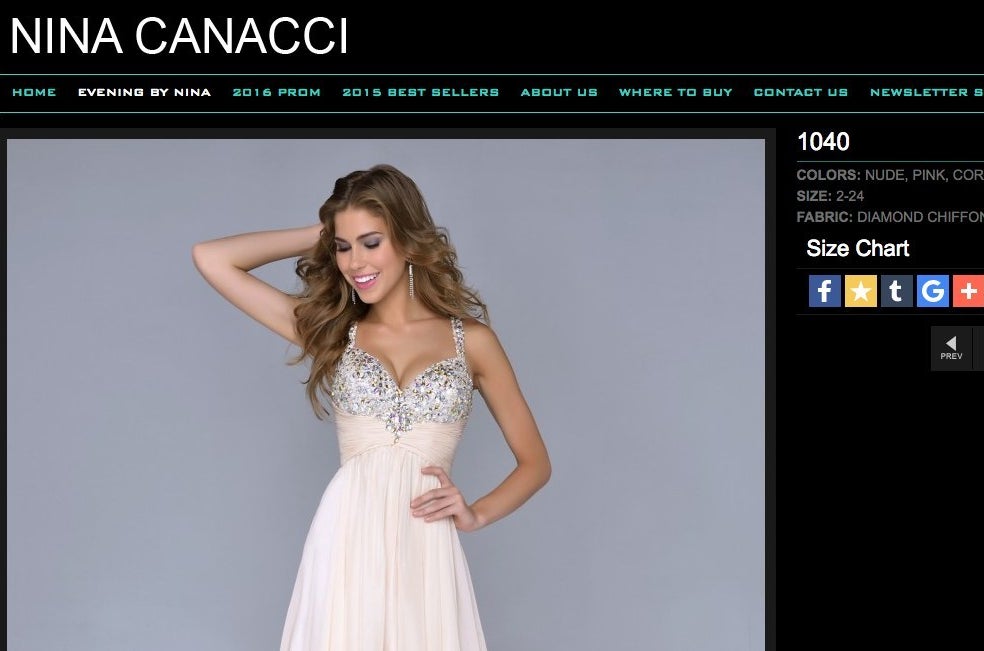 The actual designer isn't mentioned by overseas seller PromLover.
Google also featured an ad from DylanQueen.com, which appears to be the reincarnation of the shuttered DylanQueen.co.uk. BuzzFeed News reviewed at least 50 examples of the latter site lifting images from members of the American Bridal and Prom Industry Association; frustrated shoppers have set up a Facebook page for complaints about the company.
Brewster said it's hard to shut these sites down, even when the theft is blatant, describing a copycat site named DressVenus.com.
"We filed a lawsuit in Florida, chased them all over the place," he said. "We spent over $100,000 filing things in court, finding the guy in China, posting an ad, a notice…it's just a mess." After a long and expensive effort, the URL now redirects to the official Venus Fashion site.
Google search result for "prom dresses":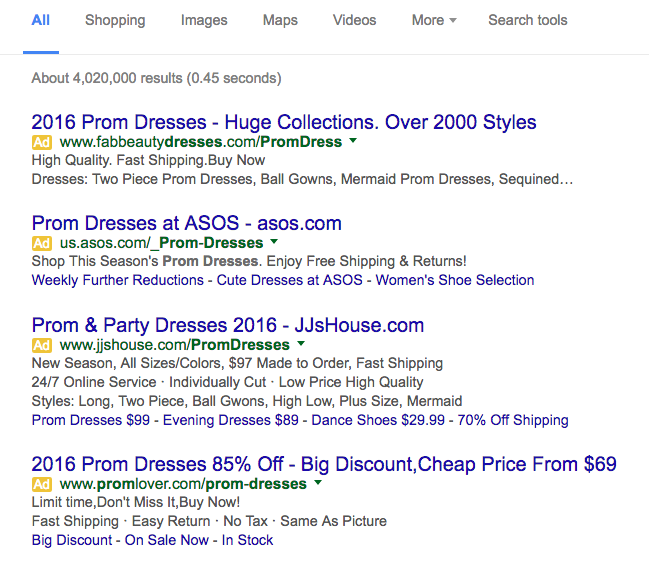 In the past, the value of "made in China" goods sold by U.S. retailers trickled down to American consumers in many ways. Five years ago, the Federal Reserve Bank of San Francisco estimated that 55 cents of every dollar spent on "made in China" products went to U.S. services — the $70 spent on a pair of sneakers, for example, would include their transportation in the U.S., rent for the store in which they were sold, profits for the retailer's shareholders, and the cost of marketing the sneakers, it said.
But when buying directly from a Chinese site, which ships straight from the factory to a U.S. home, few of those factors are at play. Many of the Chinese sites use the loss-making U.S. Postal Service to ship these goods, benefiting from deals it has struck with its Chinese counterpart.

"We don't want any advantage, we just want an equal playing field," Brewster said.
"More needs to be done."
Lawmakers lamented the situation at a May 11 Senate Finance Committee hearing about the U.S. Customs and Border Protection Agency.
New Jersey Sen. Bob Menendez quizzed R. Gil Kerlikowske, the commissioner of the CBPA, on how counterfeit garments from China are flagged at customs, especially as some companies mark them as gifts to evade notice.
As he spoke, Menendez waved two packages of counterfeit dresses sent from China to constituents in New Jersey. He asked Kerlikowske about the screening process for such goods and whether their incorrect labeling as a "gift" would raise an alert.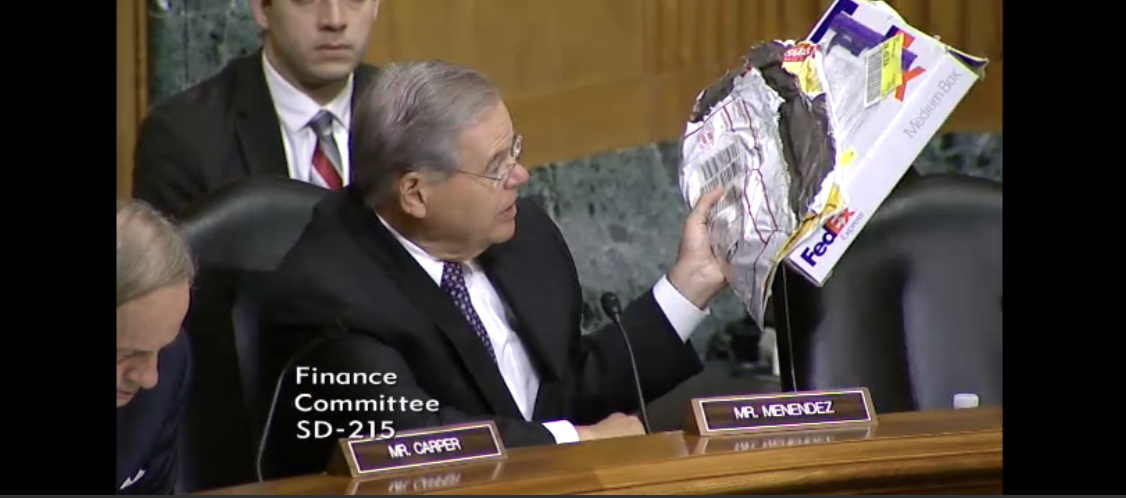 "You've clearly hit on one of the most difficult challenges we face right now with the absolute explosion in e-commerce," Kerlikowske responded. The agency is relying on the expertise of those assigned to monitoring port shipments and is assessing packages from China "very carefully," though he acknowledged "more needs to be done."

While labeling goods as personal gifts is widespread, it could become less common due to the new government policy that raised the duty- and tax-free threshold on shipments to $800. Fewer counterfeiters will need to bother declaring their goods as gifts, said Liney, from the Bridal and Prom Industry Association. The gift classification was previously used to help conceal the real value on orders above $200 to avoid duties, he told BuzzFeed News.
Liney provided the documents below from a test order his association conducted from one knockoff seller from China in 2012. While they spent about $600 for two dresses with MaggieBrides, the declared value on the garments once they arrived in New Jersey was $60. They were also described as "dress for gift." The site has since been shut down.
The association test ordered two dresses for $600 from a knockoff seller in China.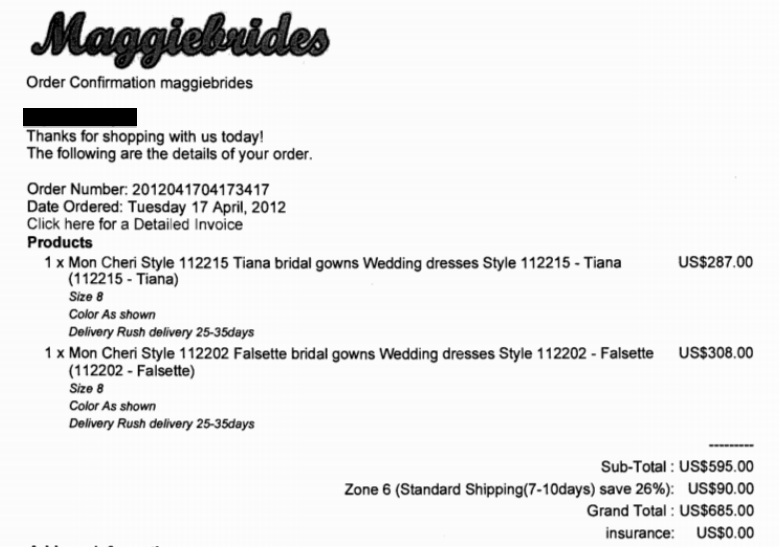 The declared value on the "gifts": $60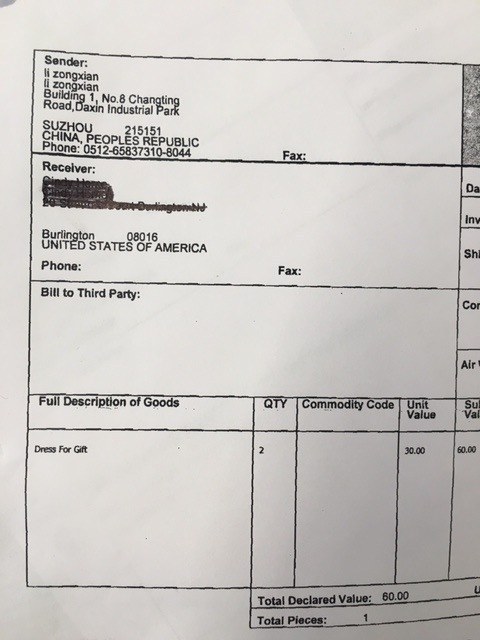 FashionMia, another Chinese clothing seller, sent several garments to BuzzFeed News last month in an effort to show its goods are better than reviews online would suggest. Even that shipment, though, which came from Singapore, said it contained a single "100% polyester woven dress."
It also lacked the kind of labeling the Federal Trade Commission requires on clothes, which you can most likely find on whatever you're wearing right now. Its rules state that "manufacturers and importers must attach care labels so that they can be seen or easily found when the product is offered for sale to consumers," and that "each imported textile fiber product shall be labeled with the name of the country where such imported product was processed or manufactured."
One could imagine with these new rules, such goods are even less likely to raise eyebrows across the board.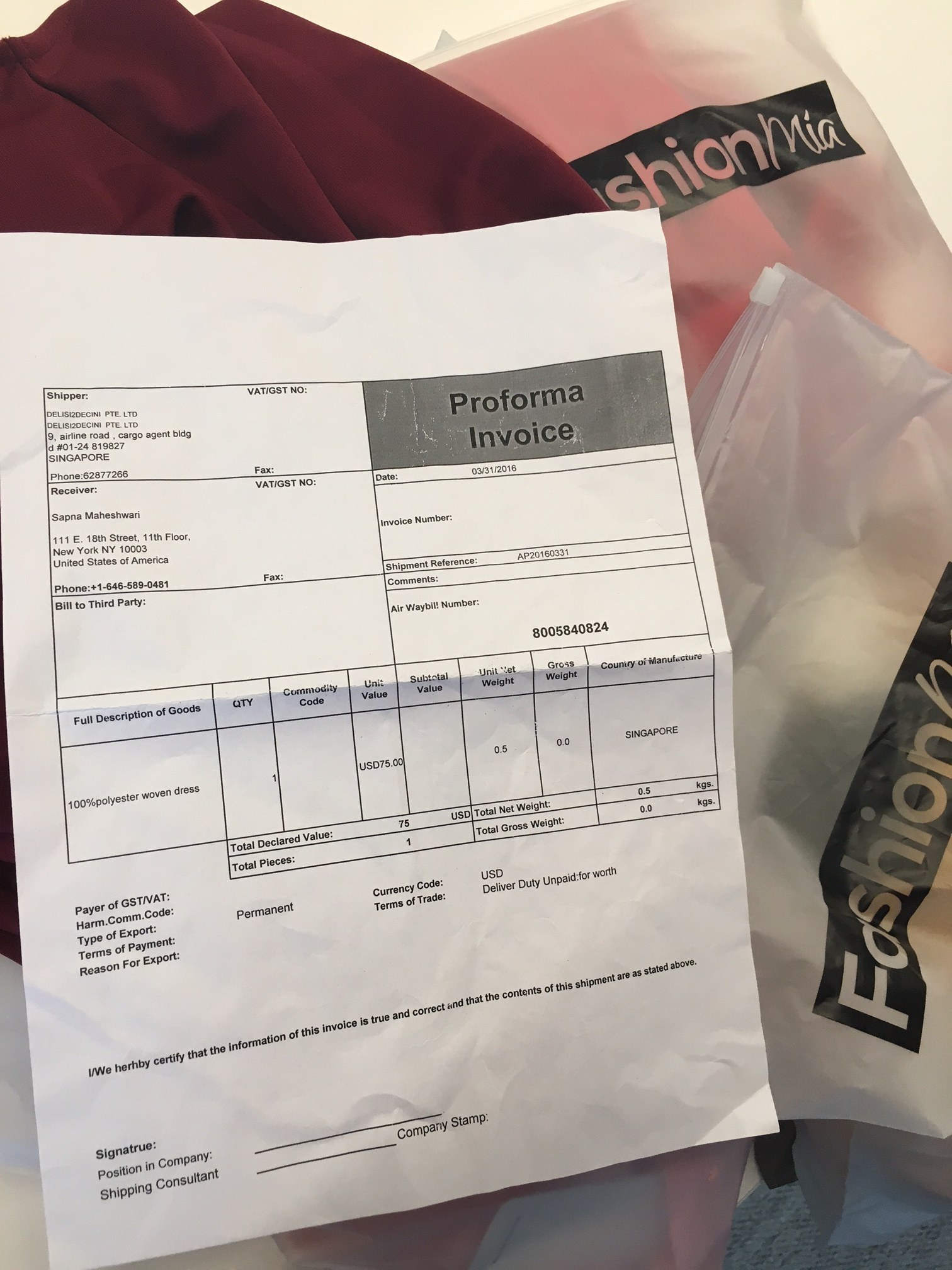 Easier to "Stay Hidden in the Shadows"
Sen. Orrin Hatch, the committee chair, noted at the hearing that the $800 shipping rule was part of a much broader customs bill meant to "facilitate the efficient movement of low-risk and compliant goods to the marketplace while also allowing CBP to focus its resources on goods that could do harm to the economic or physical security of the United States."
The world has changed dramatically since the U.S. last overhauled its customs law, Sen. Ron Wyden of Oregon said at the hearing.
"It was much more difficult for foreign companies to evade duties by concealing their identities," he said. "Now the internet makes it easier to move quickly and stay hidden in the shadows. Blocking counterfeit products from creeping into our market used to mean stopping the right shipping container. Now counterfeit products are often tougher to trace; they can be spread out in individual boxes shipped straight to the doorsteps of American homes."