Nora Ephron wrote fondly of her twice-weekly blowout regimen in 2006.
"It's cheaper by far than psychoanalysis, and much more uplifting," the late writer quipped in her book I Feel Bad About My Neck: And Other Thoughts on Being a Woman. "What's more, it takes much less time than washing and drying your own hair every single day, especially if, like me, you live in a large city where a good and reasonably priced hairdresser is just around the corner."
In the decade since Ephron's book was published, the blowout has gone from an add-on service at salons into a full-on national craze. There are now hundreds of specialist parlors hinging their fortunes on $35 to $50 blowouts — no cuts, no color — and drawing a massive audience among well-to-do women. It's the modern-day reincarnation of the beauty parlors that provided weekly wash-and-sets to America's grandmothers 60 years ago, except now there's free champagne and Ariana Grande on the speakers.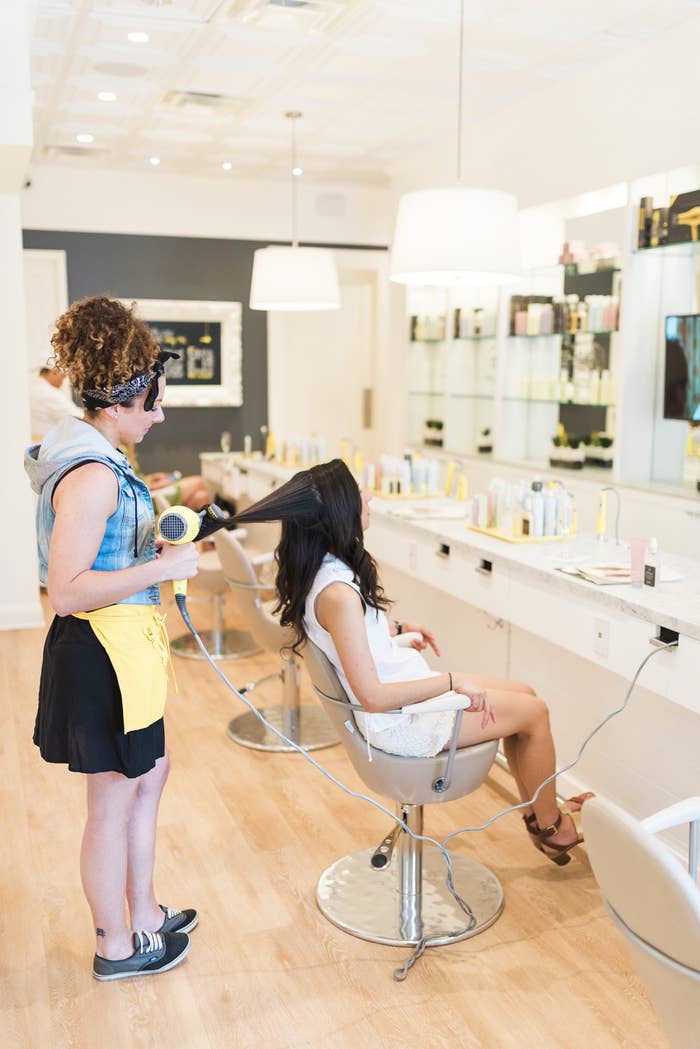 Leading the charge is a company called Drybar.
It's OK if you haven't heard of it. The very concept of a blowout isn't familiar to all women, and it's largely foreign to men. When I asked my 25-year-old brother to define the term, he responded: "Like, something to do with a girl's hair that makes it poofy but still straight? Like a perm but without making it curly?"
He wasn't far off: It's typically a shampoo and styling with a blow-dryer, and it tends to look a million times better than what the average woman can do herself. It's the gloss you might want for a big job interview, your birthday party, or a wedding where you need to impress your ex.
It usually starts in the teen years for women with naturally wavy, curly or frizzy hair: a steady accumulation of straightening irons, serums, and treatments to manage your mane and exert some control over how you look. Because your efforts are erased every time water hits your head, it's often rinse and repeat several times a week, sometimes for hours.

Since opening its first salon in 2010, Drybar has become to blowouts what Starbucks is to coffee. It didn't invent the blowout but has played a singular role in making them a thing. Like America's biggest coffee chain, it has obsessed over everything from music to its shelf displays and maintained the kind of fine-grained control over its outlets that is only possible by owning most of them — only about 20% of Drybars are run by franchisees. The result is a carefully honed experience for customers, one that more and more women are willing to pay generously for.
"There is a secret sauce to Drybar, I know that there is."
Drybar has grown fast: The company said it will make more than $100 million in sales in 2016 and will end the year with 75 salons in tony metropolitan markets, up from 61 today. About a quarter of its revenue will come from selling branded hair-care tools and products, with names like "Sake Bomb Nourishing Conditioner," which are also sold at Sephora and Nordstrom. Its investors include designer Diane von Fürstenberg and her husband, Barry Diller, and former Gap and Disney executive Paul Pressler.
While the company envisions 300 to 400 Drybars in the U.S. in the long run, an escalating number of competitors believe they can do exactly what it is doing — perhaps even better. Canada's Blo operates 50 salons and plans to end the year with 70 using an all-franchise model. It broke ground in the U.S. in 2010, and briefly counted Gwyneth Paltrow as a partner, although she parted ways with the company last year. Others pepper the nation, from small chains like Rachel Zoe's DreamDry and Halo in the San Francisco Bay Area, to stand-alones with cutesy names like Haute Air, Pouf, and Hairports. (Hairports, as one might guess, hopes to to be the blowout solution of choice in America's airports.)
Despite the flood of competition, Drybar is serene about its future.
"There is a secret sauce to Drybar, I know that there is," founder Alli Webb told BuzzFeed News in an interview at the company's headquarters in Irvine, California. "There's something special about the experience that you get with Drybar ... and I don't think that's as easy to copy as people think."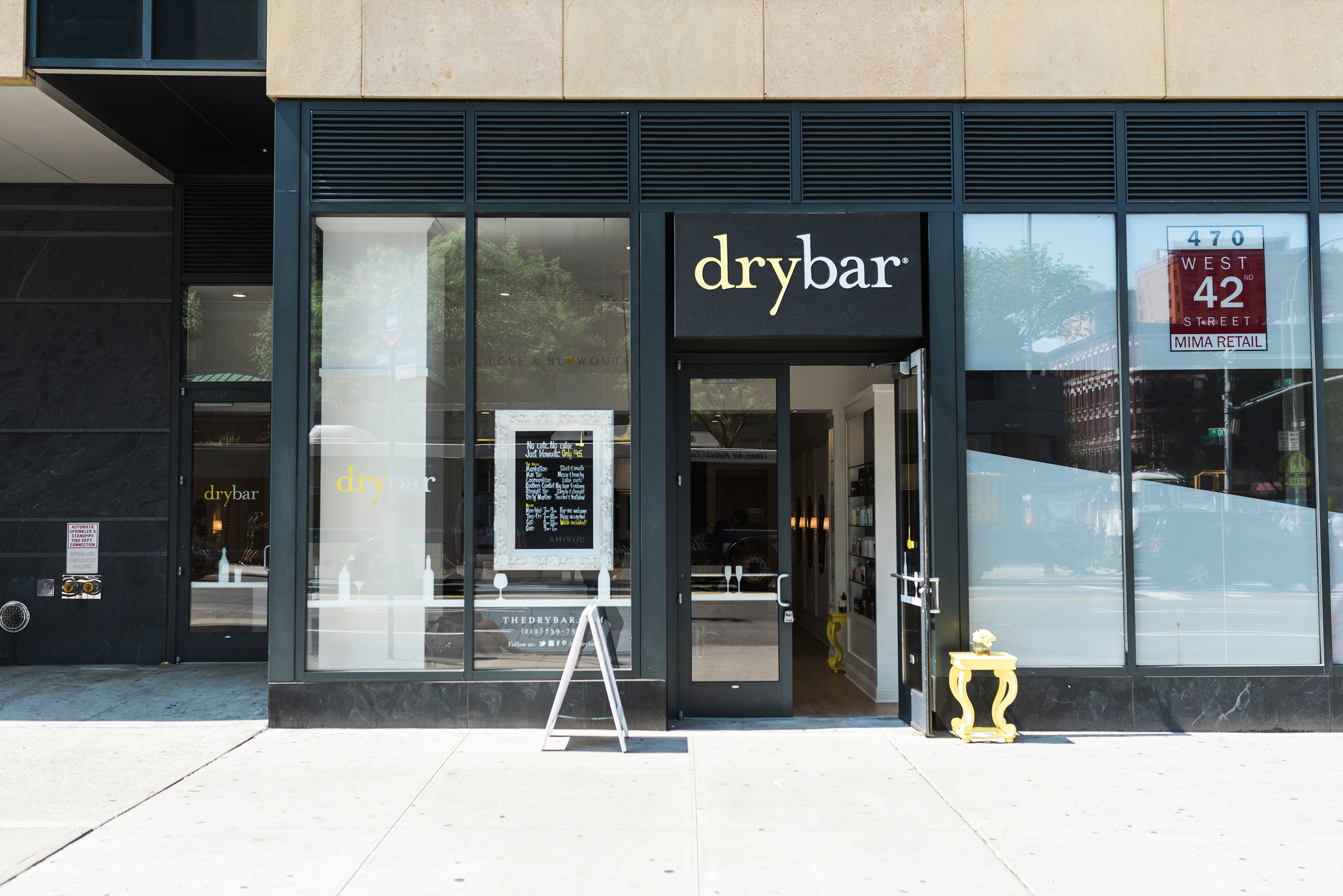 To Webb's point, you know exactly when you're in a Drybar. The same architecture and design firm that created the first salon works on each new location, codifying touches like blow-dryer chandeliers and welcome mats that say "Nice Shoes."

The average Drybar looks like an upscale hair salon received a heaping dose of Southern sorority-house style and was finished off with a coat of HGTV — in a good way. The brand, which describes its style as "French shabby chic," sticks mostly to a palette of white, charcoal gray, and a signature canary yellow that could also be described as buttercup. That's Buttercup as a proper noun, by the way — it's the name of Drybar's signature hair dryer, which also serves as the company "mascot." You can buy your own Buttercup for $195.
Upon arrival, receptionists take your complimentary drink order — champagne, infused water, or coffee, no hard liquor — to be served post-shampoo. There's a cocktail-inspired "menu" of eight hairstyles from which to choose, from the sleek and straight Manhattan to the loose and beachy Mai Tai. It's cute, but more importantly, it helps Drybar with speed and consistency, especially as women bounce between locations and stylists.
A standard 45-minute blowout costs $40 or $45, depending on the city, although the 10-and-under crowd gets a better deal, with the "Shirley Temple" package at $28 or $32. For the children who can fit a Drybar visit among their busy elementary school schedules, the salons provide booster seats and lemonade in champagne flutes.
"We didn't invent blowouts — we just created a much better environment and experience."
Customers receive their blowouts at long white counters with plenty of power outlets and magazines like Cosmopolitan and People. Upbeat tunes from the likes of Missy Elliott and Rachel Platten are curated so clients with standing appointments don't hear the same songs every time. Instead of looking into mirrors, women are turned toward TVs playing rom-coms like How to Lose a Guy in 10 Days. That's partly so they don't worry about how their hair looks during the process, and partly to enable what Drybar calls the "Big Reveal" at the end of each blowout.
The big reveal is a big deal. "Get them very excited about this," Drybar tells stylists in its welcome packet. "It's a huge part of our culture and each client should experience this every blowout!"
The gospel of "surprise and delight," as popularized by Steve Jobs, rings loud and clear at Drybar. Gift certificates take the form of drink coasters, with the most popular being one that says "Lucky Bitch." The sign on the women's bathroom features the standard stick figure in a dress, except she's adorably crossing her legs as if she really has to go. Three kinds of cookies are available on a plate by the receptionist. The napkins for the cookies read "Feeling crumby? I can help," next to a silhouette of Buttercup.
"We didn't invent blowouts — we just created a much better environment and experience," Webb said. "Starbucks didn't invent coffee but they created this experience around it, which I think companies like Blue Bottle are doing also. I think it's about the experience and making it very special and making it your own."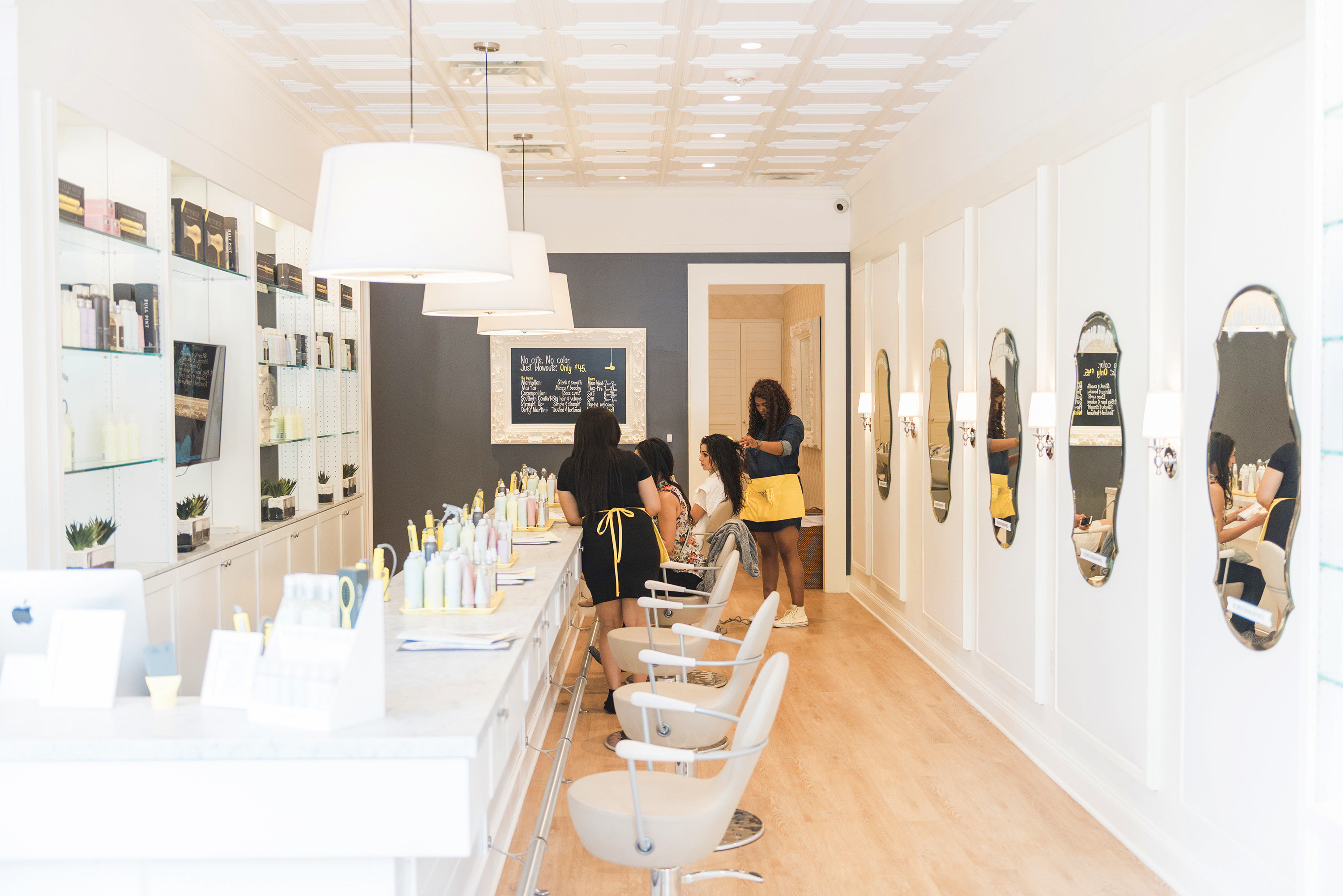 The same demographic of women fueling the rise of blowout salons — highly paid professionals — was, somewhat ironically, also blamed for the demise of the old-fashioned beauty parlor.

A 1982 story from the Associated Press describes the typical beauty parlor as a "lavender-painted place where 'the girls' would spend their Saturday afternoons (or Tuesday mornings, for that matter, because 'the girls' were not working at full-time jobs) getting their 'dye job' or 'permanent wave' or their weekly wash-and-set from Madge, the 'beautician.'" Such places were largely gone by the early 1980s.
Those "little old ladies" are familiar to Webb — she spent hours heeding their requests for more volume during her time in South Florida, and remembers them talking about this bygone era.
"They would get their hair done and coiffed once a week and wouldn't touch it, and that was the thing women did back then," she said. "That behavior went away somewhere along the line from that generation to our generation."
A different set of behaviors are emerging in the new era of the blowout, including its function as kind of professional and personal bonding ritual. Alison Brod PR, a public relations firm in Manhattan, demolished the men's bathroom in its office a few years ago and turned it into a sleek white salon for employees that offers blowouts, eyebrow shaping, and makeup in-house. (Men can now utilize a unisex restroom.)
"Having to be physically self-aware 24/7 … it's definitely having an effect on people's lives."
Staff at the firm, which specializes in serving fashion, beauty, and lifestyle clients, are known to invite female journalists to join them for a blowout and a chat, the way a certain kind of businessman might ask another to join him for a round of golf or a game of squash.
"The idea of knocking out a beauty treatment and getting work done just made sense," said Brod, who is a Drybar investor and employs more than 60 women at her firm. "Nobody necessarily needs to go to lunch, but everybody loves having their hair done."
Brod's firm also represents a long list of beauty clients, including Blushington, which she describes as "the Drybar of makeup," and Skin Laundry, "the Drybar of skin lasers."
The trend toward making a "Drybar of" for every beauty service has resulted in an array of niche salons that allow women to have a personal makeup artist, aesthetician, or weekly hairstylist without the high costs typically associated with these luxuries, with appointments that can be squeezed into busy schedules. During our interview, Webb said she got her eyelash extensions at a place that specializes in eyelash extensions.
These businesses, Brod said, are big beneficiaries of a culture soaked in selfies and social media.
"Years ago, you didn't need to worry if your hair is in a ponytail and you're meeting your best friends for dinner," she remarked. "Now, your ex-boyfriend from high school is going to see it on Facebook. I'm not saying it's a good thing, but it is the idea of having to be physically self-aware 24/7 ... it's definitely having an effect on people's lives."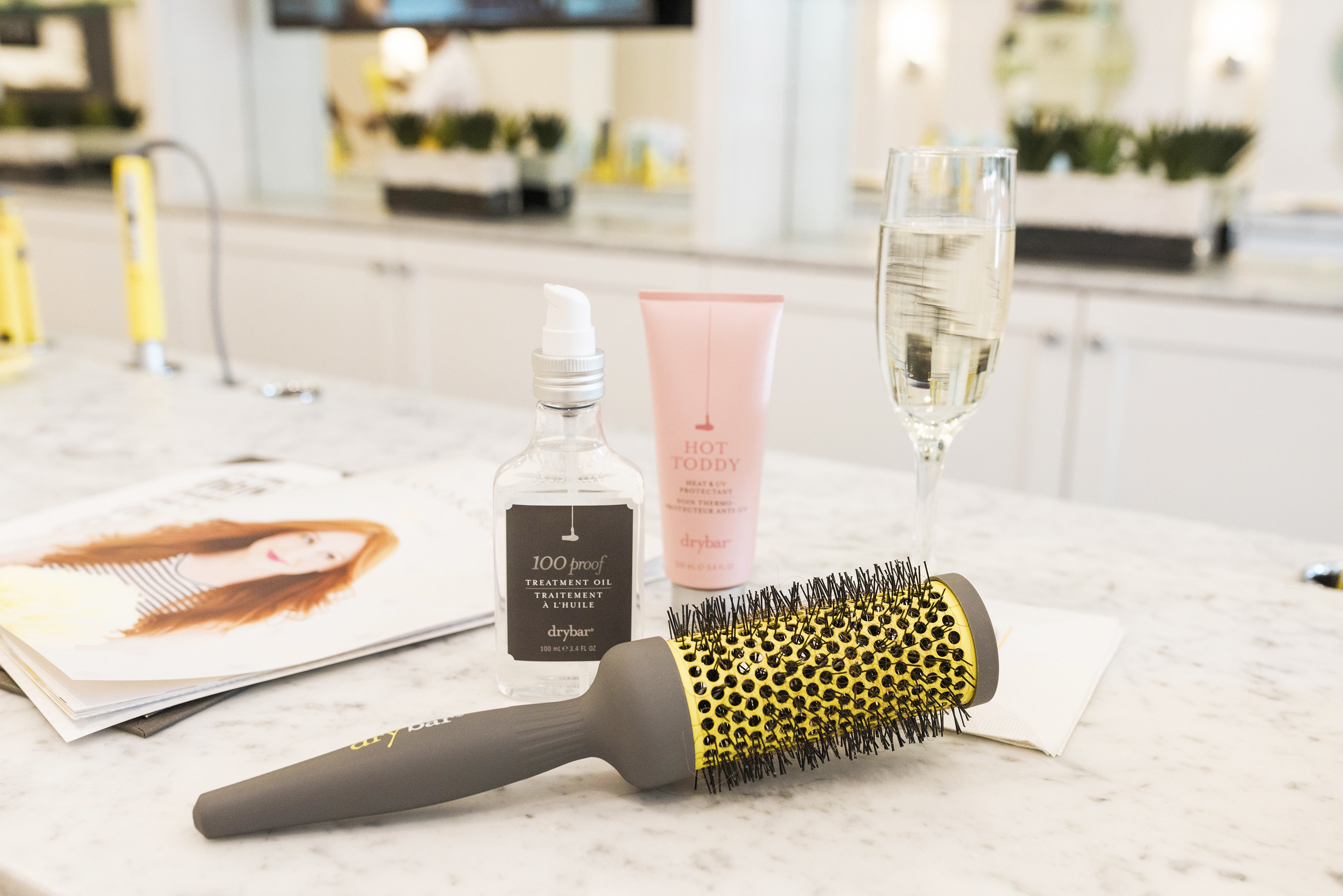 On a Saturday afternoon, you'll find dozens of women with champagne flutes at any given Drybar, preparing for a bachelorette party or a big night on the town.

But the real money lies in women who are incorporating places like Drybar into their weekly routines — especially the power women taking advantage of the 7 a.m. opening times.
Michael Landau, Webb's brother and co-founder, who is bald, admitted he was skeptical that working women would end up being Drybar's biggest customers. He joined the company full-time after almost a decade at Yahoo, including a stint as its vice president of brand marketing. At the time, he said he believed Drybar's typical client would be "a certain kind of woman."
"We used to think it was more of a stay-at-home mom or someone who had a lot more free time," Landau, 44, said. "That's still our customer, but our sweet spot by far is young working professionals. It's a woman 25 to 45, whether you're a lawyer or work in banking, where your appearance is important."
The company's client database is replete with powerful women who work in these industries. Landau likes to remind some professional men that they are surrounded by colleagues who are his customers.
Goldman Sachs "is by far the biggest" bank represented in the customer file.
"When we talk to investment bankers, I pull up our database and see how many [customers] each has and I give them a hard time," he said. Goldman Sachs "is by far the biggest" bank represented in the customer file, he said, and that's just counting those who signed up with their work email. There were 385 Goldman email addresses in the Drybar customer database when we spoke in February.
Its high-end client list has helped the company in other ways. Landau mentioned the time Drybar needed intellectual property lawyers for a dispute in Germany. He was told that Quinn Emanuel Urquhart & Sullivan was the best firm for such a case, but that they were "super, super expensive" and probably wouldn't take it.
So he went into the Drybar database and found 44 women from the firm who were customers. He cross-referenced each with details on the firm's website until he found "the absolute jackpot" — a senior woman at the firm who was also a frequent Drybar customer.
"I sent her an email at like 7 o'clock at night and told her a little about the case," he said. "She wrote back to me within 15 minutes and said she had to run a conflict check to make sure she wasn't representing the other side, got back to me 20 minutes after that ... and, long story short, ended up taking the case."
Drybar won.
Drybar's headquarters are planted in an Irvine industrial office park, in a building identical to all the others around it, off a road flatly named Technology Drive. While its salons tend to be located adjacent to the SoulCycles and boutique makeup and nail spots of America's wealthy urban enclaves, the company's corporate neighbors here include an adult career center and an IT firm.

The cheerful, bustling Drybar vibe becomes clearer inside. A gleaming mockup of a Drybar counter — not for use — is the first thing visitors see. Behind the counter is a big flatscreen TV, but instead of the usual rom-coms, it's playing a video of 41-year-old Webb describing the company's "heart and soul" through its 10 "core values and beliefs."
"Pretty is as pretty does."
The sincerity and wholesomeness with which the values are uttered — "pretty is as pretty does" and "embrace the power of random acts of kindness" — is very Drybar. (Landau told me that the company prides itself on avoiding "the sexual innuendo" its competition occasionally uses, calling out Blo by name for its popular marketing line "'cause you can't blow yourself.")
Webb is the chief creative officer of Drybar and the pretty, brown-eyed, blonde face of the brand. It's a friendly face. She is in the how-to videos on the company's website, recently published a book called The Drybar Guide to Good Hair, and will soon even be the subject of a fictional movie. Universal Pictures optioned Webb and Landau's life rights last year, for a project being led by Karen Rosenfelt, an executive producer on The Devil Wears Prada.
"I was very lost as a kid and didn't know what I wanted to do with my life," she said. "It took me a while to find my passion, my thing. ... I guess it's a fun story of finding this success without really knowing it was possible."

Webb fought her naturally curly hair from a young age but didn't incorporate that into her professional life until years later. She bounced around after high school, spending a year at Florida State, dabbling in retail and PR, and, most significantly, going to beauty school and working as a hairstylist in Florida and New York City.
After she married her husband, a creative director who has worked on ad campaigns for Jack in the Box and Mercedes-Benz, they moved to Los Angeles, where she was a happy stay-at-home mom to her two sons until she "got the itch to get back out there and do something for myself," she said.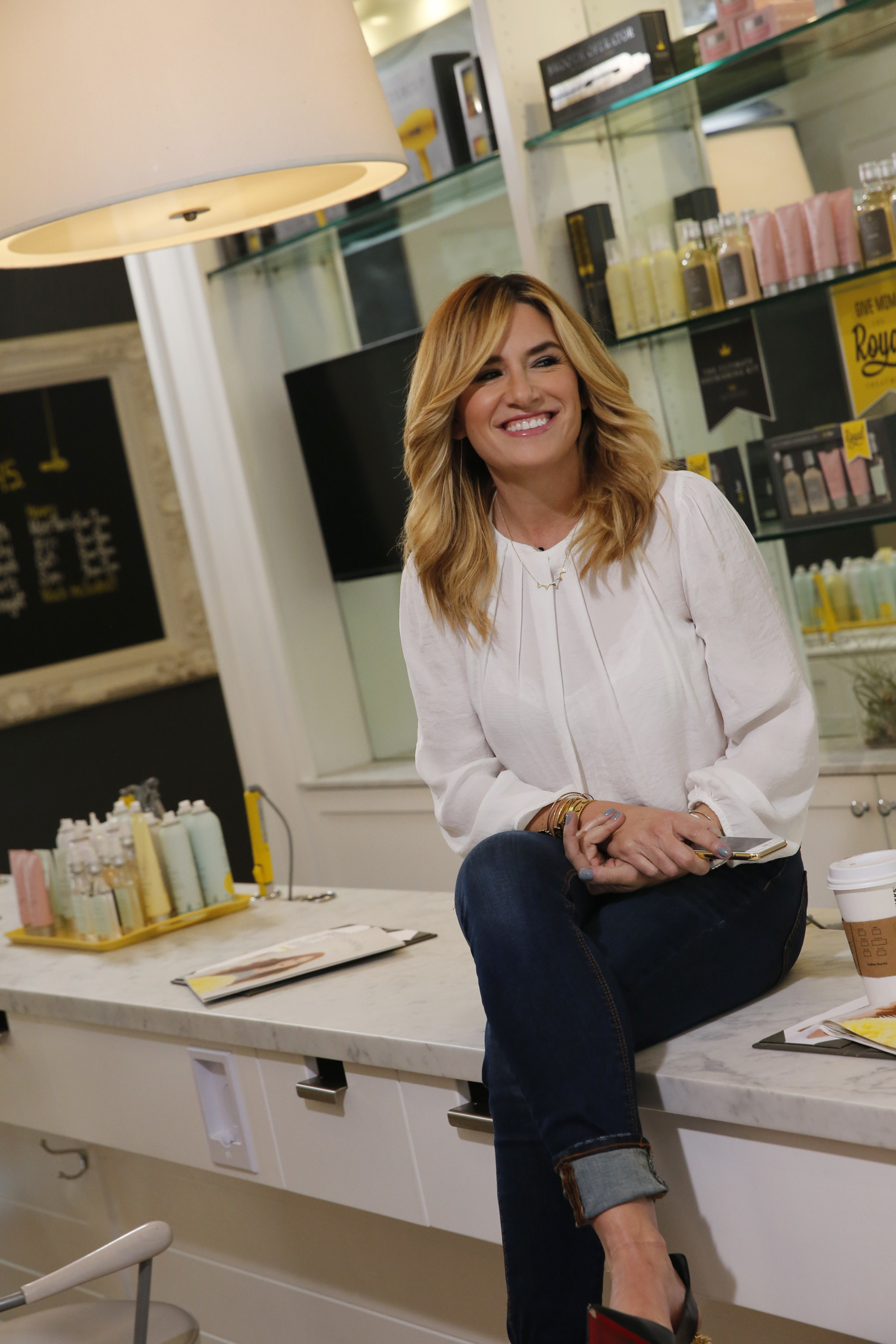 That led to Drybar's 2008 precursor, "Straight-At-Home." While her kids were at preschool, Webb would drive to other women's homes to give them $40 blowouts. She was quickly overwhelmed with clients, who told her that when she wasn't available, their regular cut-and-color stylists didn't want to be bothered with a blowout.
Webb sensed an opportunity. She opened the first Drybar in February 2010 in Brentwood, California, using a $250,000 investment from her brother, $50,000 of her and her husband's savings, and the design magic of a successful architect and friend of Landau's named Josh Heitler.
"I wanted it to feel like how it feels when you go to your favorite bar and you know the bartender and everyone's really nice to you and engaging," Webb said. "I wanted it to feel like an oasis for women."
While the business started as an affordable luxury for stay-at-home moms in the Los Angeles area who wanted a 2 p.m. pick-me-up, it quickly turned into a service craved by women of all means.
The Drybar movie, according to Landau, will be loosely based on Webb's life up until the first salon opens. If the chain is lucky, the film will scroll through all of Drybar's locations before the credits roll. The siblings tossed out Blake Lively as a choice pick for younger Webb while Corey Stoll, better known as Congressman Peter Russo from House of Cards, is the family favorite for Landau.
Webb's office, separated from Landau's by a massive yellow door, is like a Pinterest board manifested in three dimensions. There's the "inspiration wall" featuring magazine cutouts of long-maned models, old Drybar ads, and pictures of friends and family. Books like Vogue: The Covers and one on management called The Benevolent Dictator are stacked on the wooden shelves behind her next to a glittery golden hashtag symbol. Fresh flowers, yellow and white, sit in a clear vase on her desk. Her husband's office is across the hall.
"I come from a family of seven kids so I really understand the family dynamic."
At the end of 2013, the company brought in a new CEO, John Heffner, formerly of nail company OPI. But the sibling executives still bring a certain feel to the business. Landau, who was Drybar's CEO before the appointment and is still executive chair of the board, joked that Heffner is able to "play referee between Alli and I."
"I come from a family of seven kids so I really understand the family dynamic," Heffner said patiently.
Webb and Landau can easily hear what's being said in the other's office, even when the door is shut. While I'm talking to Landau, he references questions I asked Webb earlier in the day, providing his own answers. When he notes that Mindy Kaling is a loyal client, I remark that thick Indian hair — like my own — is great for blowouts, and from behind the door, Webb laughs.
When you ask women whether a $40 Drybar blowout is worth it, ethnicity often plays some role in their answer. Friends of mine from Turkey said they'd been spoiled by the amazing, 20-minute blowouts they get for $10 whenever they visit the home country.

For many black women with natural hair, the concept of Drybar is met with a healthy amount of skepticism. Many have spent years visiting Dominican salons and black stylists for similarly priced blowouts, which offer fewer frills but are given by people who are experts on textured hair.
"The few times in my life when I've walked into salons that are not explicitly black, I've seen nothing but fear in stylists' eyes," one colleague said. "Like, they were petrified. So for me, the idea of this being a 'convenient' option, when there is likely not going to be anyone on staff who knows how to handle the vast range of texture and volume and density and porosity that constitutes black hair, is laughable."
"I have this philosophy of hair is hair."
Another colleague mentioned her experience at Drybar has improved since she started asking to be paired with someone who knows black hair, but recounted a visit when it took three stylists to blow-dry her hair and flat-iron her roots. (Last year, a pop-up in New York called GoodHair Salon offered a Drybar-like experience for women with natural hair, with a variety of styles and a two-hour time frame.)
Webb disputes the notion that the Drybar experience varies across race lines. The company blows out "a lot of African-American hair," both relaxed and unrelaxed, and "it's a big part of our training," she said.
"It takes a lot of tension and it can be more challenging sometimes than someone with just wavy hair, but I always have felt like it's just hair and you have to know how to handle that particular type," she said. "I have this philosophy of hair is hair, and there's a lot of different types out there whether it's African-American hair or really, really Jewish curly hair like I have. We do it all and we have to be able to do it all."
The complexity of hair means comparisons between Drybar and Starbucks go only so far. Manufacturing Kardashian-like hair for women across the country is vastly more complicated than making a Pumpkin Spice Latte taste the same across state lines.

Outside of the sheer variety in hair types, the Drybar experience is deeply dependent on staff. When you're paying upwards of $50 for something that can be destroyed by a few minutes in the rain, a 20-minute wait for champagne or an unenthusiastic stylist can result in serious disappointment.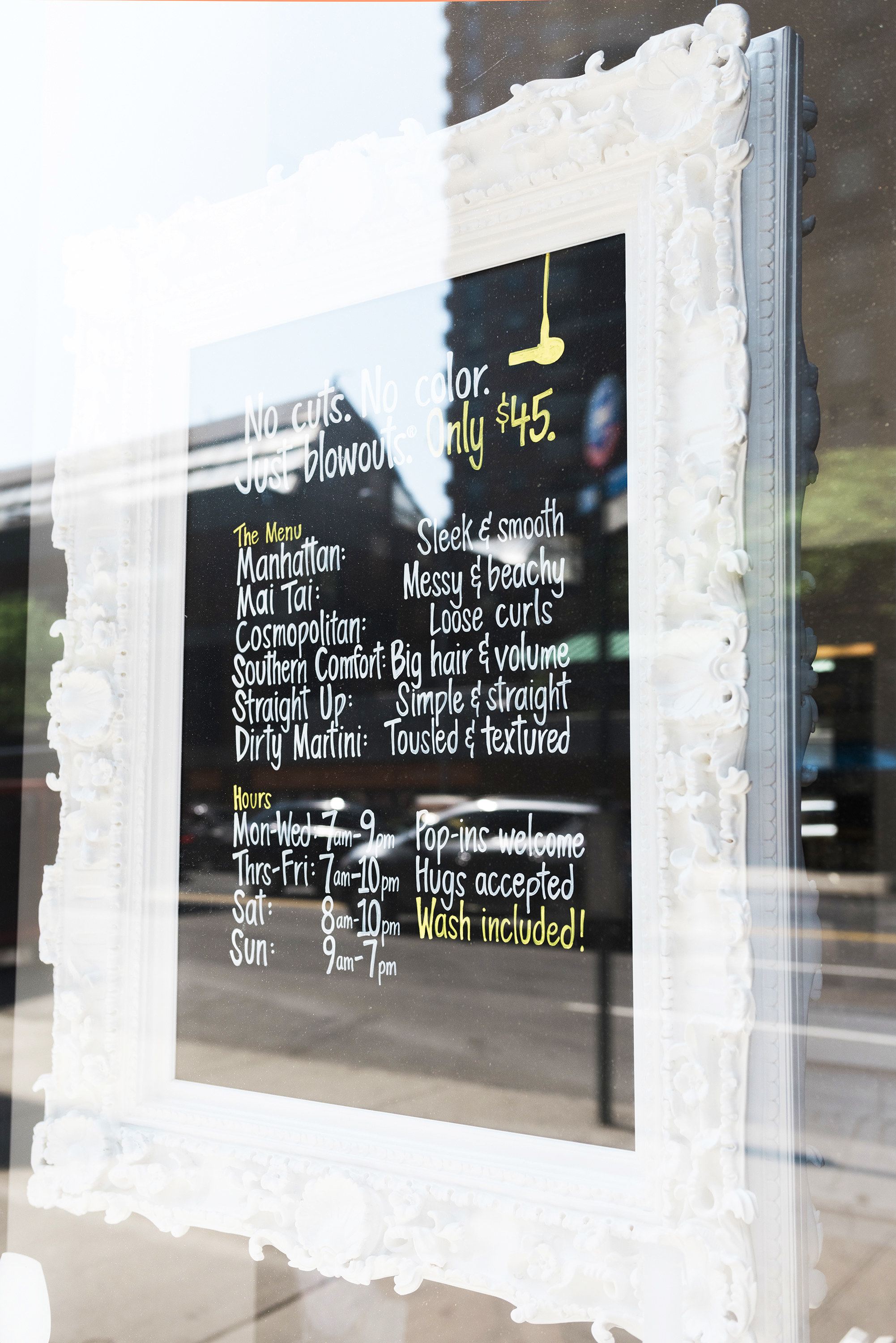 The result is intensely picky customers. One Yelp review of Drybar's Midtown East location gave it two out of five stars even though the salon did "a very good job on hair" and the stylists were "lovely." The problem: The people at the front desk weren't "attentive and polite" enough and the person taking drink orders at the start of the appointment had to be "asked multiple times to get it to you."
It's a good example of the high bar customers have set for the chain, and one that won't be easy to maintain as the company goes on an expansion spree.
"It's what keeps Alli and I awake at night," Landau said. "How do you maintain the level of quality and service as you scale and as you open this many stores and touch this many people?"
Dixie Laite, a 54-year old writer in New York, was once a self-professed Drybar addict, visiting twice a week.
"Every time I went in there, they were like, 'Dixie, how are you?'" she said. "They would ask me about my pets, and it was just a home away from home. Even though I probably budget-wise should not have gone as often as I did, it was just that in addition to the outcome of this great head of hair, the experience itself was so wonderful."
"They kind of broke my heart."
But she fell off in a big way after the level of service declined at her local salon at Le Parker Meridien Hotel near Central Park. "What stopped me over time was that the people at the front desk and a lot of the stylists left, and now when I go in, it's not well-kept, it's messy," she said. "I don't really give a shit about cookies, but if there are cookies, it's just a plate with some crumbs and no one changes it. No one offers you something to drink. If someone is at the front desk they're talking to someone else."
She says she wrote a sincere email to the company expressing her disappointment but did not receive an acknowledgment of her note, which she felt was "very telling."
"It went from being this thing I was a huge evangelist for, where now it's almost like going to the dentist if I have to go there because my other options are exhausted," she said. "They kind of broke my heart."
Social media has changed the calculus of who wants to look red-carpet ready, and when. Kim Kardashian West doesn't just look good in selfies. She and her makeup artist charge hundreds of dollars for "master classes" so eager attendees can obtain the secrets of contouring.

The first chapter of Mindy Kaling's second book, Why Not Me?, is titled "How to Look Spectacular: A Starlet's Confessions," and is, well, just that — a series of beauty tips she says transformed her from Mindy the "boring anonymous comedy writer who buys her bras at T.J. Maxx" into Mindy the "red-carpet glamourpuss with perfect skin and shiny hair." She makes you want hair extensions and to get all your clothes tailored. (Kaling also visits a Drybar before a big meeting in another chapter.)
"Most women thought that blowouts were only for celebrities and really rich people or whatever," Webb said. "We made this an affordable luxury."
Of course, the question of whether $40 before tip is "affordable" for a blowout depends entirely on the kind of hair you have, your age, and, most importantly, how much money you have.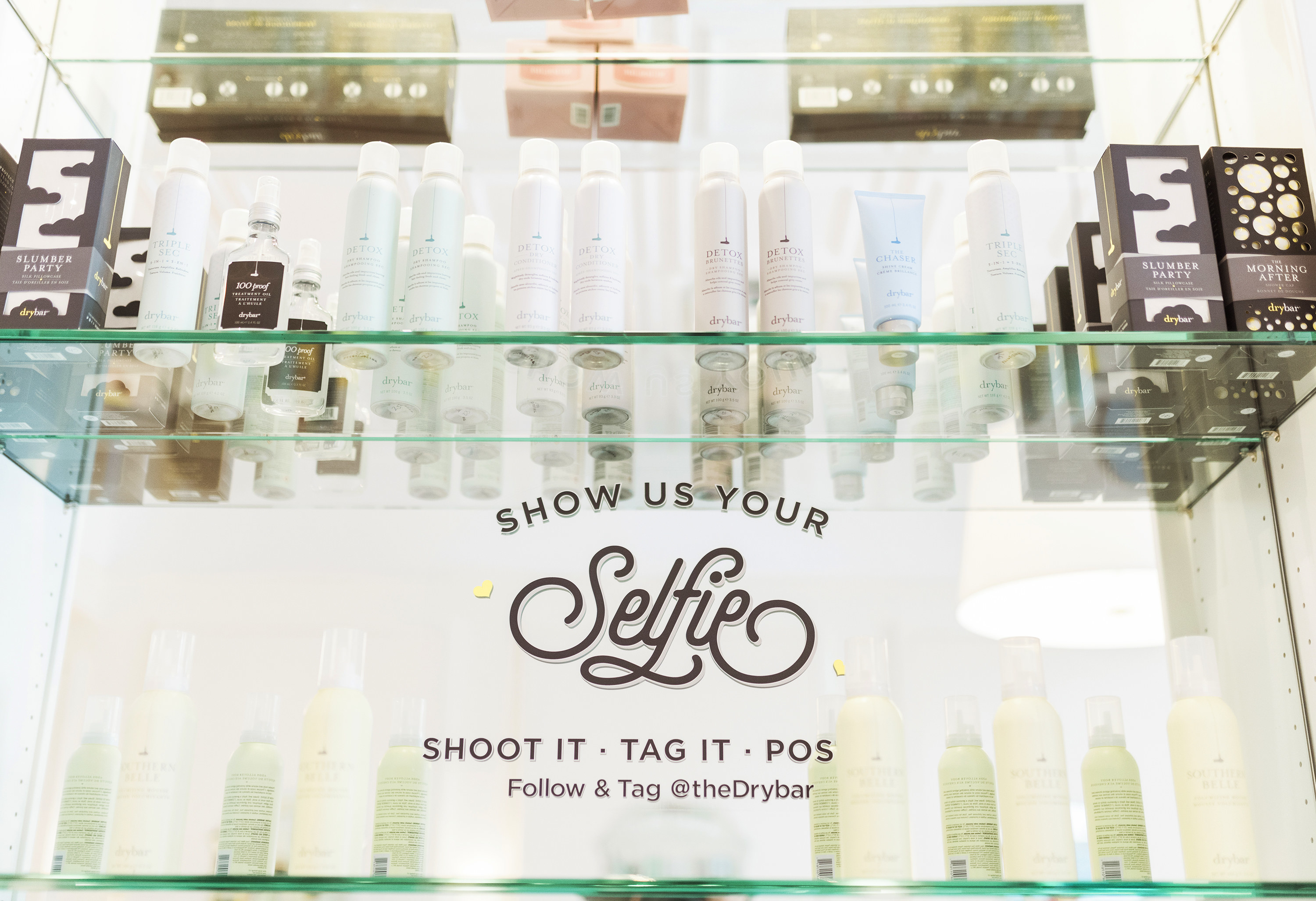 Internally, the company categorizes customers into groups based on how frequently they visit: Women who show up at least a couple of times a month are called Gold Mines, followed by Lemondrops, Chasers, and Hot Toddies, in keeping with the cocktail theme. A big part of Drybar's business efforts involve convincing customers to visit more frequently — converting the Hot Toddies into Gold Mines. (Heffner called that "the holy grail.")
This is where the growth of competitors can help. As protective as the company is over its brand, a proliferation of rivals could help turn $45 blowouts into a weekly habit for large numbers of people, which it most definitely was not a decade ago.
Blo, Drybar's biggest competitor, is planning to eventually operate 300 to 500 locations in North America, CEO Vanessa Yakobson told BuzzFeed News. She wouldn't disclose the company's revenue but said it's "on par" with Drybar's sales.
"We love going into markets where there are competitors in the market, because they're helping to grow the category," Yakobson said. "They're helping to train the customer in the habit of getting blowouts on a regular basis, so we find it very advantageous to be in a market where there are other competitors."
If both companies hit their most optimistic targets, there will end up being 900 Drybar and Blo shops in North America. At that size, they would outnumber Gap stores, and they would more than double the 400 Lululemon locations worldwide.
"Count it as affordable self-care, cheaper than therapy or a massage!"
While these businesses want a return to the habits of the 1950s, they come with a different value proposition today.
Back in the day, a weekly wash-and-set was an affordable part of the average woman's routine. Newspapers on Long Island and in Texas advertised "shampoo and sets" at prices of $1.50 or $1.75 in the late 1950s. Even in Manhattan, a quality shampoo and set on a budget could cost as little as $3 in 1962. Adjusted for inflation, that $1.50 shampoo and set would be a little under $12.50 today.
Now, the idea is for upper-middle-class women to view blowouts as a luxury, but one that's worth it for the psychological benefits. As one woman I know put it, $40 is "that price point where it feels like a doable splurge — count it as affordable self-care, cheaper than therapy or a massage!"
Drybar, to set itself apart, maintains a maniacal focus on customer experience.

When the sheer size of the chain made it impossible to ship in fresh flowers to salons all the time, its executives were devastated, until Landau saw a display of succulents that convinced the team there was still hope. The company once struck up a tentative partnership with the maker of an instant coffee machine, but the deal was axed after testing showed the machines threw an extra 90 seconds into the customer timeline compared with regular brewed coffee.
There's even an employee at Drybar headquarters in charge of "just because" touches. They might send a nice letter to someone who writes a positive review, or send thank-you flowers to the top 50 customers in every city.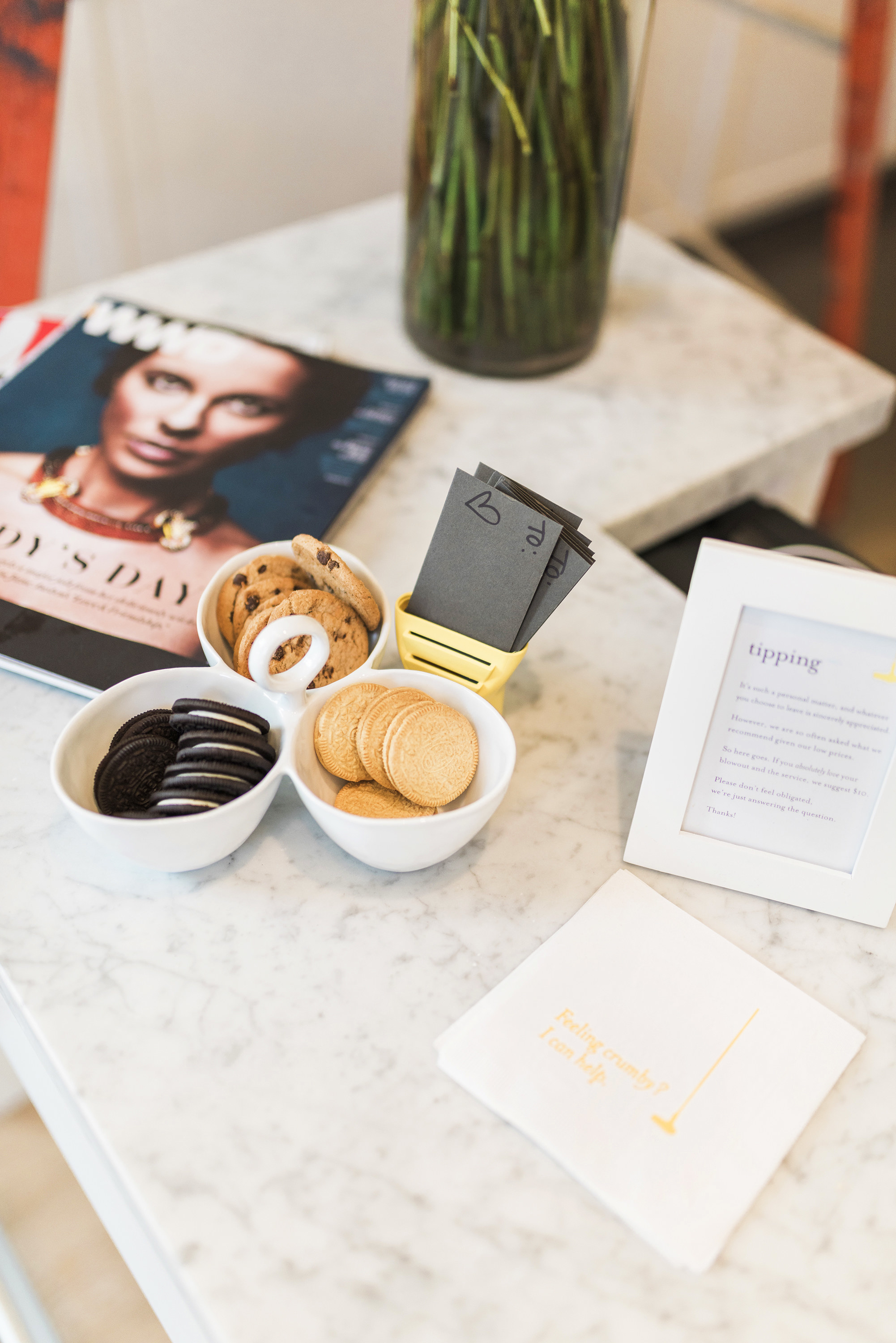 It's not just the little things Drybar does that are interesting — the things it chooses not to do are also revealing. It turned down former J.C. Penney CEO Ron Johnson when he tried to get Drybar outlets into some of the revamped, higher-end versions of the struggling department store chain. Drybar dodged a bullet on that one: Johnson's remake ended in disaster, as plunging sales led to the CEO's ouster, and many of his most ambitious ideas have since been abandoned.
Drybar has also declined plenty of partnership requests from brands wanting to offer freebies to its coveted clients. One such promotion it chose to run was with Luna Bars, where the health-food brand picked up the tab for every Drybar blowout during a promotional period, and then gave the customers a Luna Bar.
"Clients went crazy because it was a surprise and delight and they got a free blowout and then Luna Bar got the benefit of getting the interaction," Landau said. "We have a lot of other things in the works along that line."
Companies like Drybar are the beneficiaries of a major change in the spending priorities of young people, who have proven much more interested in paying premium prices for food and drink, entertainment, and, yes, blowouts, and much less interested in paying $50 for a shirt. A recent survey by youth researcher Cassandra found that 62% of 19- to 34-year-olds would rather spend money on a cool experience than a cool product.

One of America's biggest mall landlords has noticed the trend playing out at shopping centers across the country. "Millennials seem to be more focused on experiential things, whether that's going on vacations or just spending money on themselves," General Growth Properties CEO Sandeep Mathrani said in an interview with BuzzFeed News.
While malls have always had salons, Drybar "has managed to create a new environment for the millennial, the teen, or young baby boomer, to feel comfortable going in and feel like they they're not going to their grandmother's place, if you will," Mathrani said.
Being such a trendy destination makes real estate negotiations a whole lot easier. The Bloomingdale's in Manhattan's Soho neighborhood rents Drybar space at a "very, very reduced rate," Landau said, and that's reflective of the great deals major mall owners are giving Drybar across the country.
"There's a willingness and a desire for us to be there because of the foot traffic we bring," he said. "We bring a bunch of women who shop before, and then get really, really happy, and then shop after, and so that's a fact that's not lost on developers."
Even though blowouts are temporary, they often lend themselves to pictures that last a lot longer, said Liz Dunn, founder and CEO of retail consulting firm Talmage Advisors.
Drybar loves to say that it's selling more than just blowouts — it's selling "confidence and happiness."
"It's not just Facebook, but it's also online dating; it becomes your Gmail profile picture; there are so many places that are using our own images," Dunn said. "People are very concerned about their own personal brands these days and it fits into that. It's hard to find a shirt that's going to get a lot of positive feedback or commentary unless it's inappropriate."
Dunn believes the blowout bar is here to stay, noting that "the millennial generation is spending more on health, wellness, and beauty than older generations and that seems to be a more permanent trend."
Drybar loves to say that it's selling more than just blowouts — it's selling "confidence and happiness." Its executives drop this line within minutes of starting an interview, it's written on a wall in its headquarters, and it pops up in just about every story written about the company.
The type of confidence and happiness Drybar is selling can be accessed only by those with the money to afford it. In New York, the Drybar "Barfly" membership, which comes with two blowouts a month and a free one on your birthday, costs $80 a month, or just under $1,000 a year.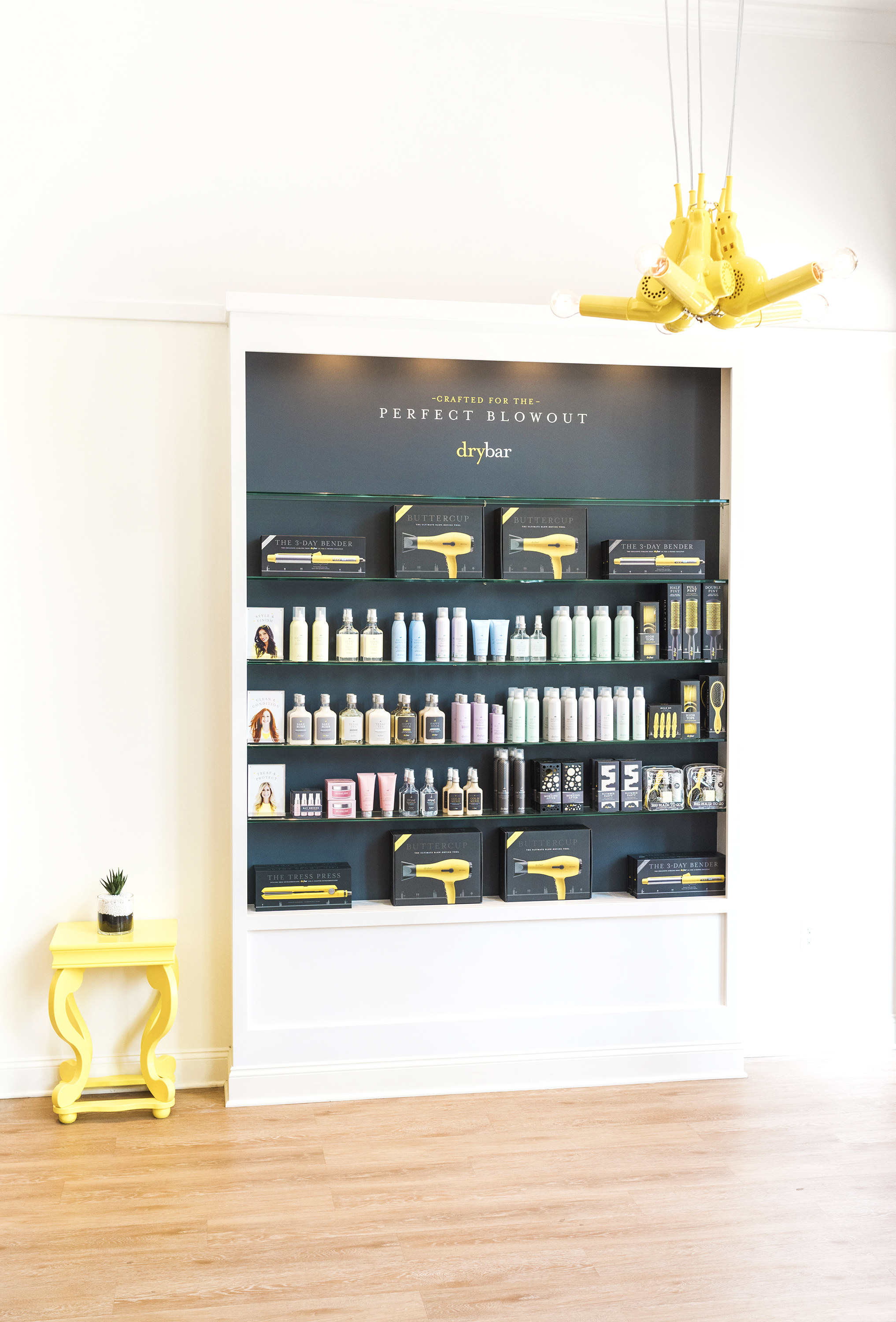 Skeptics say businesses like Drybar — trendy, expensive, concentrated in a handful of rich urban markets — are vulnerable to the changing whims of on-trend customers. One of the few tense moments of my day at Drybar's headquarters came when I asked Heffner, the CEO, what he thinks is fueling the blowout trend, and why it didn't happen sooner. He visibly bristled.

The reaction, he explained, came from the word "trend."
"Trends, historically, have a beginning and an end," he said. "I don't see Drybar and the service that we offer as having an expiration date associated with it."
Webb says one sign the chain will endure is the way so many of its customers develop major blowout habits. "What we saw, and what we still see, is this behavior of, 'I don't go on a date without getting a blowout, I don't go on a job interview without getting a blowout, I don't go to a board meeting without getting a blowout,'" she said. "It's not just because they look better, which they do, and that's great, but it's because of how they feel."
When a new Drybar opens, it typically starts off busy on weekends and quiet during the week, Landau said. But as locals develop a habit, the busy days begin to spread. "Then it's Thursday, Friday, and Saturday. Then it's Wednesday, Thursday, Friday, and Saturday. And then, in our mature stores, there's not that much of a difference between a Monday and a Saturday." •