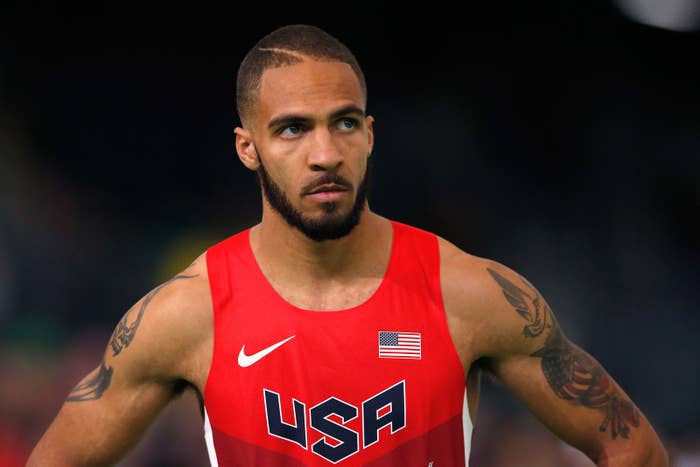 A lawsuit by Nike against runner Boris Berian shows how aggressive the company can be with the athletes it works with — and offers a rare look at how a track star with serious Olympic potential can expect to be paid by sponsors.

Nike is suing the world indoor 800-meter champion, claiming he violated the terms of an endorsement deal (the deal ended last year, but gave Nike the right to match competing offers in the future). Nike, which just won an order preventing Berian from endorsing other brands until a June 21 hearing, says it matched an offer from New Balance, which Berian disputes.
Nike included a copy of Berian's contract with New Balance in a June 1 filing, alongside a heavily redacted version of its own contract with the runner. Such contracts are rarely made public, and the documents show just how much money rides on events, rankings and records.
New Balance offered the 23-year-old an annual base salary of $125,000 for three years — though that jumps to as much as $275,000 if he wins a gold medal at the Olympics this summer — along with a slew of bonuses. An individual world outdoor record at the Olympics is $100,000, while a win at the Games is $150,000. First place at the U.S. Olympic Trials, which begin July 1, earns $7,500.

New Balance's deal with Berian outlines these "performance bonuses"
If Berian is ranked No. 1 in the U.S. for outdoor events, that's $10,000. A sub-1:43:34 track time in the 800-meter earns $15,000. There's also the annual $5,000 for travel and $5,000 for merchandise.

Athletic brands are hungry to be tied to the halo of a promising young runner ahead of 2016 Olympics in Rio de Janeiro, though none so much as Nike. It served Berian with court papers at a track meet in May, according to the Wall Street Journal. Based on Nike's deal with the U.S. team, the brand's swoosh appears on all the uniforms of Olympic athletes already, but Nike wants to be sure it's on Berian's shoes and social media too.
Berian's contract breach "will cause irreparable harm to Nike," the company said in its initial complaint on April 29. "The Olympics and Olympic Trials are only held once every four years, and there is no guarantee that Berian will continue to be top contender that he is today in 2020. Therefore, Berian's endorsement of Nike in 2016, is a unique marketing and promotional opportunity, the value of which is unquantifiable and irreplaceable if Berian competes in a competitor's product."
Nike's court filings included tweets and Instagram posts from Berian in recent months with hashtags like #nbrunning.
"Nike values its relationships with athletes and we expect them to honor their contractual commitments," the company said in a statement. "Where necessary we'll take steps to protect our rights. We have no further comment on ongoing litigation.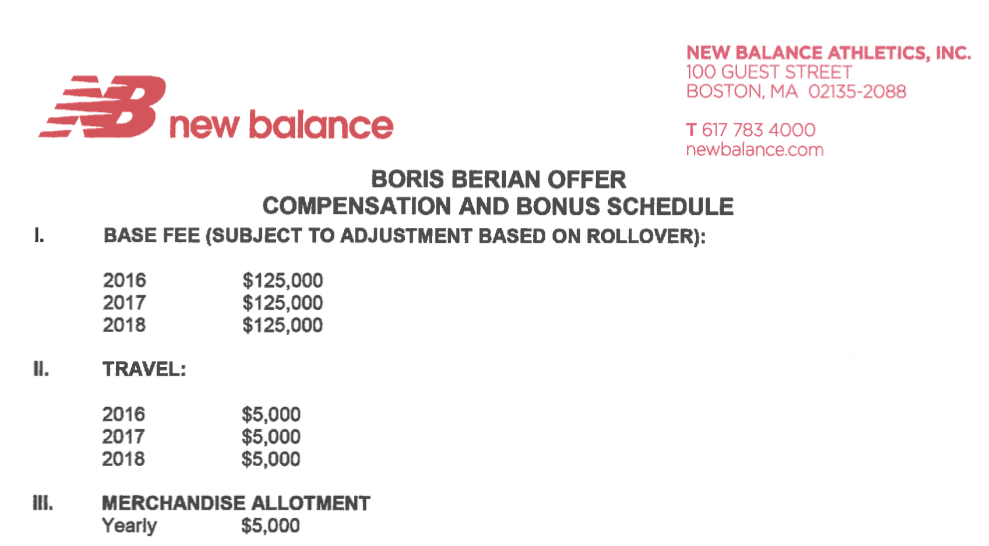 Berian and his lawyers argue that Nike didn't technically match New Balance's offer, because its contract included "reductions," clauses that allow sponsors to cut payment when an athlete fails to "perform consistent with expectations."
While Nike said these are an industry standard, Berian says they're not, receiving affidavits of support on that point from runner Nick Symmonds, Jesse Williams, the director of sports marketing at Brooks, and Sally Bergesen, the CEO of Oiselle Running.
If Nike wants Berian to help make the swoosh look good, that plan isn't working right now. Berian has been retweeting posts from indignant fans with the hashtag #FreeBoris, and others with comments like, "We live in a world where it's easier to leave the Night's Watch than it is to leave your Nike contract." (That's a Game of Thrones reference.)

Berian also withdrew from the last two races on his schedule leading to the U.S. Olympic trials on July 1 "due to the stress of trying to compete under present circumstances," his lawyers wrote on June 5.

"Nike's legal maneuvering appears designed to hinder Mr. Berian's training and bully him into submission," Berian's lawyers wrote in a June 5 filing. Nike should have pursued the issue sooner "and now makes one extraordinary request after another just as Mr. Berian approaches the peak of the best track and field season of his nascent pro career in a sport where longevity, particularly in his event, is uncommon."