Harley-Davidson Sues Urban Outfitters For "Mutilating" Its Brand
Urban Outfitters has been reselling Harley-Davidson-branded merchandise under its Urban Renewal label. The motorcycle company says the items, made without its permission, represent "flagrant violations" of "standards for products branded with the Harley-Davidson marks." Update: Urban's lawyer responds.
Harley-Davidson says Urban Outfitters has "mutilated" its marks.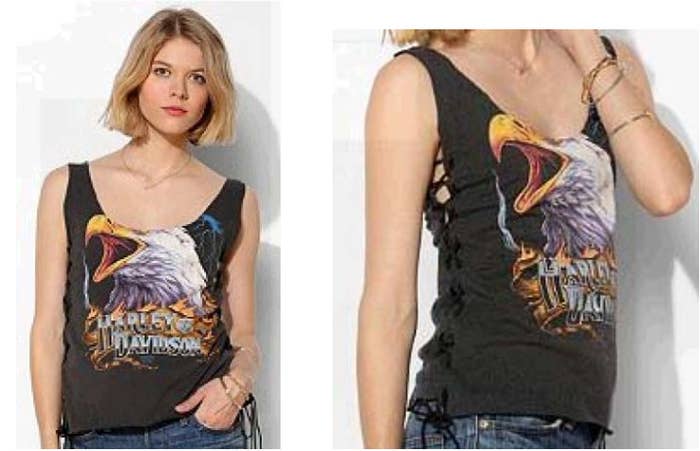 Urban Outfitters, the retailer that's frequently accused of stealing other people's designs, has a new foe: Harley-Davidson.
Harley-Davidson filed a lawsuit in Wisconsin District Court on Tuesday saying that Urban Outfitters violated its trademarks by reselling Harley merchandise under the "Urban Renewal" label without the famous motorcycle maker's permission. While Harley raised the issue with Urban Outfitters in a March 12 email, warning the chain of legal action, Urban's counsel responded on March 14 saying, "I would not expect a reply before next week, at the earliest," and had yet to reply as of March 18, according to the lawsuit.
The items in dispute "are genuine Harley-Davidson apparel products that have been 'reconstructed' and materially altered in various ways, including by cutting through or mutilating Harley-Davidson's marks, cutting off the sleeves, shredding the bottom of the shirts, cutting open the side seams of the shirts, cutting the necklines, and removing Harley-Davidson hangtags, neck tags, and/or labels and replacing them with defendant's own branding in the form of its URBAN RENEWAL labels," the motorcycle company said in the lawsuit, which was spotted by Law360 yesterday.
Harley added: "The unauthorized products are flagrant violations of Harley-Davidson's standards for products branded with the Harley-Davidson marks."
Urban Outfitters' outside counsel, Drinker Biddle & Reath, says that the company only just became aware of Harley-Davidson's issue with the items.
"Urban Outfitters recently became aware of these allegations, and we are working to resolve them," Darren Cahr, a partner at the firm, said in an email to BuzzFeed. "It is unfortunate that Harley-Davidson moved to bring suit while we were investigating their claim, but we remain hopeful that this dispute can be resolved amicably. As may not be clear from the initial publicity surrounding the case, these are garments made of actual vintage clothing — Urban Outfitters respects the intellectual property of others as it hopes that others respect its own."
Harley-Davidson, founded in Milwaukee in 1903, boasts a cultlike following for its famous motorcycles, as well as jackets and other clothing bearing its bar-and-shield logo. The company's "fanatical brand loyalty" is so storied that it's been the subject of a Harvard Business School case study. Urban Outfitters' sales of the items created the false impression that the retailer is somehow affiliated with Harley, the company said in the lawsuit.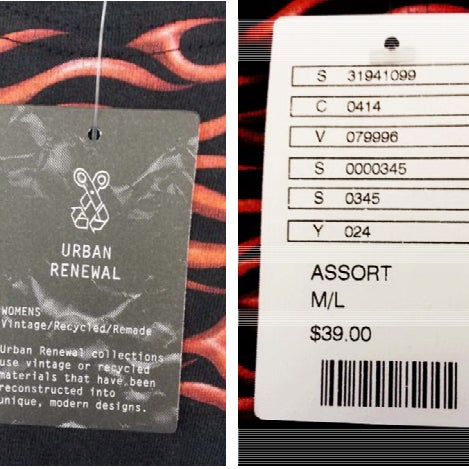 Urban Outfitters, which is struggling to regain its cool among twentysomethings, says it handcrafts each one-of-a-kind Urban Renewal product out of vintage and surplus items; prices for the merchandise tend to range between $50 and $100 online.
Similar to when Urban Outfitters pulled a crop top in January that critics said glamorized mental illness, Harley-Davidson products are still listed on the website, but marked as sold out.
Harley says its brand was valued at $4.23 billion last year and that Urban's hawking of its trademarks has caused "irreparable harm." It's seeking an injunction to stop Urban Outfitters from altering its products and selling anything bearing its marks, and wants the retailer to destruct any such items for sale immediately. Harley is also seeking compensation for any profits Urban made on such products, as well as punitive damages.
Update — March 20, 2:40 p.m. ET: A lawyer for Urban Outfitters says it's "unfortunate" Harley-Davidson brought the suit while it investigates the company's claims, but that it remains "hopeful that this dispute can be resolved amicably." The lawyer notes the merchandise in question is made out of "actual vintage clothing."