It's 75 degrees and sunny in Petaluma, California, and I'm breaking a sweat on a brisk two-mile walk with Tracy Byrnes, Athleta's senior manager of innovation. She's roughly 20 years my senior and 20 times fitter. The loop, just across a parking lot from the brand's headquarters, weaves through protected wetlands filled with ducklings, swans, and butterflies — an ideal setting for Byrnes to tell me about designing workout clothes for "She."
"She" is the woman from Athleta's "Power to the She" slogan, the person the Gap-owned brand's executives spend their workdays obsessing over. She isn't any single individual, but an archetype of sorts: The five company leaders I speak with throughout the day, all women, constantly reference her, her habits, and her desires.
She is "fitness-minded" but not necessarily working out — she wants versatility, but she also wants to look good, brand president Nancy Green says.
She will also play a decisive role in the future of America's largest specialty clothing retailer, which is racing to keep pace with a fast-changing market. Among the changes rocking Gap are a shift away from denim and toward yoga pants, tights, and other athletic gear — a shift that is particularly pronounced among teenagers. As sales slide at Gap's core chain, the company hopes Athleta will become the fourth pillar of the company, alongside Banana Republic and Old Navy.
It's a high-stakes proposition, in part because Gap hasn't successfully built a major new brand since opening its first Old Navy store two decades ago under the leadership of retail heavyweight Mickey Drexler, who now runs J.Crew. And it's not for lack of trying.
But Gap believes Athleta, acquired in 2008 as its answer to Lululemon, will succeed because it's right on the pulse of this generation's big fashion trend: "athleisure." Or, as Green gently corrects me, "performance lifestyle."
In lay terms, it's the trend of women doing errands in yoga pants and running tops before exercising, or perhaps without plans to exercise at all, and teenage girls wearing leggings to school. And more importantly for the company, it's the willingness of people to pay top dollar for the kind of clothes that were once considered workout basics — a welcome development at a time when fast-fashion retailers are relentlessly driving down the price of everyday clothing.
"We are not just selling activewear, we are selling lifestyle products for a woman who is very fitness-oriented," Green explains. "We deliberately have a much broader range so we can fill a much bigger percentage of her closet versus just what she's going to wear to the yoga studio or just what she's going to wear to go running."
She points to the pants she's wearing, which appear to be cropped black slacks.
"This fabric is what we use in our hiking pants," she says. "But it's styled and the silhouette is modern pant ... if I want to ride a bike to work, I can do that in these pants, or I could walk to work."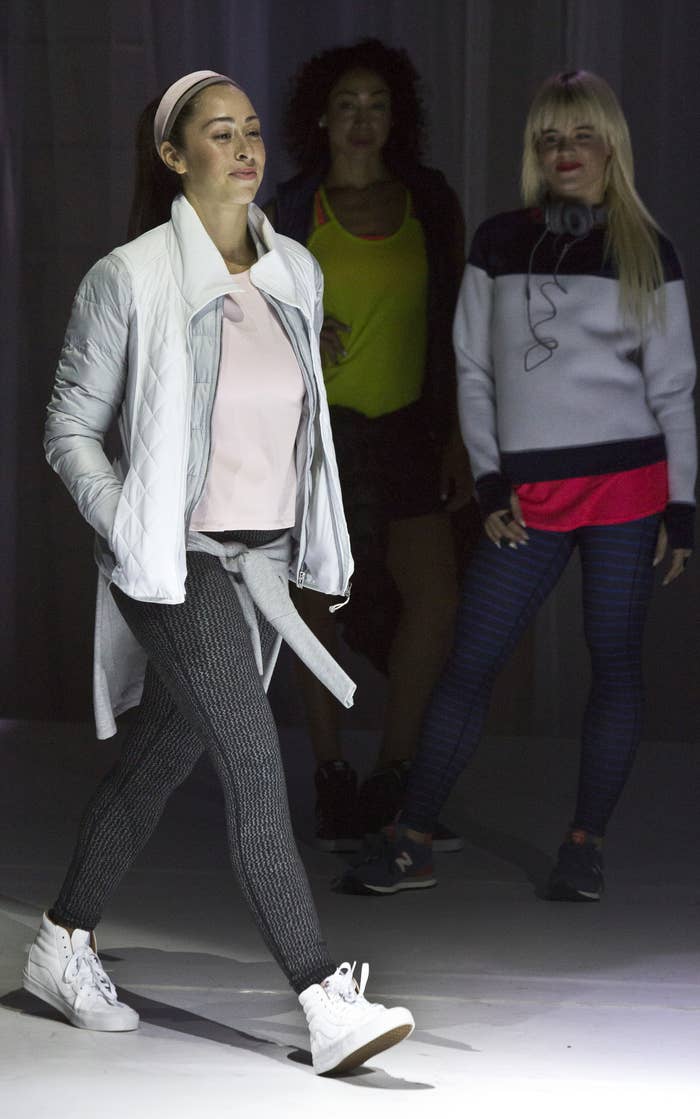 Activewear has grown faster than the overall apparel market during the past two years as more people wear exercise clothing casually. Analysts at Barclays estimate it may grow by almost 50% in the U.S. to more than $100 billion at retail by 2020. Gap and many other retailers are betting on the boom, especially as research shows teenagers are beginning to prefer fitness brands over denim makers for the first time.
"My generation grew up wearing jeans — jeans are just a part of our life, and it still is," Green, who is 53, says. "But this generation is growing up in yoga pants and activewear. So I think it's just going to be bigger and bigger and bigger for the future."
It's not lost on anyone that Athleta's parent company Gap happens to be a major denim maker — and it needs a boost. Comparable sales at the company's namesake chain have fallen for 11 straight months, and turning it around will be one of new CEO Art Peck's bigger challenges.
Sterne Agee analysts went so far as to say that for Gap, 2015 "is essentially a lost year for the namesake brand" in a recent research note.
Beyond that, Gap, Old Navy, and Banana Republic are largely mature in the U.S. Each chain made between $2.4 billion and $6 billion in domestic sales last year across hundreds of full-price and outlet stores. Athleta's revenue was grouped with Intermix and Piperlime in Gap's latest annual report, which showed it brought in less than $729 million in sales last year.
While Athleta's core customer is between 35 and 55 years old, the brand has broadened its appeal above and below that in the past two years, and anticipates reaping major benefits as today's teens and twentysomethings enter their biggest buying years, Green says.
The popularity of yoga pants, running tights, and other athletic gear is relatively new in the grand scheme of how American women dress. Lululemon, which was founded in 1998 and greatly helped fuel the trend, only went public in 2007. At that point, the company had 59 stores and close to $150 million in annual sales. Today, its yearly revenue has ballooned to $1.8 billion and it has 302 stores — and that's despite the fierce, escalating competition from Athleta and other corporate behemoths like Under Armour and Nike, as well as upstarts like Sweaty Betty and Fabletics.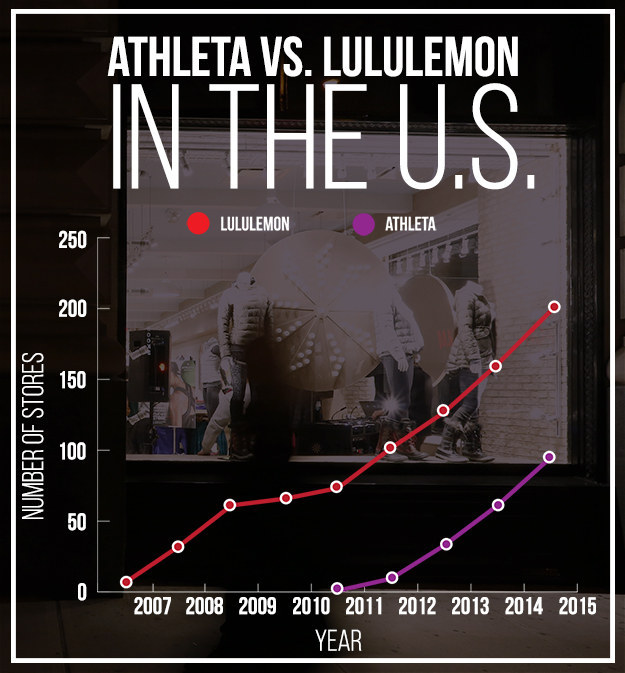 Lululemon's IPO filing back in 2007 noted that founder Chip Wilson had observed "the increasing number of women participating in sports, and specifically yoga," and saw a lack of style amid functional, comfortable athletic apparel. More importantly, the company believed that people were increasingly wearing technical athletic gear in casual settings "to create a healthy lifestyle perception." In other words, it was becoming fashionable to give off the vibe, via clothing, that you were active and mindful — particularly among educated women. Whether you really were was another matter entirely.
Lululemon was right on the money on both counts. Gap scooped Athleta up for $150 million in 2008, an acquisition Lululemon briefly considered, when the brand was about 10 years old and only available via catalogs and the internet. Since then, it's evolved into a private-label clothier with a strong brick-and-mortar foothold, taking quite a few pages out of Lululemon's playbook. Like Lululemon, Athleta offers discounts to fitness instructors and holds classes in stores. It has also mimicked the company's "community boards" with "community tables" to give stores a local feel. Athleta only opened its first store in 2011, but it's quickly ramped up to at least 101 this year.
The desire to look good while working out, or just dress as if you're about to, comes from a deeper trend: Women really are exercising more, and yoga's popularity is a big part of that.
Almost 9% of U.S. adults, or 20.4 million people, practiced yoga as of 2012, a 29% increase from 2008, according to studies by Yoga Journal. Of that group, 82% were women. The rise of studio fitness classes, from boutique spin classes to Pilates to Pure Barre, has been well-documented. And outside of the gym, more women are running — Running USA says 1.2 million women were running-event finishers in 1990, a number that has soared to 10.8 million as of 2013.
Plenty of women want to look cute at the gym, Athleta's designers say, adding that they try to use fashion trends they spot in runway shows and elsewhere. One high-waisted "Chaturanga tight," for example, "supports and sucks and keeps you in, so not only does it help with your performance, but you feel it's a really flattering tight," Melissa Barragan, one of the design directors, tells me. Another design director, Joanne Steinbauer, chimes in to note that it's also on-trend, as high-waisted pants have been hot in the past year.
"It's about having products that flatter your body and help you feel confident," Green, the brand president, says. "Women will tell us that if she feels good in product, whether it's workout wear or not, it motivates her to want to go work out ... She's feeling confident."
It's an especially lucrative part of the apparel industry, in part because Lululemon made the idea of $100 yoga pants seem reasonable to many. That pricing has created a halo effect ever since, meaning plenty of people believe there's a premium attached to certain fabrics and performance. It's also enabled competitors to undercut Lululemon on price while still commanding high margins.
Athleta is viewed as a less expensive alternative to Lululemon in a world where "cheaper" still translates to $44 tank tops and $79 leggings — steep prices for most American women. It also got a stroke of good luck with Lululemon's sheer pants debacle back in 2013, which hurt that brand's sales and reputation for quality just as Gap was doubling down on Athleta.
Like Lululemon, Athleta rarely discounts and has a "very, very high percentage of regular-priced sales," Green says.
That's key because selling clothes at full price is a feat these days. Consider the rapid growth of stores like T.J.Maxx, Nordstrom Rack, and outlet malls — Americans are addicted to the thrill of paying below manufacturer-suggested prices. That is, when they're not shopping even lower prices at fast-fashion destinations like H&M and Forever 21. Emails from Gap, J.Crew, and others screaming "TODAY: 30% OFF" have become the norm, pushing retailers to offer even deeper cuts on clothing.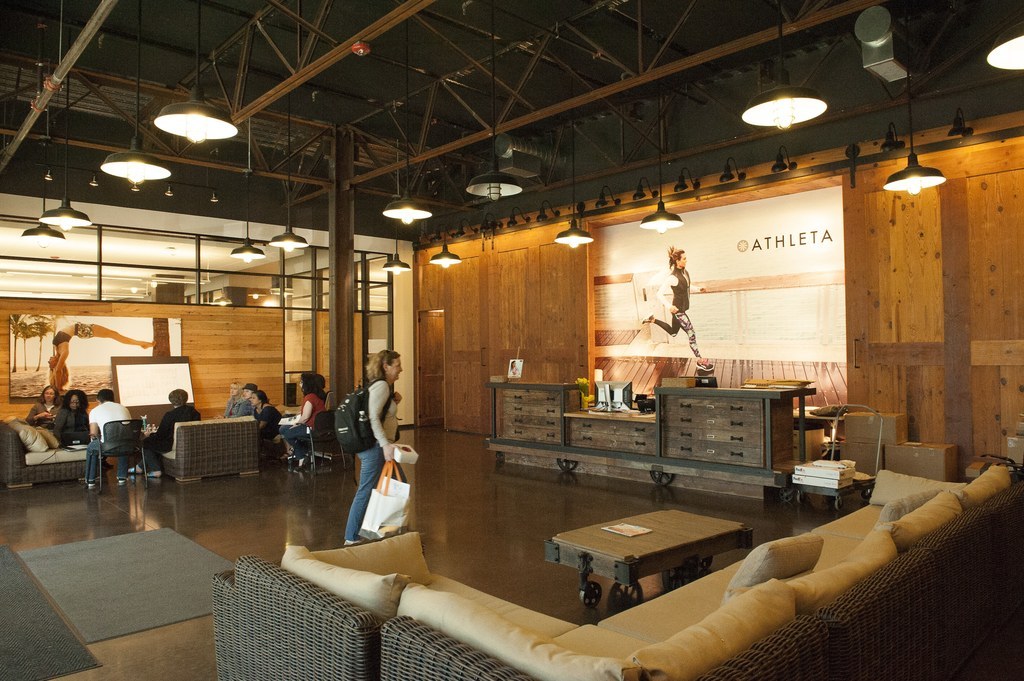 Athleta's headquarters feels a world apart from Gap's corporate offices in San Francisco. It's nestled close to the heart of wine country, some 40 miles from the city, in the town it was founded in. Employees, most of them women, are predominantly outfitted in the "performance lifestyle" gear that Athleta sells; a number have dogs in their cubicles. Breaks for walking or running on the two-mile trail are encouraged, and exercise classes are offered on-site — I joined for Pilates, which haunted my abs for a week. Spending a day there reminded me of my brief and torrid affair with a Fitbit, in that both set off musings to the tune of: "Perhaps it is life with this that will turn me into the best, fittest, shiniest-haired version of myself."
Much of the "wear-testing" for Athleta clothes is handled by employees, who practice a variety of sports. Internally, if you're known to be a swimmer or a yogi, you'll likely be handed a swimsuit or pair of pants to test out then review for colleagues. For clothes made with Athleta's new "Unstinkable" technology, which the company says require less laundering due to natural silver salts embedded in the fabric, Byrnes says that the testers had to wear them for five workouts then wear them to the office as the "true test of confidence."
"The looks on people were like, 'Seriously?'" she laughed. "I said, 'If it starts to stink, it's not working, and we've got to go back to the drawing board.'"
The Unstinkable idea underscores the fact that a lot of what Athleta designs for is to make it so that women don't notice their clothes as much, from smell to fit, Byrnes said. They don't want to tug at their waistbands or notice a sports bra chafing after a long run, she said.
Going forward, Athleta plans to open another 20 stores this year, Gap CEO Peck said on an earnings call in February, expressing optimism about the business. Green, too, was exceptionally optimistic about what Athleta and its performance lifestyle gear could mean for customers.
"There's activewear that's only for performance and then there's what we do, which is so much broader than just activewear — what we do could fill 80% of her closet," Green said. "I think it could be huge."