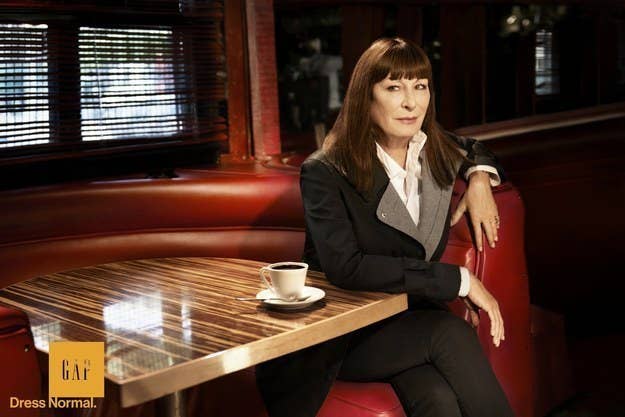 Gap's big fall marketing campaign has been centered around the tagline "Dress Normal." But with the company now offering heavy discounts on its fall range, analysts and fashionistas say it has become too normal for its own good.
The "Dress Normal" campaign "missed the mark," says Jaclyn Johnson, who runs the blog Some Notes on Napkins and founded marketing and event agency (No Subject.) "Gap tapped into the trend of normcore and thought, 'Let's jump on the bandwagon, everyone's embracing normal.' But I think what they kind of stumbled on is their demographic is not the ones who understand the irony of normcore, nor potentially know what it is." Normcore is a fashion trend popularized by New York magazine this year that's essentially the ironic embrace of nondescript, "ardently ordinary clothes."
While that kind of campaign might have worked for a chain like American Apparel, Gap has "a middle of the road consumer who at the end of the day doesn't want to be normal," Johnson added. "They want to be stylish, trendy, they want to look cute and be all these different things. You can't market to someone in a way that you're describing what they're getting as normal."
Gap is now heavily discounting its fall collection, advertising escalating markdowns in the past week. On Monday, the chain emailed customers touting 75%-off discounts — Tuesday, it advertised a "sale on sale," or an additional 25% off already-marked down items. That follows a weekend of 40%-off discounts. The Gap brand's same-store sales, which excludes the effect of new locations, slumped 6% in August and 3% in September, following two quarters of declines.
Gap, for its part, told BuzzFeed News that "October is typically a sale month as retailers prepare for the holiday shopping season."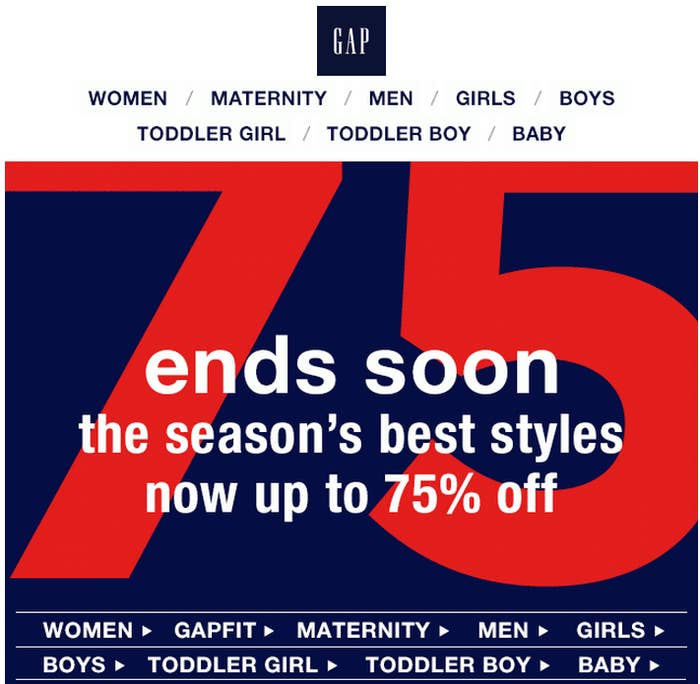 Indeed, Wall Street analysts have been disappointed by the fall collection, which features basics in neutral colors, as well as the "Dress Normal" campaign.
"The look and feel is minimalist and androgynous and supported by an ad campaign of 'Dress Normal,'" Janney Capital Markets analyst Adrienne Yih-Tennant wrote in a Sept. 26 note. "While intended to be provocative and ironic, we believe the fall floor set may be, in a word, too 'normal.'" She noted it carried limited colors and was "missing many key trends."
Earlier this month, Sterne Agee inquired: "What's wrong with Gap? Too much 'normal'?" Analyst Ike Boruchow noted that Gap's fall collection "was billed as the harbinger of a turnaround" after dismal spring and summer assortments.
"It's no secret that Gap's bread and butter is basics, but we believe designer Rebekka Bay's team has so far been unable to inject the assortment with the type of excitement that incites customers to buy," Boruchow wrote. "Most items convey the sense that one might already own them: plaid, florals, and denim washes that indeed seem too normal."
A quick scan of Gap's website pulls up numerous beige and gray sweaters, turtlenecks and long-sleeved shirts.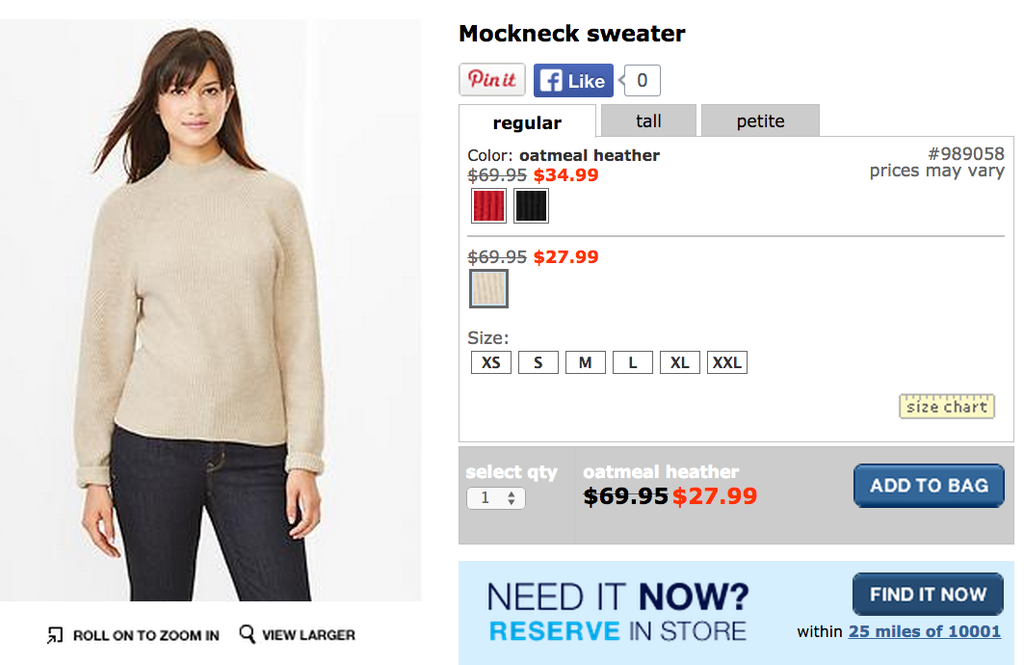 Mercedes Sanchez, a style and beauty expert and founder of BeChicMag.com, said that Gap is known for classic, high-quality basic garments, but this fall's basics "look too basic."
"I didn't see a big wow, something that would really attract me to the website or store," she said. "I haven't been to the Gap all year."
The retailer said it's ready to look past an admittedly disappointing fall and toward the big-spending holiday season. "While we were disappointed with customers' response to Gap's fall assortment, we look forward to launching our holiday collections at the end of this month, which will bring back some of Gap's most iconic, colorful products for the season," Liz Nunan, a spokeswoman, said in an e-mail. "Early customer feedback to Gap's new campaign, Dress Normal, has been positive."