A fresh target has emerged from the ashes of the collapsed factory in Bangladesh: Gap Inc.
Two labor groups, the International Labor Rights Forum and United Students Against Sweatshops, on Wednesday plan to launch a website called Gap Deathtraps in an attempt to publicly shame the retailer into signing a petition known as the Bangladesh Fire and Building Safety Agreement. The two labor advocacy groups say that Gap should have signed the legally-binding agreement, thereby giving up its current policy of self-regulation, after a December 2010 fire at another factory that was a big supplier to the company killed 29 people and injured more than 100 others.
There's only one problem — although Gap is an exceptionally large buyer in Bangladesh, the retailer was not producing garments in Rana Plaza, which collapsed on April 24 and has thus far claimed the lives of more than 700 people and injured 2,500 more.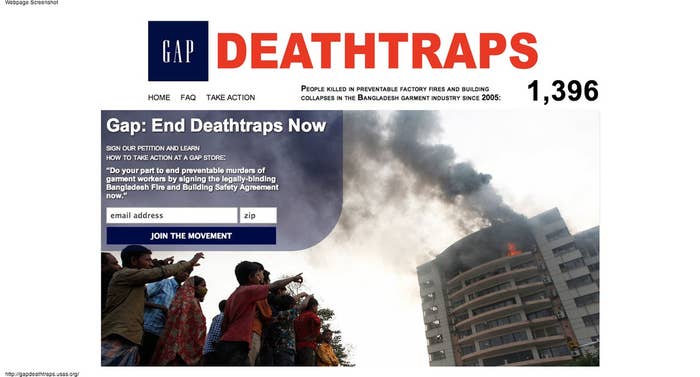 "Gap Deathtraps" prompts consumers to send a letter asking Gap to sign the agreement and pay 10 cents more per garment for safer factory conditions. It also includes store locators, talking points for approaching store managers and instructions on how to organize small rallies at Gap stores, complete with a chant sheet. The retailer owns more than 3,000 Gap, Old Navy and Banana Republic stores worldwide and most recently brought in $15.7 billion in annual revenue.
Gap is the focus of this campaign instead of retailers such as Bennetton, Primark and Joe Fresh-owner Loblaw, which were making garments in Rana Plaza, because it has been a leader in corporate social responsibility, organizers say. (Notably, Italy's Bennetton initially denied its ties to the factory.)
"Gap prides itself on social corporate responsibility, but has refused for over two years to agree to the Bangladesh Fire and Building Safety Agreement, the only meaningful path to better working conditions by negotiating with unions over working conditions," Karen Li, a sophomore at Cornell University and an organizer for United Students Against Sweatshops, wrote in an e-mail. "Many companies follow Gap's lead, and had Gap taken a leadership position two years ago, these subsequent tragedies could have been prevented."
Debbie Mesloh, a spokeswoman for Gap, said in an emailed statement to Buzzfeed: "All of us at Gap Inc. are deeply saddened by the tragedies that have occurred in Bangladesh. Our hearts go out to those affected. Gap Inc. takes our commitment to improving working conditions in Bangladesh seriously. We implemented last October a four-point plan that includes up to $22 million in assistance to workers and to improve fire safety at the selected factories that produce our products. In fact, we have independent fire inspectors working in Bangladesh right now who have identified improvements that can be made at the factories with which we work."
But Gap is the biggest American retailer in Bangladesh (Joe Fresh is Canadian and Primark is British), and Li said the hope is that targeting the retailer will convince others to sign the agreement and take responsibility for workers. Organizers are planning a protest at a Gap store near Astor Place in New York on Saturday, said Liana Foxvog of the ILRF.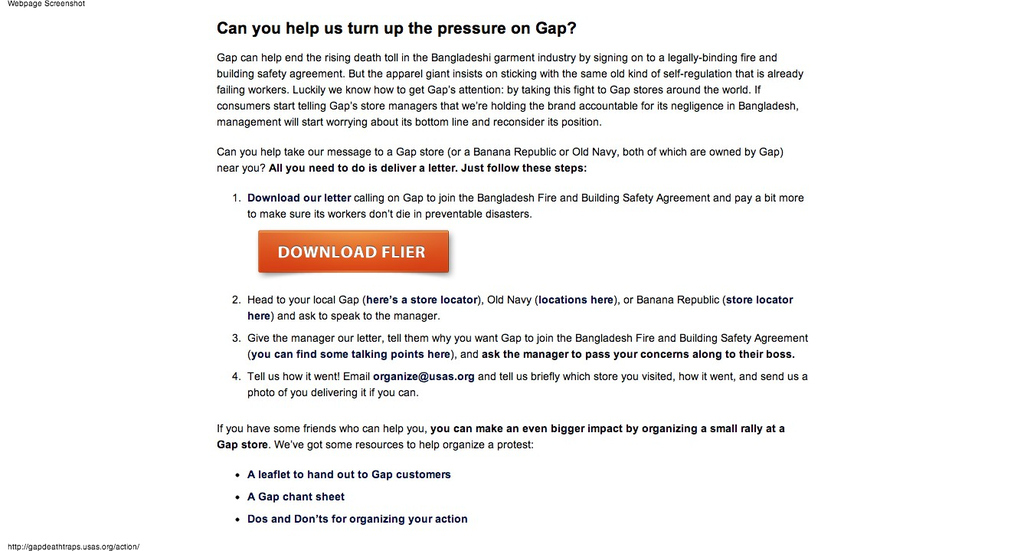 Scott Nova, executive director of the Worker Rights Consortium, a labor rights organization not affiliated with the "Gap Deathtraps" campaign, says it is "entirely appropriate that activists have chosen to target" the company despite the fact that it had no operations at the Rana Plaze factory.
"They're the biggest U.S. apparel retailer, they are a hugely important company in Bangladesh, and globally, they put themselves out there for years as a supposed leader in corporate responsibility, and yet they have refused to embrace this agreement. Their refusal has discouraged other brands and retailers from signing on and has been a major part of this failure."
Gap says it has been working towards improvements in Bangladesh and safeguarding its own workers, according to Mesloh.
"To see tragedies like this become a thing of the past, it will take a collective effort of all retailers, all stakeholders, the U.S. government and the Bangladeshi government to significantly improve the working conditions in this country," Mesloh said in an e-mailed statement, adding that the company "is committed to assisting the people of Bangladesh to make sure we achieve lasting change." She said more information is available at Gap's own website, at www.gapinc.com/Bangladesh.
PVH, the owner of Calvin Klein and Tommy Hilfiger, and Tchibo, a German retailer, have signed the agreement that organizers want Gap to join.
The factory collapse ranks as Bangladesh's worst industrial disaster, according to the BBC. Several people, including the factory's owner, have been arrested. Bangladesh is the world's second-largest garment exporter after China. In November, a separate Bangladesh factory fire killed 112 workers.