Ferguson Woman Gets More Than $170,000 In Donations To Rebuild Beloved Bakery
Natalie Dubose spent her life savings opening a small bakery in Ferguson this June, and saw it trashed during protests this week. People have donated more than $170,000 in two days to help her rebuild.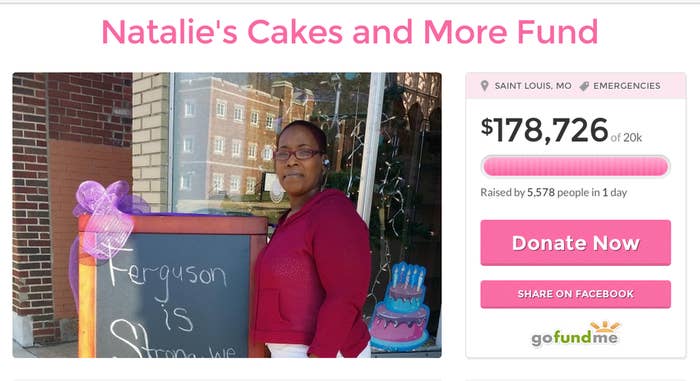 It was a devastating situation: Natalie Dubose, a single mother of two young children, had poured her life savings into her dream of opening a bakery in Ferguson, Missouri, in June. This week, amid the Monday night protests that overtook the town, Natalie's Cakes & More saw its windows smashed in, with glass and debris ruining baking supplies and marring the storefront she had invested so much time and money in.
But her story took a twist after a couple of strangers asked how they might be able to make a donation to help rebuild. In short order, two GoFundMe pages (which have now been consolidated to one) popped up with the goal of raising $20,000.
And now, on the eve of Thanksgiving, Natalie's Cakes & More has received more than $170,000 in donations from thousands of well-wishers, and its Facebook page is overrun with messages of support from Ohio, Minnesota, Florida, New York, Arizona, South Carolina, to name a few, and even one from Amsterdam.
"It's just been totally overwhelming," Dubose told BuzzFeed News on a brief break from baking cakes and filling orders for the busy Thanksgiving weekend. "I'm just grateful. Grateful is the only word I can describe feeling right now."
The money that has flooded in is far more than was asked for, and will be able to pay for much more than just repairs to the store. Dubose, buried in work-fulfilling Thanksgiving-weekend orders, hasn't had the time to think through how she will use the incredible windfall.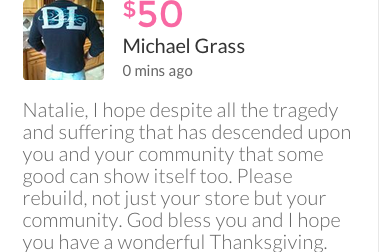 The 32-year-old mother to an 11-year-old daughter and 7-year-old son is one of many small business owners in Ferguson whose establishments were vandalized in the chaos following a grand jury's decision not to indict Officer Darren Wilson for shooting and killing Michael Brown. BuzzFeed News' Joel Anderson reported from the city that he saw burning buildings, smashed windows and a scene so chaotic that the National Guard and SWAT teams were called in, while officers deployed flash bombs and tear gas.
"The West Florissant corridor's row of mostly scrappy small businesses may never be the same," Anderson reported. Relative to some other small business owners, Dubose was lucky in that her store wasn't burned and looted.
When asked if, as a minority business owner, she struggled at all with supporting the local protest movement while also wanting protection of her business and livelihood, she noted that she "keeps getting that question."
"My priority is being able to stay in business, not all of the other things taking place out of the four walls of this building," she said in a telephone interview. "I've been concerned about making sure business comes through the door."
"This is my only source of income — I can't stress that enough," Dubose said. "If that's affected, it doesn't allow me to be the mother I need to be to my children. I didn't want damage to my property. I just wanted to be able to stay in business without any delays."
The bakery represents both her dream and her livelihood, she said.
"Everything that I have in here is because I did a bake sale, or I saved money," she said. "Instead of going in to buy the next pair of shoes, I invested that in icing or a new cake stand. I've always been investing in my dream, so that's the very reason I didn't want it to be damaged. Everything that was in me is in this building, and I didn't want it to be destroyed."
Dubose cut the ribbon on her bakery in June.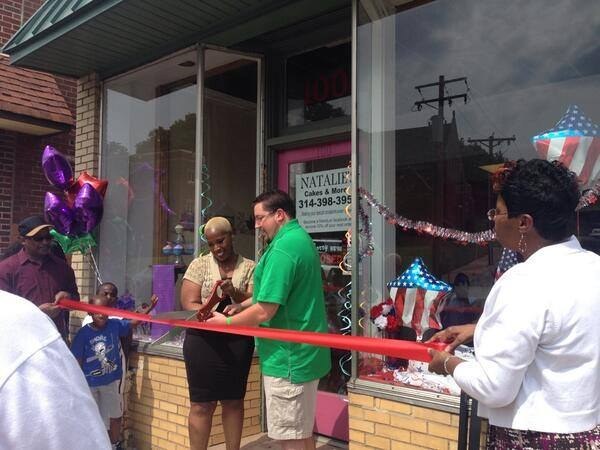 As donations to Natalie's Cakes & More approach $200,000, Dubose isn't sure what she will do with all the extra money yet. During our phone interview, she apologized for how often she said she was grateful.
"After we get through this Thanksgiving holiday and I get a handle on the orders coming in, I'll be able to think what will be the next move," she said. "I just don't know. I'm still in awe over the support that's coming in. I haven't had time to think that far...I'm so emotional, I've been crying throughout the day, every time a customer came in."
Beyond that, Dubose has hope in Ferguson and its recovery, as the town's community works to heal from a shooting that has shaken the nation.
"Ferguson will be able to get through this," she said. "Everybody that's come through this store, the people of Ferguson, all the people not from Ferguson, everybody has Ferguson in their prayers, everybody has this country in their prayers.
"We will pull through this for sure."