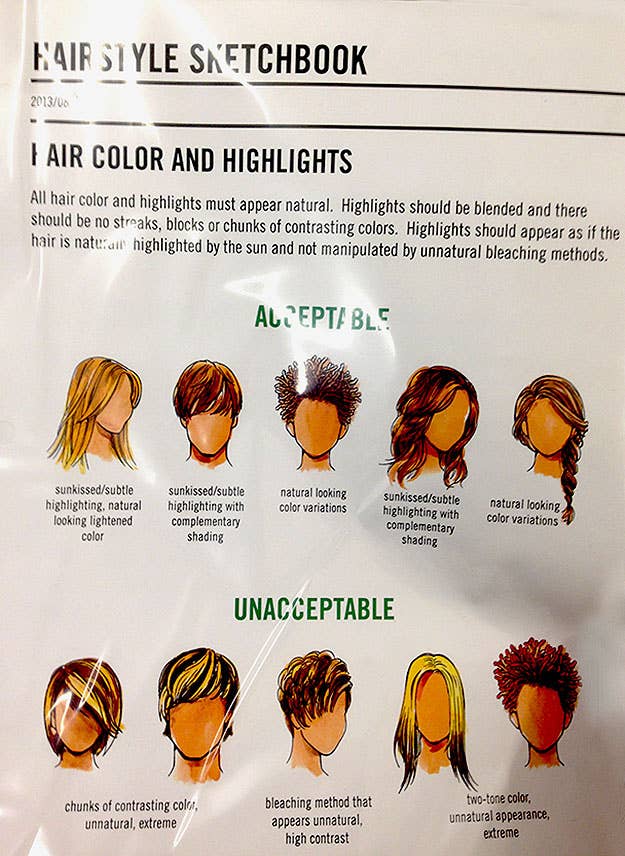 Abercrombie & Fitch's effortless sex-meets-Ivy League aesthetic has long been known to take a lot of work for its associates to achieve.
Lately, the retailer is taking extra pains to enforce a strict hairstyle policy, sending employees home even if their hair was compliant before the crackdown, a source tells BuzzFeed. Abercrombie declined to comment through an external spokeswoman.
"We realize that the manner in which you style your hair is highly personal and subject to your own tastes and preferences," Abercrombie said in an internal "Hairstyle Sketchbook" intended for store employees, dated Aug. 29, 2013. "While we respect your individuality, it is important that we maintain a consistent level of dress and grooming that represents what people expect from the Abercrombie & Fitch brand."
The documents, provided to BuzzFeed, include pictures of "acceptable" and "unacceptable" hairdos, taking an extra-hard stance against highlights with "streaks, blocks or chunks of contrasting colors."
"All hairstyles for men and women should appear neat, clean, natural, kempt and classic," the retailer says in the manual. "No associate is permitted to wear any extreme hair styles or hair color. Hair styles and hair color should reflect your natural beauty."
The retailer notes that while head coverings such as baseball caps aren't allowed according to its "look policy," exemptions can be made for religious and disability reasons. (Abercrombie has been sued by a Muslim woman who says she was fired from a Hollister store for wearing a hijab to work.)
The specifications add on to a note in an Abercrombie associate handbook, also provided to BuzzFeed, which says "a clean, natural, classic hairstyle is acceptable" for store employees.
Makeup must also look "natural" and match skin tone, according to the retailer's "Look Policy Guidelines."
"Any color of polish other than a natural color is unacceptable and the associate will be asked to remove the polish prior to beginning his or her shift," according to the handbook. "Associates should ask the Store Manager what is considered an appropriate polish color."
Facial hair is also considered unacceptable, the documents show. Tattoos, if inconspicuous and representative of Abercrombie's brand, may be OK — again, reliant on the store manager's discretion.
The documents also specify appropriate jewelry, saying that women are allowed a maximum of two earrings per ear, and that they should not be bigger than a dime and should not dangle. The shape should be "in good taste." Men, however, are not allowed to wear earrings.
Those who break the rules will be subject to "appropriate disciplinary action," which may include getting fired, according to the handbook.
Abercrombie, which also owns Hollister and Gilly Hicks, is struggling to reverse a 12% plunge in comparable store sales so far this year, which has been tough for preppy teen retailers such as Aeropostale and American Eagle, as well. The company has come under fire in recent months for what some deem exclusionary marketing practices, resulting in an apology from Chief Executive Officer Mike Jeffries and an increase in Abercrombie's anti-bullying efforts.
"No associate is permitted to wear any extreme hair styles or hair color."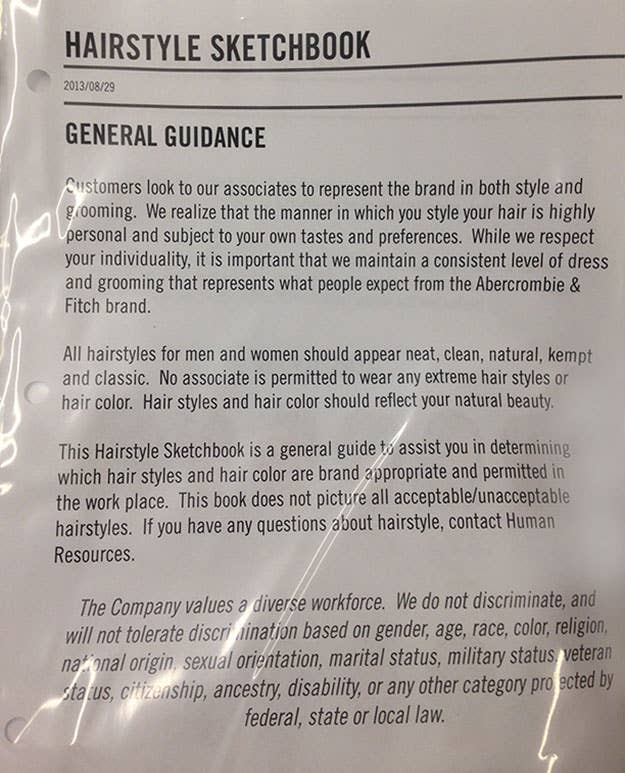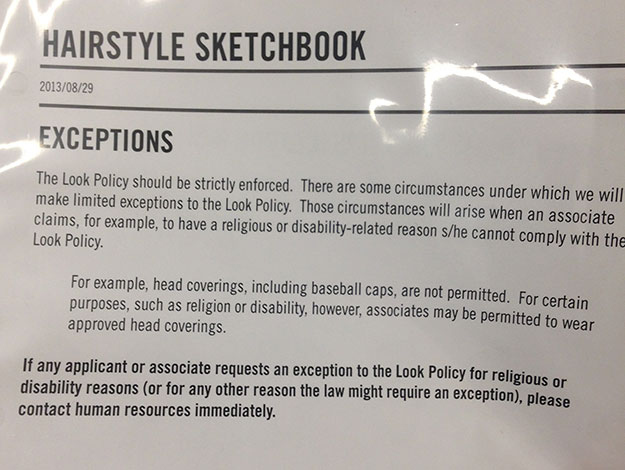 "Fingernails should not extend more than 1/4 inch beyond the tip of the finger. Although a natural nail is preferred, if polish is worn, it should be clear or natural in color."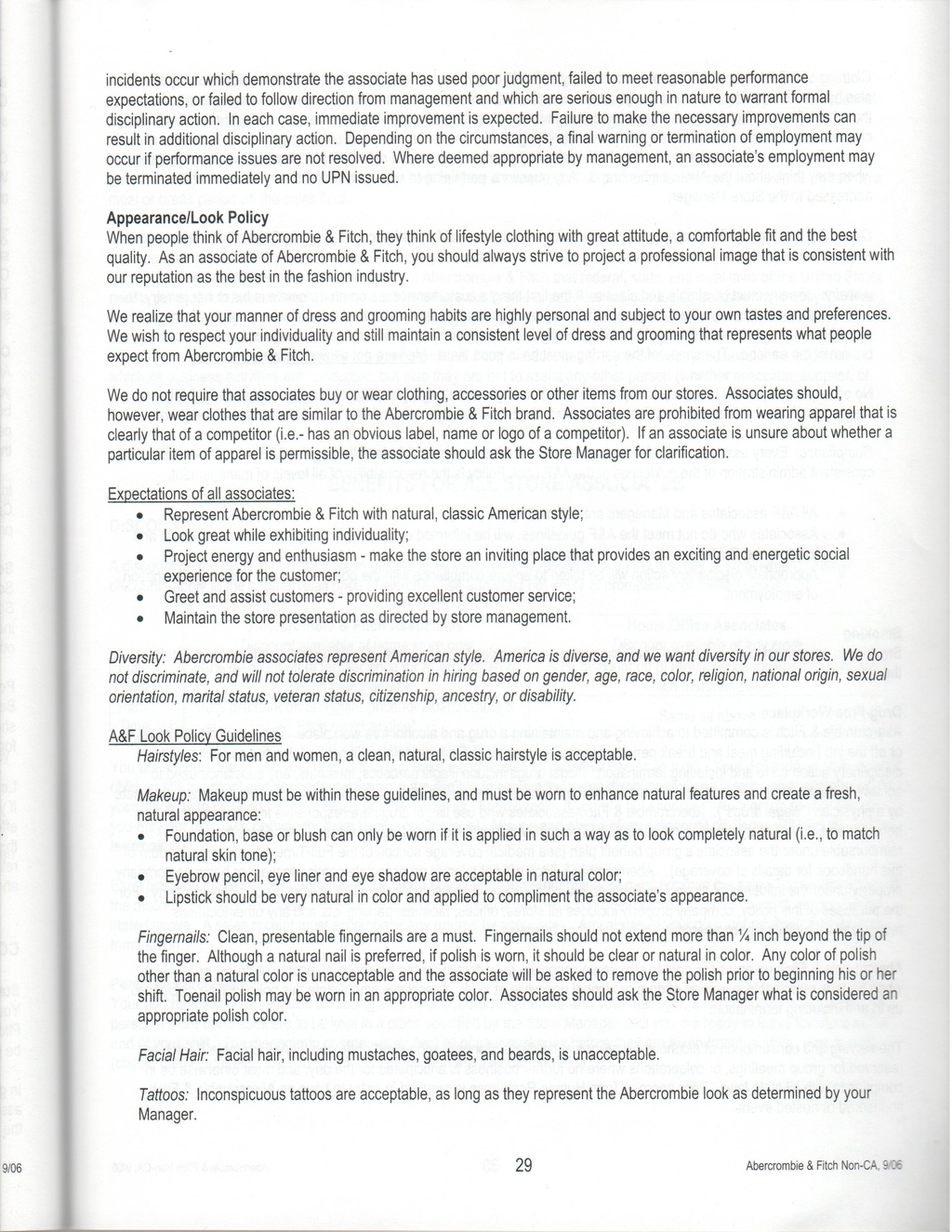 "Jewelry must be simple and classic. If the first thing a customer notices on an associate is his or her jewelry, then it does not meet this requirement."