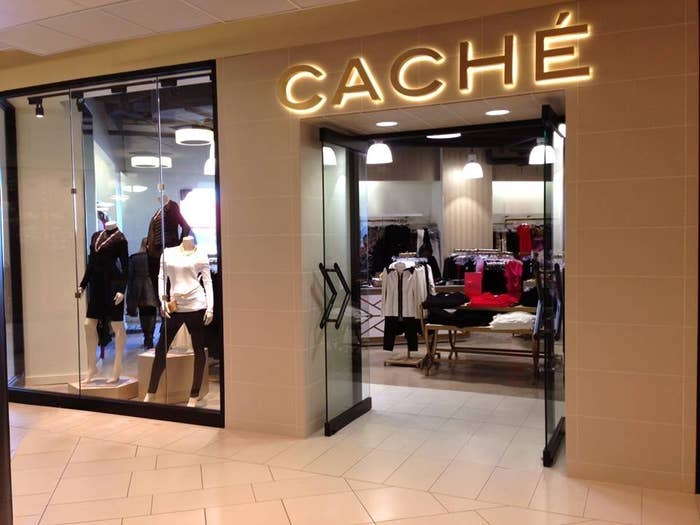 Caché is the latest mall retailer to file for bankruptcy in a brutal quarter that's already claimed Wet Seal, dELia*s, DEB Shops and C. Wonder.
The company, which has been working towards a turnaround for the past two years, said in a statement today that "the depressed brick and mortar retail market, the continued growth of online shopping, and rapidly changing consumer tastes and habits thwarted our efforts." Caché said in December it was searching for a buyer but apparently couldn't find one in time.
It plans to liquidate its inventory through going-out-of-business sales, according to bankruptcy filings, and also work to negotiate some leases. The chain said it's "critical" to start liquidation sales by March 4 based on the cash drain from stores and because its inventory is seasonal.
The New York-based mall chain, which says it employs around 2,500 people, is best known for its special-occasion dresses, which account for more than half its sales, according to bankruptcy filings. The company, which sells more than 90% of its clothing under the Caché label, forecast just over $200 million in revenue for the latest fiscal year.
The company noted its two major missteps in recent years were a rapid expansion to 306 locations, leading to a number of underperforming stores, and a "reorientation" from core, high-margin, high-end dresses and accessories into "the lower-margin casual sportswear business."
The first Caché was opened as a boutique in Miami in 1976 by a woman named Marilyn Rubinson. Rubinson, according to the company's website, was the first to bring designs by Armani and Versace to the U.S.
"Marilyn's Caché was more fashion club than retail operation," the website says. "It was a place where shoppers were treated like girlfriends, fashion was fun and women were fabulous."
The company filed for bankruptcy today "with the goal of securing Caché's future," Jay Margolis, Caché's chairman and CEO said in today's statement. "Ultimately, we have not had the time or capital to realize all of the benefits of our hard work."