Brooks Brothers Returns To Roots With Planned Steakhouse
After years of trying to connect with new shoppers, the retailer's planned new Manhattan steakhouse, "Makers and Merchants," represents a return to its core customers.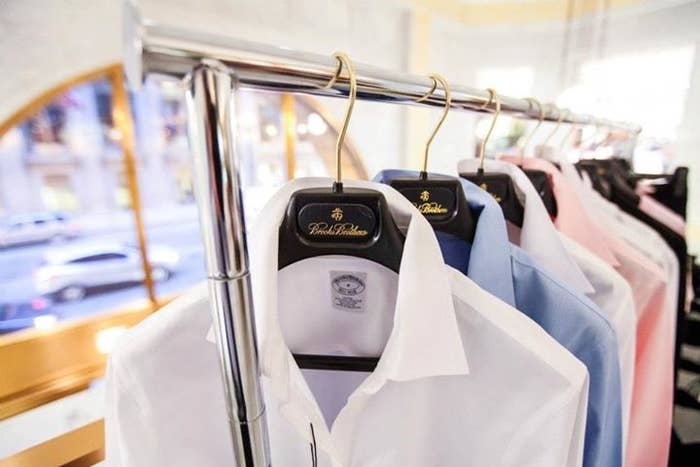 With its plan to open a new steakhouse in Manhattan as a way to leverage its brand, Brooks Brothers is actually making a return to its roots.
Sounds crazy, but it's true.
While plans for the retailer's new restaurant, "Makers and Merchants," raised eyebrows when it was first reported by the New York Post earlier this week, the reality is that the Brooks Brothers aesthetic and core customer dovetail perfectly with the prototypical steakhouse diner. Think bankers, politicians, corporate executives who have no problem dropping $200 or more on a meal for two.
"A steakhouse feels consistent with the Brooks Brothers DNA," said Allen Adamson, a managing director at brand consultancy Landor Associates in New York. "Steakhouses are very traditional. Wood paneling, mahogany tables, waiters that look like they know one side of beef from the other."
At its core, Brook Brothers is also very traditional. History and heritage are essential pieces of America's oldest retailer. The company's website has a timeline that starts in 1818, with its first store, and includes key moments in American history, such as the opening of the Erie Canal and when California became a state, overlaid with the dates for when the Brooks Brothers logo and the brand's original button-down polo shirt were invented. In an entry for 2001, it refers to the company's purchase by Italian billionaire Claudio del Vecchio after the 9/11 attacks as "an heroic rescue." (Fun fact: del Vecchio co-opened a restaurant in Hartford, Connecticut, named Spris, that closed about three years ago.)
By opening a restaurant, "what you're going after is the center of the bull's eye of your core customer," said Lee Peterson, executive vice president of creative services at WD Partners, a retail strategy and design company based in Dublin, Ohio. "People who love Brooks Brothers and are avid Brooks Brothers fans will be the first testers to see if the whole thing works."
Further, Brooks Brothers' plan to open a restaurant follows a number of moves in recent years attempting to connect with new shoppers that may have made the retailer "a little mall-oriented, airport-oriented," Peterson said.
Included among those moves were introducing a "Flatiron" chain of stores geared towards college students and young professionals, partnering with designer Thom Browne for the fashion-forward Black Fleece by Brooks Brothers line, and selling home goods, children's clothes and licensed collegiate apparel. Brooks Brothers expanded so aggressively internationally that nearly half of its more than 300 stores are now located overseas. This summer, the brand outfitted all the men in The Great Gatsby.
That's a lot of changes for a company that waited 40 years before introducing a new suit silhouette in 2006.
And while those moves were aimed squarely at shedding its reputation as being a little stuffy, Brooks Brothers has to be conscious of morphing too much into a lifestyle brand.
"I wouldn't do one in every mall or as many stores as they have, that's for sure — that's the kiss of death," Peterson said. "That would dilute the brand."
But following the blueprint of fellow retailers like Tommy Bahama, Urban Outfitters and Nordstrom that have opened restaurants in select locations in a bid to combine food and shopping has the potential to work very well for Brooks Brothers.
After all, the jeans-and-hoodie aesthetic popularized by the tech industry appears to have given way to a return to more traditional business attire in the workplace. Sales of men's tailored clothing in the U.S. rose 11% to $4.6 billion in the year through August 2013, compared with a 2.6% increase in menswear overall to $58.5 billion, according to the NPD Group.
And what better way to unwind from a long day of suit-fitting at Brooks Brothers than with a scotch and a filet mignon at the steakhouse next door?