Is Billionaire Hedge Fund Manager Bill Ackman Destroying His Credibility?
UPDATED: A series of dramatic letters and erratic behavior by billionaire hedge fund manger Bill Ackman isn't helping his activist investment efforts with J.C. Penney and Herbalife. His decision to resign from the board of J.C. Penney on Tuesday caps a year of public battles and strange moves, but is it too little, too late?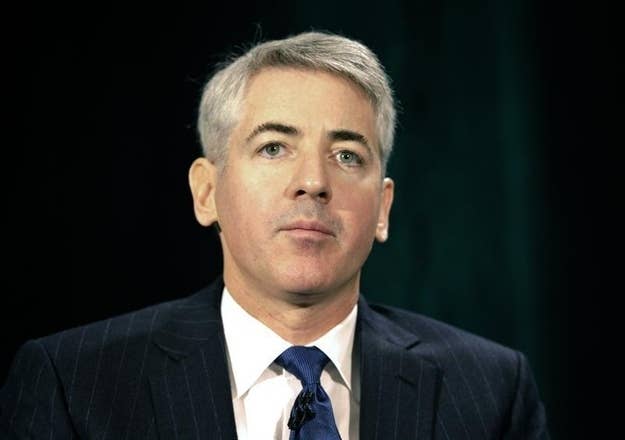 Billionaire activist investor Bill Ackman seems to be coming unglued.
Between his battles with fellow hedge fund billionaires Carl Icahn and George Soros, potshots leveled at him over the Bloomberg terminal by another rival, Dan Loeb, and his recent, ugly fight with the J.C. Penney board, which ultimately lead to his resignation on Tuesday, Ackman is looking more and more like a guy who is feeling the pressure and letting his emotions cloud his investment decisions.
"At this time, I believe that the addition of two new directors and my stepping down from the board is the most constructive way forward for J.C. Penney and all other parties involved," Ackman said in a statement released by the company.
Industry observers told BuzzFeed they believe Ackman has overextended himself and is damaging his credibility.
"You've got this incredible pushing and shoving match akin to what goes on among teenage boys in a schoolyard whose hormones are raging, who are each convinced they are going to win the fistfight that's about to ensue," said Mark Cohen, professor of marketing at Columbia Business School and the former chief executive of Sears Holdings Corp.'s Canada division, of the Ackman–J.C. Penney feud. "Taking this thing public — I just can't fathom what he expects to accomplish by doing that."
Gilford Securities analyst Bernie Sosnick issued a report Monday on the J.C. Penney situation titled, "Ackman: Go Away; For Your Sake and Ours." In it, he pleaded with Ackman to resign his position on J.C. Penney's board.
"We urge Ackman to resign from the board," Sosnick said. "The damage inflicted on Penney needs to be corrected by a knowledgeable retailer, not by a backseat driver whose license ought to have been revoked."
Inside J.C. Penney, sources say that Ackman is viewed as a "hothead" who is distracting from the retailer's main focus, which is reviving its business, and increasing the questions around what's next for the company.
A representative for Ackman didn't respond to requests from BuzzFeed for comment.
Ackman made a name for himself, and billions of dollars, with prescient bets on a troubled mortgage market before the financial crisis hit. He's gotten himself on the boards of Procter & Gamble and Canadian Pacific and pushed for executive changes that ultimately boosted the share prices of those companies.
But things started to sour for Ackman at the beginning of the year. He started January with a Crossfire-style showdown with billionaire Carl Icahn on CNBC over supplement company Herbalife. Ackman has been massively shorting Herbalife because he's convinced it's a pyramid scheme, while Icahn has taken a long position on the stock in part for the very simple reason that he doesn't like Ackman and wants to see him lose money.
Recently, George Soros, another legendary hedge fund manager, sided with Icahn on Herbalife, a move that prompted Ackman to publicly accuse Soros of insider trading. That, in turn and perhaps unsurprisingly, prompted Soros to withdraw his money from Ackman's Pershing Square.
Just last week, however, Ackman flummoxed Wall Street by leaking two letters to the media calling for a new chief executive officer at J.C. Penney, where he ranks as the retailer's largest shareholder with a stake of 18% and sits on the board. The call was ironic since it was Ackman who handpicked ex-Apple retail chief Ron Johnson to lead J.C. Penney — Johnson was fired in April after losing about a quarter of the company's business during a disastrous 17 months as CEO.
Ackman's call has resulted in an embarrassingly public back-and-forth between the retailer's chairman and himself. Even Starbucks Chief Executive Howard Schultz weighed in on the situation, calling Ackman's actions "despicable" and unlike anything he's ever seen.
Taken together, Ackman's bets on Herbalife and J.C. Penney contributed to his hedge fund Pershing Square posting a 2.2% loss in July.
But Ackman's approach to the two companies was foreshadowed in a Vanity Fair profile that used his hubris on a cycling trip in the Hamptons as an allegory for his bull-headed investing style.
Last summer, Ackman joined fellow hedge fund billionaire (and current adversary) Daniel Loeb of Third Point Partners on a cycling trip from Bridgehampton to Montauk. Ackman went out hard — too hard — in an effort to impress fitness buff Loeb and his cycling enthusiast investor buddies who joined them on the trip. After racing ahead of the pack for miles, Ackman hit a wall and, at one point, could barely pedal. He needed help from a few of Loeb's friends to get back to his Bridgehampton home, all the while letting out primal screams of pain, observers told Vanity Fair.
For investors like Ackman, however, physical pain is almost easier to bear than financial pain, and the prevailing negative view of him coupled with the hit to his investing portfolio may have at least convinced him to waive the white surrender flag at J.C. Penney, but it may be too late to salvage his credibility.