Victoria's Secret's PINK Headed Down Like Juicy Couture, Analyst Says
An analyst at Jefferies LLC says Pink, which accounts for 25% of Victoria's Secret's sales, may be peaking and primed for a Juicy Couture-esque decline.
Victoria's Secret's booming collegiate Pink line may be on the way out.
Research analysts at Jefferies today released the results of a customer survey that they said shows the majority of women in Pink's core audience are not buying more of the brand and don't view it as becoming more popular in the future. "Overpriced" and "expensive" were the top words to describe Pink's most notable qualities, according to the survey, and respondents said they would prefer to shop for lingerie and loungewear at cheaper stores.
It's a surprising finding because Pink, which the lingerie giant introduced in 2004 to capture college and teen shoppers, has been a smashing success since its launch. The brand generated about $1.5 billion in sales last year from $500 million in 2006, accounting for nearly 25% of Victoria's Secret's $6.6 billion in annual revenue. Jefferies analysts led by Randal Konik said Pink's declining popularity would be "detrimental" to the Victoria's Secret chain, reiterating a sell rating on parent L Brands.
"If the PINK brand does fall somewhat out of favor, we believe this is similar to what played out at competitor Juicy Couture," the analysts wrote. "PINK and Juicy Couture are similar in that they both target college age girls and a focus on lounge wear with novelty items such as the brand logo featured on sweat pants and sweat shirts."
Pink has become a bigger sales driver for Victoria's Secret Since 2004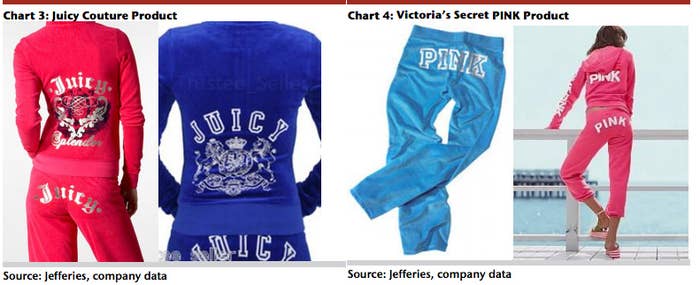 Juicy's sales fell 18% between 2008 and 2012 and profitability eroded even more significantly, they wrote.
Google search trends for "Victoria's Secret Pink" and related terms are down from the past two years, particularly during the fourth quarter, which is another sign of the brand's weakness, according to the note.
The retailer has been opening standalone Pink stores, and has said the brand may be worth $3 billion in annual sales in a few years. As it stands, it currently makes more in yearly revenue than Lululemon.
Justin Bieber sang during a showcase of Pink merchandise at last year's Victoria's Secret Fashion Show, showing the brand's effort to appeal to younger shoppers.
The analysts compare Juicy to Pink