This post, first published late Thursday, was updated Friday evening to reflect a third complaint obtained by BuzzFeed News.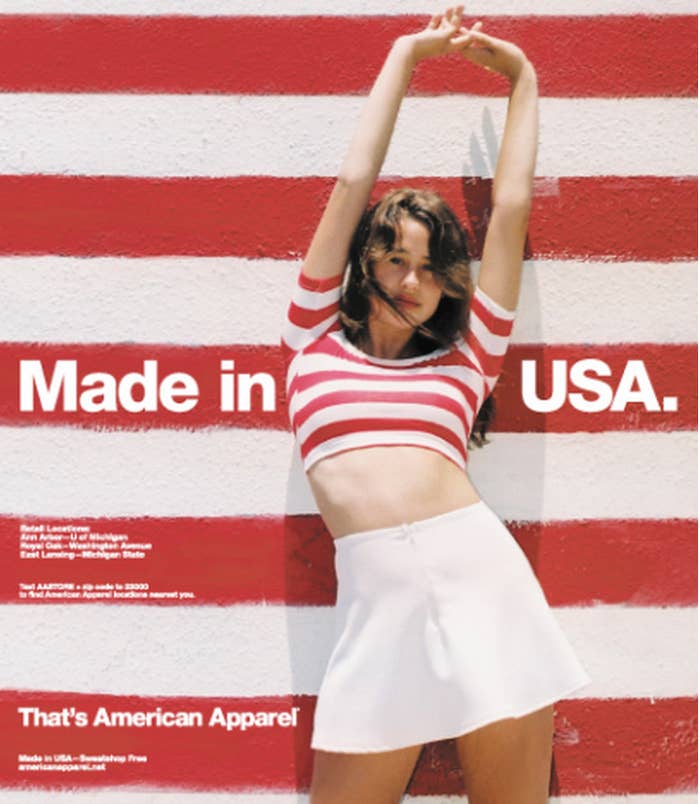 American Apparel's internal revolt continues.
In the past three days, employees have filed three complaints against the company with the National Labor Relations Board. One filed Wednesday and another filed late Friday allege American Apparel sent security to intimidate workers who attended a Feb. 16 off-site meeting to discuss recent cuts in hours. The other complaint, filed Thursday, claims that a broad media policy instituted by American Apparel's new management in January is "silencing" employees and chilling their ability to act against unsatisfactory working conditions.
All three complaints are published below.
The filings are the latest evidence that American Apparel's new management is struggling to deal with an internal insurgency after firing founder and former chief executive officer Dov Charney last year. While American Apparel floundered financially under Charney, failing to post an annual profit since 2009 with a stock trading in the $1 range, the former executive is credited with inventing and popularizing the company's sexually-charged brand and its Made in the USA, sweatshop-free ethos.
The company's historic emphasis on worker rights makes the charges in the complaints filed Wednesday and Friday particularly pointed — one employee, Ana Amador, says she was "accosted and interrogated" by American Apparel security after the meeting, forced to turn over informational flyers, and that her employee ID badge was seized and photographed. In the Friday complaint, a separate employee says she observed the harassment and "coercive questioning" of Amador, and as a result, fears for her own "future as an employee."
On Thursday, an American Apparel spokesperson reiterated the company's commitment to "free speech and social commentary" and said it will "investigate these allegations to determine the actual facts." The spokesperson added: "If anyone is found to have been intimidating employees, we will take the appropriate action to remedy the situation."
Still, it's clear that hundreds of factory workers and directors remain loyal to Charney, who was officially fired in December after working as a paid consultant since July — and they're causing headaches for American Apparel's new CEO, Paula Schneider.
Schneider, who started in January, was forced to address a pro-Charney email campaign in a memo to staff last month, and also sent a Spanish-language letter to the company's garment workers warning of "external forces" aiming to brew trouble at the company.
Workers, concerned about a reduction in hours and complaining of intimidation by American Apparel security, have formed a coalition at Charney's urging, BuzzFeed News reported Monday. The group is holding its third meeting this Saturday, Forbes reported today.
"The place is imploding," Keith Fink, the lawyer for American Apparel employees on both complaints, said in an interview with BuzzFeed News. Fink says he represents a number of American Apparel staff from factory workers to top brass and that the company is facing an "insurrection."
"They can pretend it's all good and well, but if they're not making these disclosures, they're going to have serious issues," Fink said of current management. "They know they're looking down the barrel of big claims."
The Thursday complaint outlines what it alleges is American Apparel's new company-wide media policy, which it says was introduced on Jan. 25. The complaint quotes the policy as saying it "prohibits American Apparel employees and other personnel from making statements to, or otherwise having contact with, journalists and the media, insofar as it relates to American Apparel (including among other topics as to current and former employees and as to our business and operations.)"
The policy also allegedly says: "The response to all media inquiries should be 'no comment."
The complaint references a 2012 NLRB case that centered around employee social media postings; the court ruled against certain broad speech provisions that prevent employees from making comments "that object to their working conditions and seek the support of others in improving them."
Many companies, including BuzzFeed, hold employees to nondisclosure and confidentiality policies regarding their businesses. In this case, the American Apparel employee contends the broadness of the rule infringes on their right to "protected concerted activity."
The NLRB, a federal agency, may investigate American Apparel based on the complaints.
Charney was served with a termination letter in June for a long list of reasons including breaching his fiduciary duty, violating company policy — including sexual harassment and anti-discrimination policies — and misusing corporate assets. He was officially fired in December after an internal investigation that began in July. His lawyers have claimed the investigation was "a complete sham."
"Core principles of American Apparel are workers' rights and respect for our employees," a company spokesperson said today. "This is clear from our Code of Business Conduct and Ethics, which reflects our efforts to ensure that American Apparel's workplaces are free from harassment, bullying and intimidation and which promotes fair treatment of employees and compliance with labor and employment laws."
Schneider, in an interview with Refinery29 published tonight, said American Apparel is "the most important brand in North America." She expressed her commitment to the brand and noted: "Just because the CEO changes doesn't mean the brand changes."