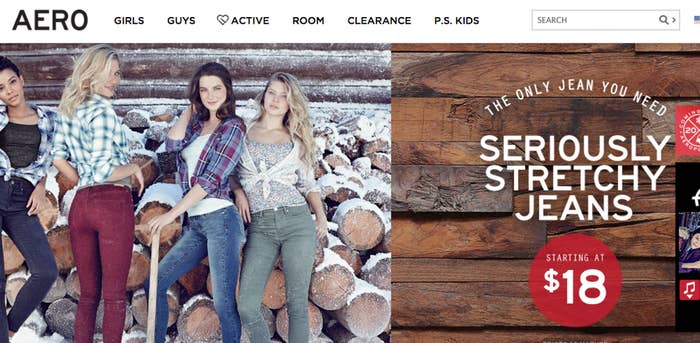 Aeropostale is swiftly fading from the malls and the minds of America's teens, and the company's stock and future prospects are fading just as fast.
The teen retailer's sales fell 20% in the three months ended Oct. 31, a ninth straight quarter of double-digit sales declines. It hasn't posted a quarterly profit in three years, and its stock has fallen 96% since the end of 2013, trading at just 40 cents a share today. And in the past three months, the company has twice been warned that its stock is at risk of being delisted from the New York Stock Exchange.
At today's market price, the company — projected to pull in about $1.6 billion in revenue this year — is valued at just $35 million.
Aeropostale stock, from 2014 to today:

It's not the scenario CEO Julian Geiger promised in March, when he said this year's back-to-school season "will be a seminal period in which we will all see just how far we have come in the resurrection of one of America's great young brands."
Geiger, who returned to Aeropostale last year to turn the retailer around, said on a Wednesday earnings call that while he was disappointed with the results, the company "learned a lot" and will present "a comprehensive strategy for 2016" in March.
But for all his dogged optimism, the reality is that an Aeropostale resurgence is looking increasingly unlikely. While the company nosedives, Abercrombie and Hollister are showing signs they're regaining popularity with young shoppers and American Eagle is performing even better than both chains.
Aeropostale, which operated for years as the cheapest version of American Eagle and Abercrombie, has struggled to attract American teens outside its traditional formula of logos and low prices. At the same time, it's up against the same challenges its competitors are facing: declining mall traffic, the proliferation of fast fashion, rampant discounting and selling to a teen who's spending less on clothing.
"The whole segment has been under siege for a long time, and now with A&F getting a little more focused and back in their game and American Eagle back on track, it's creating more problems for Aeropostale," Allen Adamson, the founder of BrandSimple Consulting, said in an interview with BuzzFeed News. "There's too many brands fighting for this small sliver of teens in a way that looks mostly the same," he said.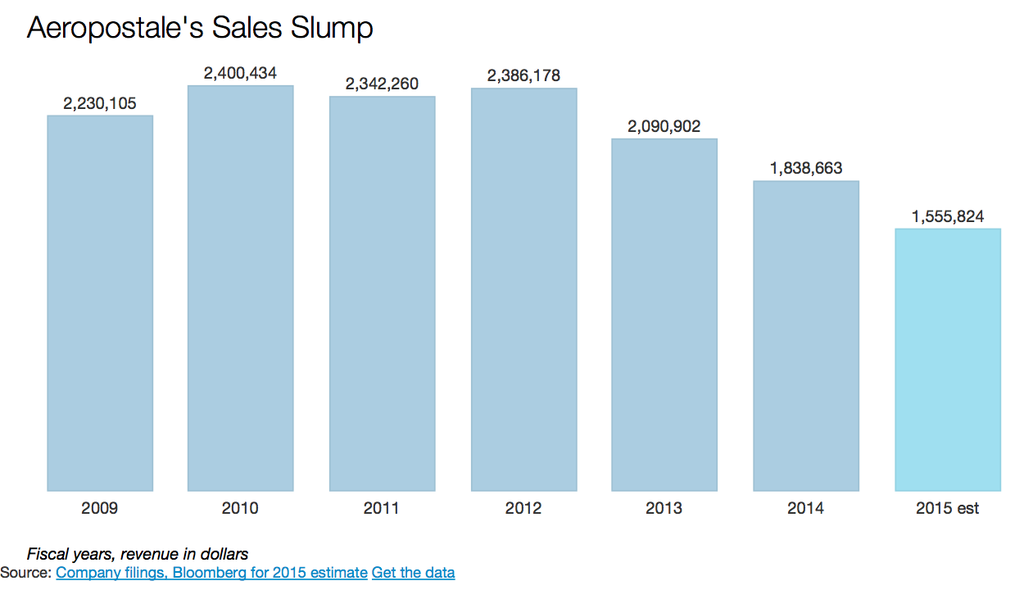 Aeropostale, Abercrombie and American Eagle have all had to switch up their strategies as teens stopped chasing their logo-heavy uniforms in favor of fast-fashion chains like Forever 21 and H&M, surf-and-skate shops like Zumiez, and athletic brands like Nike.
"The three As had to reinvent themselves," Simeon Siegel, an analyst at Nomura Securities, told BuzzFeed News. "They used to be able to take a polo shirt, decide what the components would be, slap an animal on it and charge varying degrees based on what the animal was. That doesn't work anymore."
Pricing has also come down in a big way — and that doesn't help Aeropostale.
"There's a lot of similarity in the product to say, an American Eagle, but American Eagle's prices aren't that much higher and the quality is much better," Rebecca Duval, a retail equity analyst at BlueFin Research, said in an interview. While Aeropostale has made improvements this fall, "people like American Eagle are just doing it a little bit better. The quality and the value and the fashion you're getting at competitors is just different compared to what you can get at Aeropostale."
In 2009, a short-sleeved women's polo cost $50 at Abercrombie, $20 at American Eagle and $10 at Aeropostale.(That's according to snapshots from the Wayback Machine.)
Today the price range has narrowed. The same kind of shirt is listed for $29 at Abercrombie, $19 at American Eagle and $8 at Aeropostale. There are probably also a few hundred thousand more options around the web today than in 2009.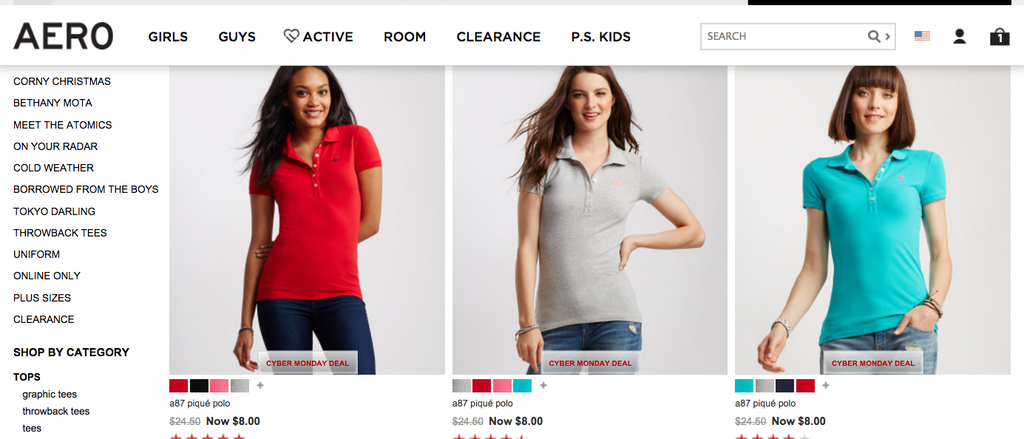 Aeropostale has tried everything to get teens in its clothes: it collaborated with YouTube personality Bethany Mota and a group of Vine stars, launched an athleisure line called Live Love Dream, created fashion-forward sub-labels with names like Tokyo Darling and Brooklyn Calling and remodeled some of its stores to iPad-sprinkled "studios" with fitting rooms that "feel like little apartments," as one executive put it at a January 2013 conference.
It even rebranded itself as AERO last year and ran a Twitter campaign around the hashtag #AeroNow, in a bid to show consumers "we're not the same as what we were a year ago." Its Twitter bio during the campaign said: "WE ARE A GENERATION OF NOW." (It's since been changed to a more sedate "Designed in New York.")
"If there's a brand promise to Aéropostale, it's that the teenager can wear our clothes, go to school and not be teased or made fun of [for] the way they look," Geiger said last year. Since the spring, executives have been focused on selling to an archetype known internally as "the flirty tomboy" — a 14- to 17-year-old girl who represents its target customer.
But Aeropostale's future may reside less with the flirty tomboy and more with young people in Mexico and India.
Since 2013, Aeropostale has closed more than 200 namesake stores and more than 100 of its kid-focused P.S. from Aeropostale locations, the latter of which is all but shut down domestically. While whittling down to just over 800 stores in the U.S., Puerto Rico and Canada, it has used licensing agreements to grow to 309 locations around the world in places like Ireland, Mexico, Chile and the Middle East, with more to come in India and Egypt. (Aeropostale Arabia is a thing, with its own Facebook page.)
The company said yesterday that it may close up to 75 Aeropostale stores next year and noted that 60% of its store leases will be up for renewal in the next three years, hinting at further closures down the line.
Net sales from international licensing made up just $35 million of Aeropostale's $1.84 billion in revenue last year, but a profitable and relatively safe one.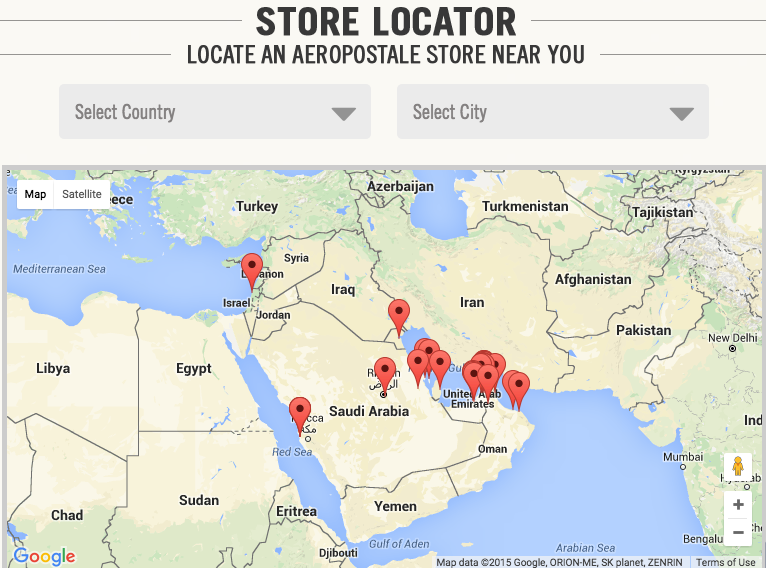 "It's been really successful for them to go into the areas where the customer wants Americana and value," Duval of BlueFin said. "Trying to change it around in the environment we're in and reestablish it as a cool brand again is very difficult," she added.
When asked about the outlook for retail bankruptcies in 2016, the CEO of mall developer CBL & Associates said that Aeropostale "is someone that everyone has been watching," but noted the company was recently able to extend a credit line to early 2019.
"So they have some liquidity," CEO Stephen Lebovitz said on an October earnings call. "They will continue to close stores and be difficult on our renewals but we feel like that helps them a lot."
The company's CFO, David Dick, noted today that about 60% of its store leases will be up for renewal in the next three years, and it plans to close up to 75 Aeropostale locations in 2016.
Despite missing its sales targets, Dick said Wednesday that "we believe we have sufficient liquidity to fund our turnaround."