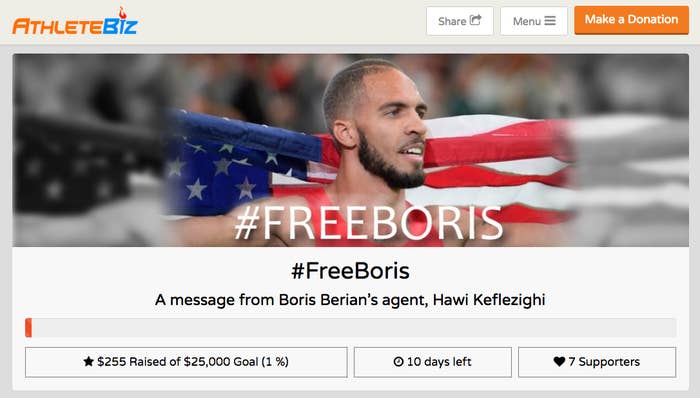 With less than two weeks to go before the start of the U.S. Olympic Trials in track and field, American runner Boris Berian is using crowdfunding to raise the money needed to fight a lawsuit with Nike.

Hawi Keflezighi, Berian's agent, published a blog post today describing the dispute as a "David vs. Goliath battle," soliciting donations and #FreeBoris social media posts for a case that will be expensive to fight. Nike sued Berian in May, alleging he breached the terms of a sponsorship agreement with the footwear giant.
Berian, 23, is the world indoor 800-meter champion and a promising U.S. prospect for the 2016 Olympics in Rio de Janeiro. He hasn't had a sponsor this year: His Nike deal lapsed at the end of 2015 and Nike has blocked him from signing with New Balance.
"He's won some prize money and has a little bit of income to support himself for the last several months, but he hasn't received any payment or signed any contract with New Balance because of this situation," Keflezighi said in an interview with BuzzFeed News.
For a competitive runner Berian's age, being entangled in a legal mess as the Olympics loom is particularly brutal. "This is the peak of his earnings potential right now," Keflezighi said. "Today. This year. It doesn't get any better."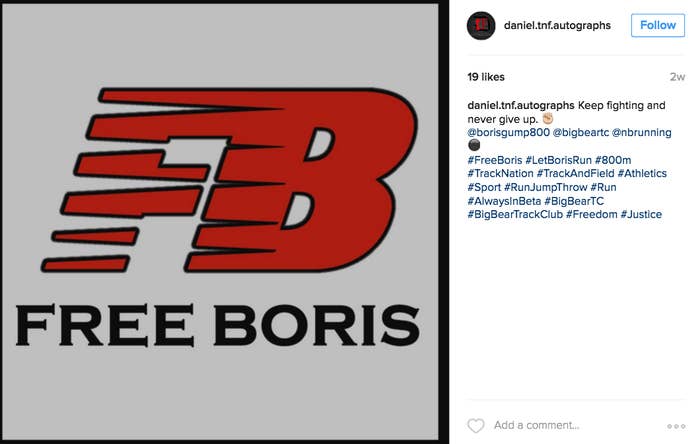 It's an ugly battle, pitting a major American company whose brand is built on its relationship with athletes against a rising U.S. star — and an unlikely one. Berian was flipping burgers at McDonald's just a couple of years ago.

Even as Berian and his supporters have maligned Nike online — posting pictures of sneakers that say "Free Boris" over the swoosh and calling the company a bully — Nike insists it still wants Boris to wear its gear. The company has said in court documents that Berian's breach "will cause irreparable harm to Nike" and that it "hopes Defendant will compete and succeed."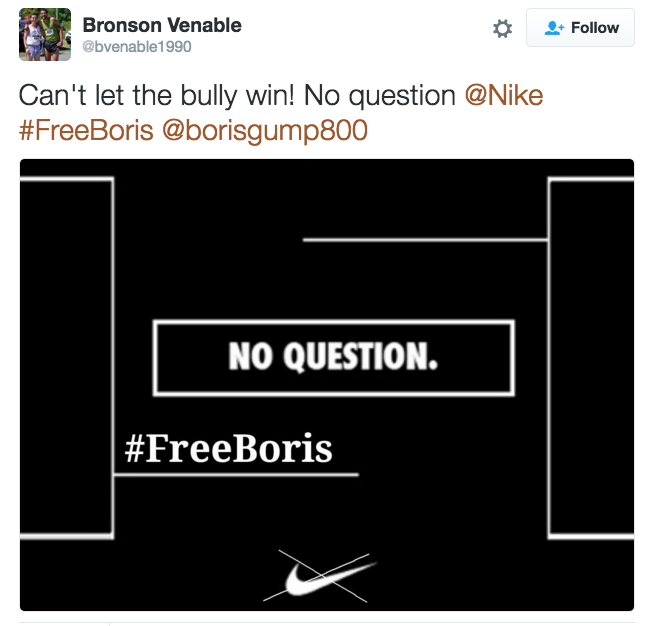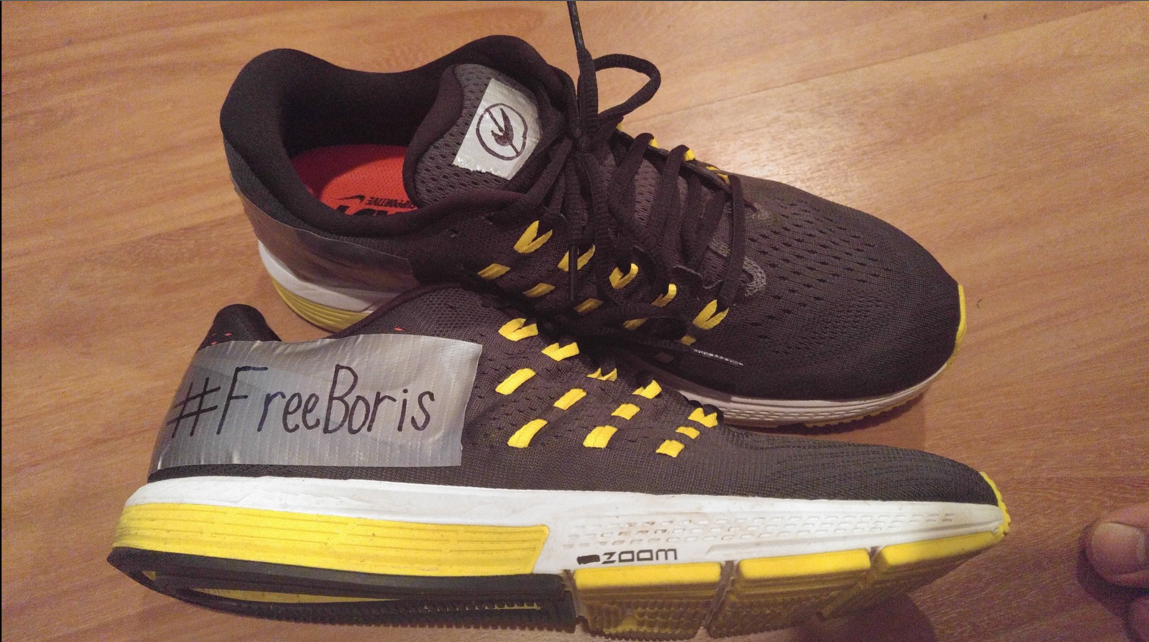 Nike won a temporary restraining order preventing Berian from endorsing rivals earlier this month and is seeking a preliminary injunction at a hearing on Tuesday in Oregon.

Keflezighi, whose brother Meb Keflezighi won the Boston Marathon in 2014, is planning to appeal the decision if it doesn't go Berian's way, and expects Nike to appeal if it does. The legal fees will keep piling on, given that it's out-of-state battle for the California-based Berian.

The Dispute
Nike had a short-term contract with Berian last year. It expired on Dec. 31, but gave the company the right to match rival offers for180 days after that, or up to June 28. Nike says it matched a lucrative deal from New Balance in January, but that its offer wasn't honored.
Berian and his lawyers have argued that Nike didn't technically match New Balance's offer, because its proposed contract included steep "reductions" — clauses that allow sponsors to cut compensation when athletes fail to make certain rankings or show up to press conferences or competitions, even if they're injured. They also noted that Berian never signed the Nike contract, and that the company's right to match is up on June 28 ahead of the trials.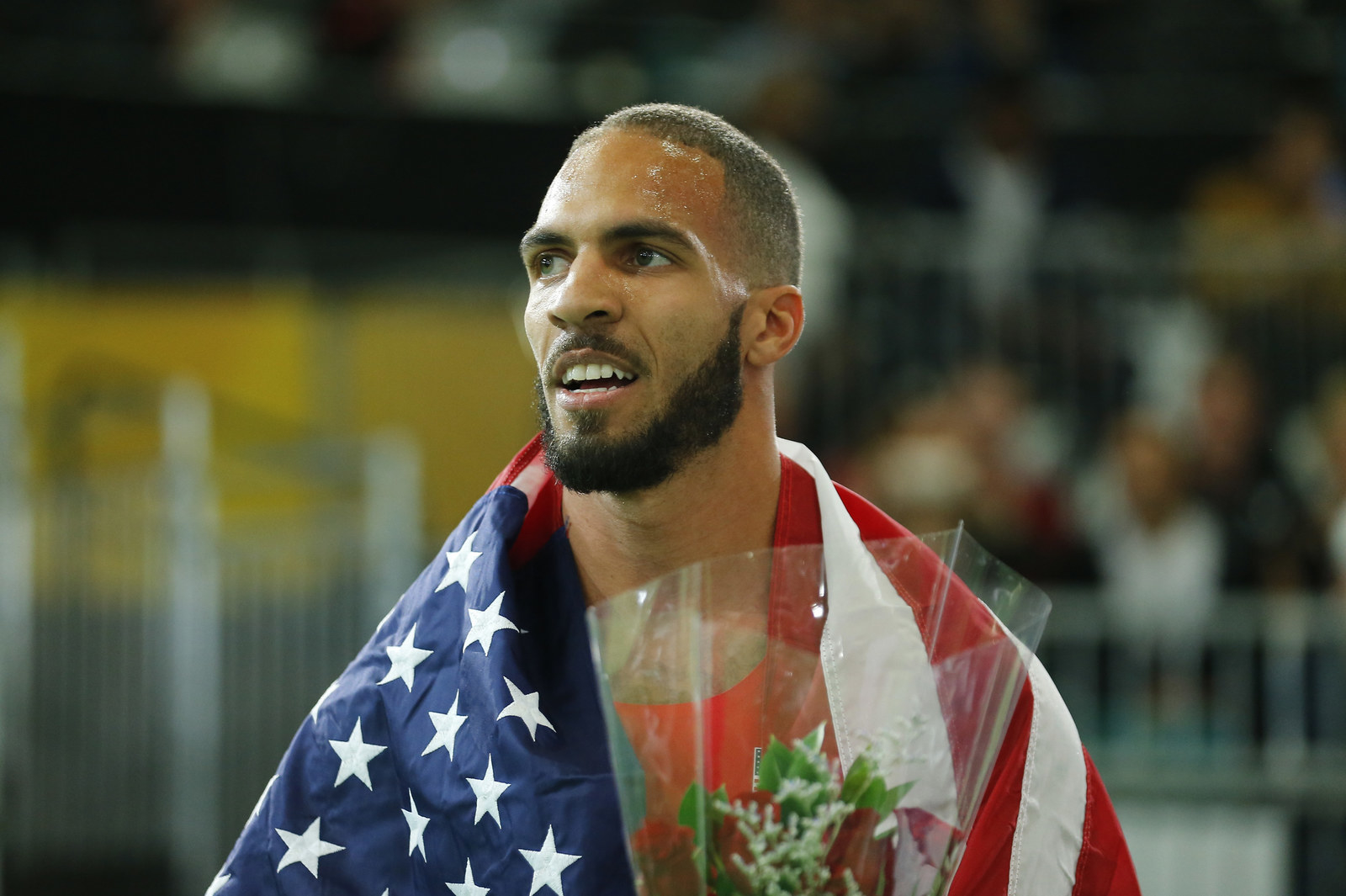 While Nike has said reductions are an industry standard, Berian says they're not, receiving affidavits of support on that point from runner Nick Symmonds, Jesse Williams, the director of sports marketing at Brooks, and Sally Bergesen, the CEO of Oiselle Running. New Balance also said it's not a standard practice in a sworn statement.
Even if Nike is right, it's hard to look good while going after an Olympic hopeful this hard. After all, its deal with the U.S. team means the swoosh already appears on all athlete uniforms, including Berian's. The company chose to serve Berian with court papers at a track meet in May, and he says stress from the case has spurred him to withdraw from two races since then. Even if Nike prevails tomorrow, Berian's camp says he shouldn't be made to switch shoes after training in New Balance sneakers all year.
"He's been running and training in New Balance shoes all season long so to force him to wear some other brand at this point would be incredibly unfair," Keflezighi said.
He added: "For an elite world class athlete where half a second makes a difference between whether you break an American record or not, where half a second makes a difference on whether you make an Olympic team or not, we hope the court understands this strong preference that he likes the shoes and the way they perform on his feet."
New Balance's offer came with an annual base salary of $125,000 for three years, with a slew of bonuses — an individual world outdoor record at the Olympics is $100,000, while a win at the Games is $150,000. First place at the U.S. Olympic Trials, which begin July 1, earns $7,500.

Nike hasn't commented much on the case since it began other than to say it "values its relationships with athletes" and expects them "to honor their contractual commitments."

Matt Powell, a global sports industry analyst with the NPD Group, told BuzzFeed News that it probably won't have much of an impact on Nike's brand image, partly because it hasn't caught a lot of attention.
"This is much more about sending a message to the other Nike athletes that you don't mess with your contract," he said.