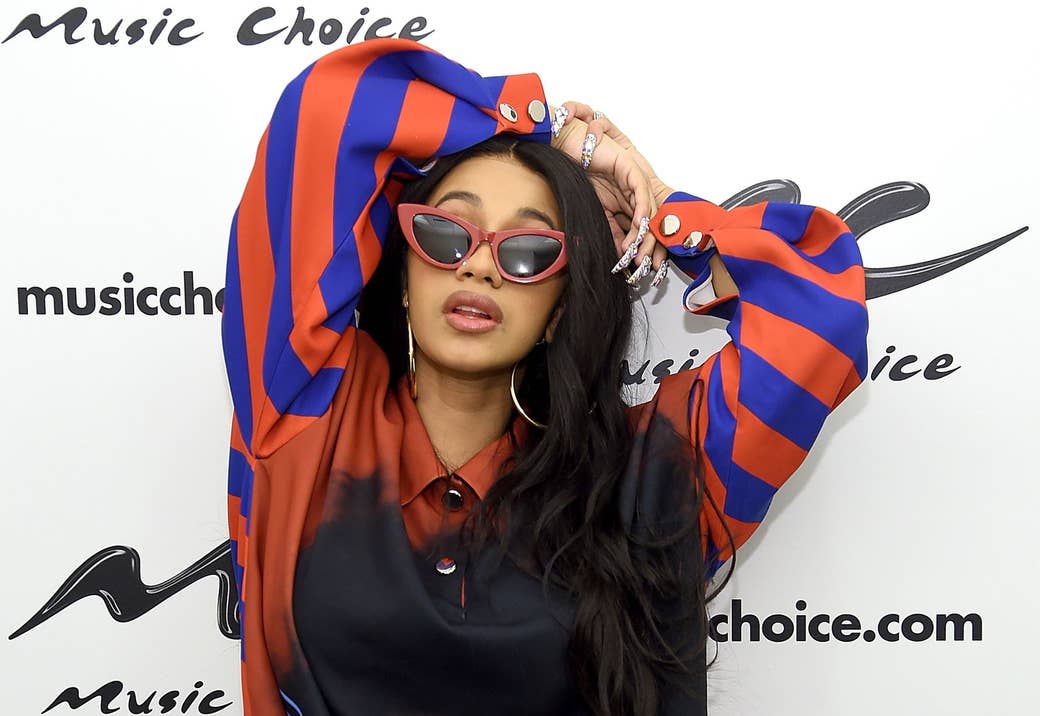 In the sixth season of VH1's Love & Hip Hop: New York, in an episode that aired in January 2016, Cardi B takes an etiquette class. At one point, the instructor suggests that, if Cardi were to take a meeting, she should consider covering up her chest (her cleavage is on full display through her sheer black shirt). Cardi explains, "I don't want people to look at my crooked teeth, so I'd rather them look at my titties." It's one of many moments of levity, but it also ushers in truth. Cardi's body is an asset and a tool, yes. It draws attention and thus money. But focusing too much on it — and the ensuing dialogue around it — turns it from feature into a distraction. There's much more to see.
If, as Rolling Stone declared, 2017 was the year of Cardi B, 2018 might very well be a repeat.
The 25-year-old rap marvel and social media maven released her record-setting debut album, Invasion of Privacy, last week to rave reviews. Even Oprah got into it. Meanwhile almost every major cultural outlet in America has spun their take on Cardi. Myriad articles have declared her a powerful brand, an internet sensation, and praised her proudly curvaceous body.
Inevitably, Cardi often gets compared to other women of hip-hop past and present. But while the Afro-Latina rapper is a fan of her predecessors and contemporaries, she's been embraced due to her ability, like those before her, to forge her own lane. If anything, especially considering the apparent obsession with her physical dimensions, she's becoming hip-hop's Dolly Parton. And that's a good thing.
Both Cardi and Parton regularly reference their bodies and curves — an approach that titillates and tickles the public — but there is far more to them. They're both comedic personalities, blurring the line between music artist and character comedian at times. They're both savvy businesswomen (if Cardi's success endures, fingers crossed for a Bardi-themed amusement park). They're both up-front about their belief in God and the power of prayer. They're both conscious of their vocal instruments and use them with careful calculation. But perhaps most importantly, they help redefine their oft-stereotyped and maligned subcultures.
Much of the recent press coverage around Cardi has focused on her body. In particular, a recent GQ profile spawned Twitter outrage over its perceived condescension and physical objectification of the artist.
In the profile, writer Caity Weaver describes how Cardi "built her body for optimal viewing at medium-to-long-distance range" by using "cutting-edge Millennium science, in the form of orbicular breast implants and illegal buttocks injections." She also attributes Cardi's wild success as a former stripper to this "engineering," while saying her "extremely large breasts" helped her become a breakout star on Love & Hip Hop: New York. (It's true that Cardi modified her body to help her earn more as a stripper, but she has also said that it was her jokey charisma and Instagram videos that truly set her apart from the other dancers.)
Critics of the profile questioned the obsession with her physique, and some considered it fetishizing. Other articles and interviews have spotlighted her body too, albeit more briefly. Allison P. Davis's profile on the Cut called Cardi "built to be watched" and highlighted a moment when Cardi disrobed in front of her, "her hands moving down her body as she appreciates her own hydrogen-bomb-shaped boobs (she bought them, she says proudly)." A 2017 Rolling Stone cover story opened with Cardi "butt-naked in the doorway of her hotel bathroom, yelling about her vagina." Another cover story, this time from the Fader, aptly noted how Cardi is "decidedly un-puritanical when it comes to her body."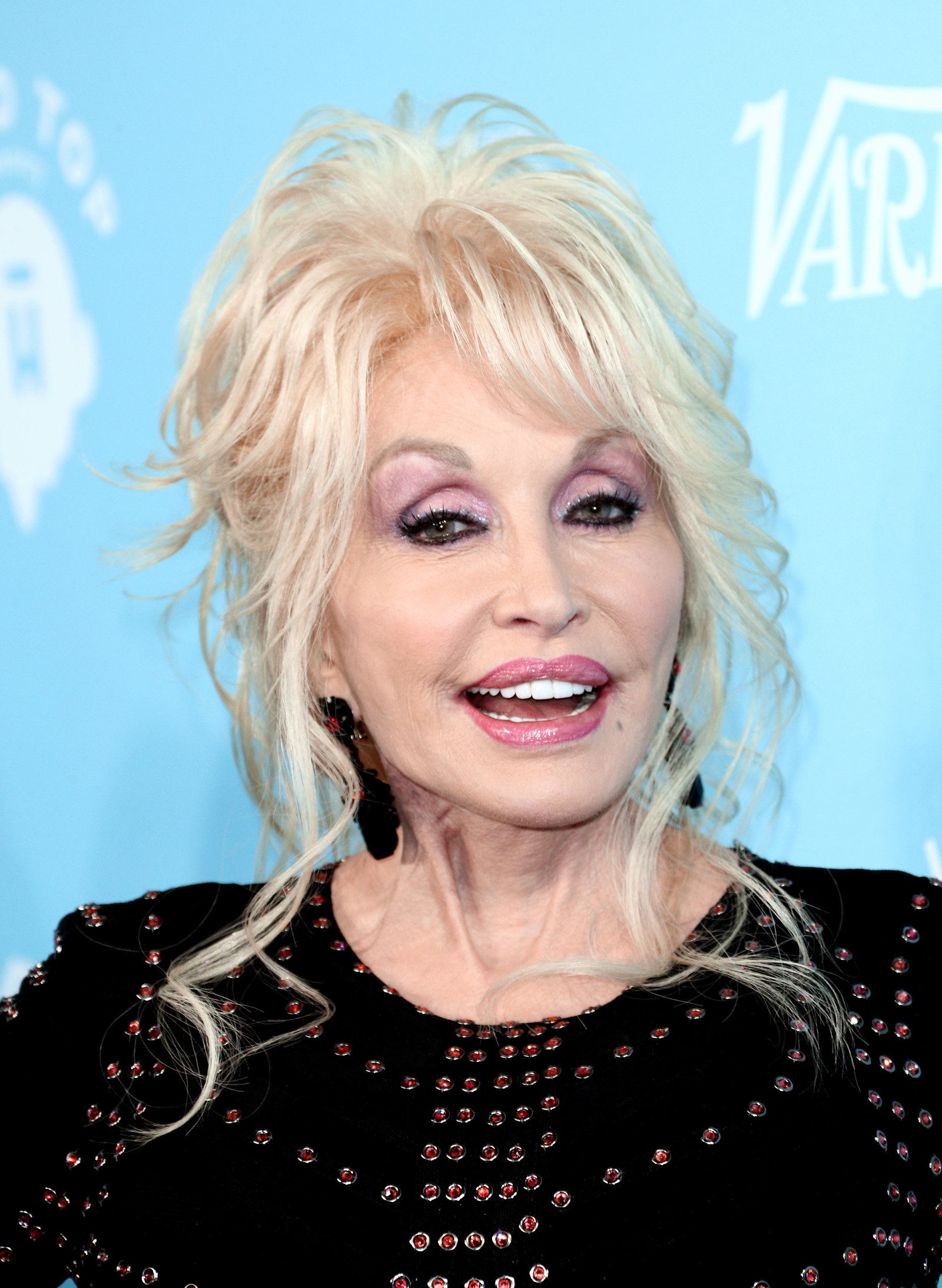 To the layperson, Dolly Parton is also an artist whose physical appearance (she's candid about her large bust and the implants she later got for upkeep) has historically distracted some from appreciating her work ethic and talent. In Willie: An Autobiography, the musician Chet Atkins claims that a record company executive once said in a meeting, "We've got to stop Dolly Parton from wearing those terrible wigs. She looks like a hooker!" In 1997, the first cloned mammal, a sheep derived from a mammary gland cell, was named after her because the scientists "couldn't think of a more impressive pair of glands than Dolly Parton's." A 1992 interview on Live With Regis and Kathie Lee has a few more direct, but equally egregious examples: Regis asks how Dolly finds clothes that fit her, he fishes around whether her breasts are natural or not, and, later, he points out an album cover where she had a "weight problem." You wouldn't think, based on her treatment on the show, that she was the accomplished songwriter who penned "I Will Always Love You" (the all-time best-selling music single by a woman) and one of the most honored country performers of all time.
Cardi B and Dolly Parton are, of course, very different. Parton is white (and has historically invested in some racially problematic ideas) and Cardi is brown, and they were born in completely different eras and areas. Though Parton jokes about her physical assets, she rarely sings about them (though she sometimes references her blonde hair). Meanwhile, Cardi's body is very much in her music. But when Kathie Lee tells Parton, "You've made people believe that a person can just be themselves in spite of all the pressure to change and sort of fit in," it feels like something the Bronx-bred rapper has also achieved.
Parton has always been proud of her roots. In a 2014 interview with Southern Living, Parton maintained that she doesn't consider "hillbilly" an insult: "People always say 'Aren't you insulted when people call you white trash?' I say, 'Well, it depends on who's calling me white trash and how they mean it.' But we really were to some degree. Because when you're that poor and you're not educated, you fall in those categories. But I'm proud of my hillbilly, white trash background. To me that keeps you humble; that keeps you good. And it doesn't matter how hard you try to outrun it — if that's who you are, that's who you are. It'll show up once in a while."
Similarly, Cardi B has always repped the place and the community she came from. In 2017, she told Vice, "I make music for girls from the hood. Even if you're not from the hood, I want to make a girl from the Valley from California to feel like she want to be a girl from the Bronx. I want a rich-ass girl to want to be a girl who grew up poor like me. Who grew up fighting girls."
Both artists embrace their cosmetic procedures, pushing back against the idea that these are things they should be ashamed of. "I really think if there's something that you need to do, want to do, can afford to do, and got the nerve to do, I think you should do it if it's gonna make you feel better about yourself," Parton told Nightline in 2012. In the opening track of Invasion of Privacy, "Get Up 10," Cardi asserts she's a "real bitch, only thing fake is the boobs," but she's proud of her breasts, too; in the chorus of "Money Bag," they come up again ("I said, 'Bae, it's a snack,' he said, 'It's a entrée / With those pretty-ass twins you look like Beyoncé.'") Meanwhile, she encourages other women to embrace (and work) their bodies. In "Bickenhead," she twists rapper Project Pat's demeaning classic into a strip club anthem, suggesting various places for ladies to pop their pussies (on a stove; at work; at church, naturally) as part of their hustle.
Cardi's use of humor is meant to entertain, but can be genuinely empowering and strategic. Like Parton, who pokes fun at herself ("It takes a lot of money to look this cheap" is a trademark line), Cardi uses Invasion of Privacy to point out the defining characteristics and traits used against her — her history as a stripper, her (then crooked, now straight) teeth, her past political incorrectness — before listeners can. It's a method of disarmament, and it works. Cardi, ever the fighter, beats you to the punch.
What Dolly's pride did for the hillbilly, for so-called white trash, Cardi B is doing for ratchet girls in the hood, for a certain type of black or brown woman who's often imitated or ridiculed, for unashamed and self-proclaimed hoes. It's a humanization — a celebration — that's overdue and necessary, with the arguably patronizing gaze being placed on her by media as proof. Both artists' success disproves the stereotypes that plague them. And given Parton's immense mainstream success, there's hope that Cardi's influence can be as far-reaching and just as seismic. ●