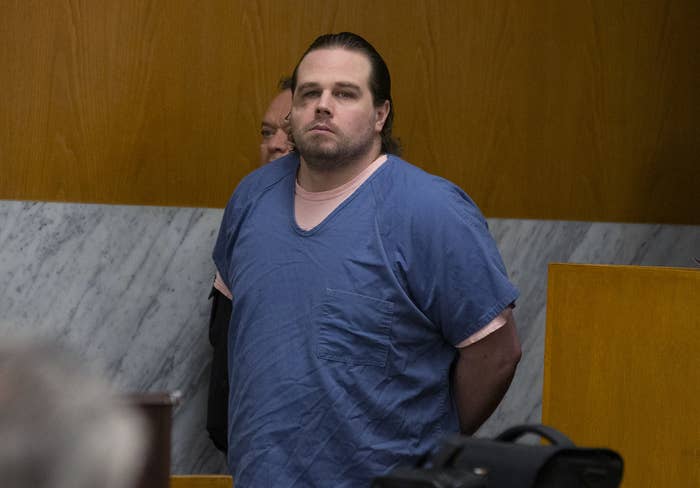 A white supremacist was convicted Friday of killing two men who stood up to him on a Portland train while he harassed a Muslim teenager and her friend in a hate-filled tirade.
Jeremy Christian was convicted Friday of 12 counts, including first-degree murder in the deaths of Ricky John Best, 53, and Taliesin Namkai-Meche, 23.
Christian, a locally known white supremacist who had appeared at far-right marches performing the Nazi salute, had been harassing two teenagers, one of them wearing a hijab, on the light-rail train.
"Get the fuck out!" Christian yelled at the girls during the May 26, 2017, attack, according to an affidavit. "I don't care if you are ISIS."
Jurors deliberated for two days, the Oregonian reported.
During the 15-day trial, jurors saw multiple cell phone videos of the bloody attack on the train, which followed about six minutes of Christian yelling racist remarks at the teenagers.
At one point, police Detective Michele Michaels testified Christian made a slicing motion across his neck.
Video shows two men going up to Christian, who responds by yelling, "Do something!"
Christian shoves one of the men before taking out a knife and stabbing Best, Namkai-Meche, and Micah Fletcher. Fletcher survived his neck wound.
Christian then fled the train, flashing the knife at witnesses who stood in his way as he tried to leave the area. One of the witnesses followed him and contacted police.
When being arraigned, Christian also lashed out in the middle of court, yelling about patriotism and free speech.

"You call it terrorism, I call it patriotism," he yelled out during his first court appearance. "This is America. Get out if you don't like free speech."
As the verdict was read aloud Friday, however, Christian appeared not to react at all, the Oregonian reported.
Portland Mayor Ted Wheeler called the victims of the attack heroes who were injured for "doing the right thing."
After the verdict was announced, Wheeler said the train attack left a "deep wound in our community."
"The conviction won't fully take away the pain inflicted on the families, friends and loved ones of the victims in the MAX attack, but the hope is that they find relief in the legal justice that was served today," he wrote.