What We Know About Those Injured In The Dallas Attack
Seven police officers and two civilians were hurt in what police said was an ambush aimed at killing police officers. Five officers died.
Twelve officers were shot during a Dallas protest on Thursday against the killings of black men in Louisiana and Minnesota this week. Five officers have died — four from the Dallas Police Department and one Dallas Area Rapid Transport (DART) officer. Two civilians were also wounded in the attack. Here is what we know about those injured.
Gretchen Rocha is a Dallas Police officer who is originally from Wisconsin, her mother Diane Bayer told WISC-TV.

"She always wanted to be a policeman or go into the military, which I thought for sure she was going to outgrow, but boy was I wrong," she told the news station.
Rocha was injured by shrapnel during the ambush Thursday night.
Her mother told WISC-TV she was one of the officers who helped drive her colleagues to hospitals when they were wounded, but he died on the way there.
Rocha attended Madison College and interned at the Madison Police Department.
She joined the Dallas Police Department at at the age of 23.
"I am proud of her, very proud of her," her mother told the station.
Jorge Barrientos
Jorge Barrientos, a 28-year-old officer, was shot in the hand, but he was released Friday from a Dallas hospital, he told the Dallas Morning News.

A four-year veteran of the department, he was on patrol along Thursday's protest route when the first shots were fired.
"We love the people we serve. You can't do this job unless you love people; you can't do this job unless you have faith in what you're doing," he told the paper. "And that's what hurts the most — when faith dwindles and you see the bloody results through horrific acts like these."
Elmar Cannon
Elmar Cannon is a police officer with the Dallas Area Rapid Transit, which was assisting the city Thursday by providing officers to help patrol the protest.
According to the Dallas Morning News, Cannon joined the department in July 2009.
Jesus Retana
A 32-year-old officer with the Dallas Area Rapid Transit, or DART, Jesus Retana is a Dallas native who grew up in the Texas city.
According to the Dallas Morning News, he joined the DART police department in 2006, after working in the technology field.
He and his husband had also worked with an LGBT resource organization, Resource Center, to obtain benefits for same-sex partners in DART, an official of the organization said on twitter.
He has since been released from the hospital.
Misty McBride
The 39-year-old DART officer suffered gunshot wounds in the stomach and shoulder, according to multiple news reports.
She has been an officer for about six years, and had worked in the county jail before joining DART, the Dallas Morning News reported.
Her daughter told KTVT that she had been able to see her at the hospital before she went into surgery.
"I'm just glad that she's alive, really," Hunter McBride told the local station.
Ivan Saldana
Ivan Saldana has been an officer with the Dallas Police Department for 15 years, according to the Dallas Morning News.
Giovanni Wells
Giovanni Wells has been an officer with the Dallas Police Department for nine years, the Dallas Morning News reported.
Shetamia Taylor was one of two civilians who were injured during Thursday's night ambush targeting officers.
Her sister, Theresa Williams, told reporters Taylor had been at the protest with her 15-year-old son, and threw herself atop of him to shield him from the gunfire.
She suffered a gunshot would to one of her legs, but she remained covering her son for several minutes until officers arrived.
She underwent surgery Friday at Baylor University Medical Center.
On Sunday, Taylor told reporters she was thankful for the Dallas police officers who protected her and her son as they lay injured on the ground.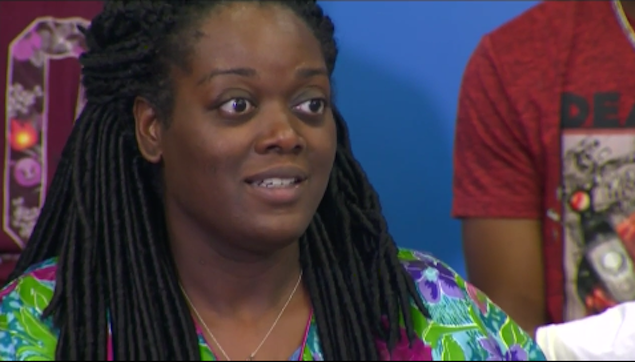 "They had no regard for their own safety," she said. "They stayed with us. They surrounded my son and I, and I'm so thankful for that."
"I had never seen anything like that. The way they just came around and just guarded us like that."
She said she lost track of most of her children after she dropped on one of her sons when the gunfire rang out.
"It was hundreds of rounds. I had never heard anything like that before. It was just shots all around us," she said.
Taylor recalled being driven to hospital in a police squad car that was "riddled with bullets."
"I'm thankful that that car didn't get hit as he was driving us," she said. "As far as I know when we pulled into the hospital the police car came in on rims only!"
Before she went into surgery, she received the good news that her children had escaped unscathed. However, she said she was informed at the same time as she saw a police officer receive terrible news.
"I saw an officer tell another officer that one
officer didn't make it," she said, breaking down crying. "And I was celebrating...my kids
being alive, and I'm listening to them tell each other how an officer didn't
make it."
"It hurt, you know? It hurt. Of course, I'm thankful that my babies are OK, but somebody's dad, somebody's husband isn't."

Bryan Shaw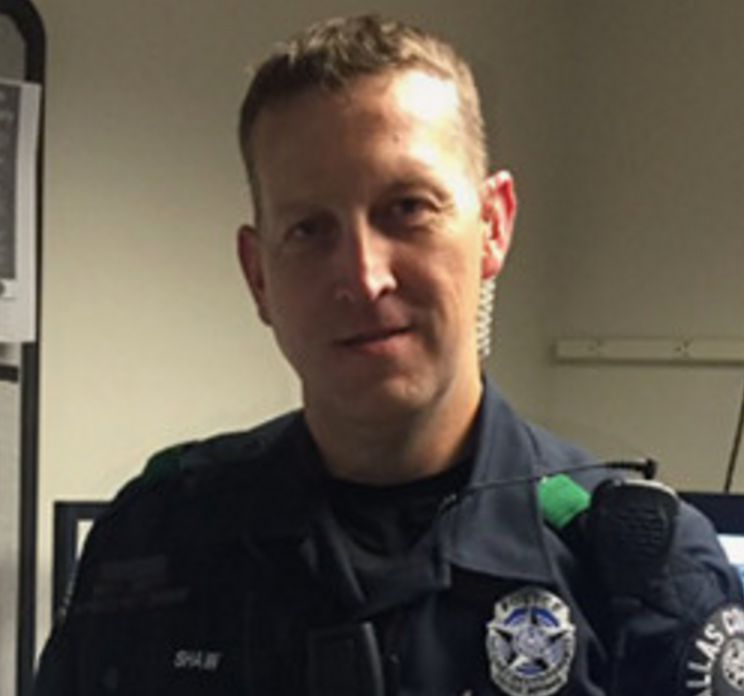 El Centro College police officer Corporal Bryan Shaw was shot when the suspect began shooting at glass doors to the entrance of the college. He was hit under his vest by one of the bullets as he guarded the entrance, the college said on its website.
"Shaw returned to protect other officers and civilians with bullet fragments still lodged in his stomach and was not examined by Emergency Medical Services personnel until 3 a.m.," the college said. "He will require surgery but is resting at home with his family."
John Abbott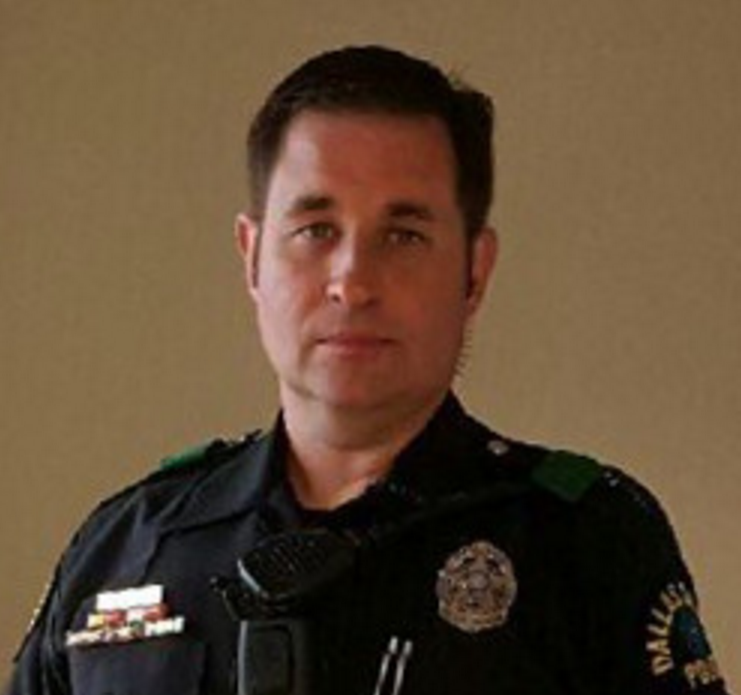 El Centro College police officer John Abott was injured in both his legs by glass that shattered after being struck by the suspect's bullets at the college's entrance.
Abbott, a U.S. navy corpsman and medic, first tried to save the life of injured DART officer Brent Thompson who died on the scene. Abbott then tended to his own lacerations from the broken glass before he returned to protect other officers and civilians, the college said. He is recovering at home with his family.