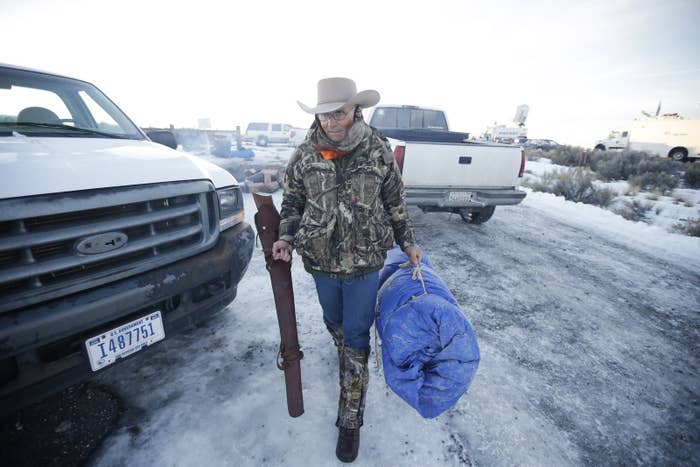 Authorities released video Thursday of the deadly police shooting of Robert "LaVoy" Finicum, a spokesman for the armed militia that took over an Oregon wildlife refuge and sparked a nearly month-long standoff.
Finicum, a 55-year-old rancher from Arizona, was among the group of militia leaders headed to the town of John Day Tuesday night for a community meeting when they were stopped by Oregon State Police and the FBI.

The video shot by plane shows authorities stopping a white truck and a Jeep along Highway 395. But after stopping for several minutes, the truck is seen speeding away from authorities along the road at a high rate of speed.
The truck, driven by Finicum, then heads toward a blockade set up by authorities, swerves at the last moment, and goes off the road and into the snow.
Finicum is seen getting out of the truck and putting his hands in the air at some point. But authorities say Finicum reached inside his jacket at least two times, where he was carrying a loaded 9 mm handgun.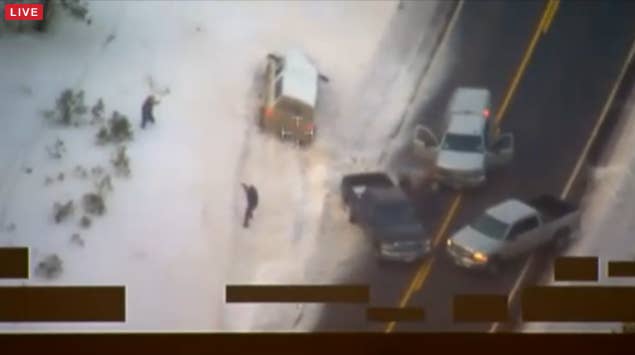 "At this time, OSP troopers shot Finicum," FBI Special Agent in Charge Greg Bretzing said during a Thursday press conference.
The Oregon State Police issued a short statement after the video was released, stating the department's policy on the use of force requires officers use deadly force only when the officer believes it would avoid death or serious injury to themselves or another person.
Though the investigation into the deadly shooting is still ongoing, Bretzing said the video was released to address statements that have been made on social media by supporters of the occupiers about the fatal shooting.
"We know there are various versions of what happened," he said. "Some of them inaccurate, many of them inflammatory."
On Facebook, supporters of the armed militia have called the shooting murder, and allege the rancher was turning himself in when he was shot.
Bretzing defended the actions of law enforcement, stating that FBI agents and state troopers involved in the stop issued multiple commands for the people in the vehicles to get out for several minutes.
At Finicum's first stop, agents issued commands for more than four minutes, he said, and they again called for him to surrender after driving toward the barricade.
"Law enforcement showed great restraint," he said. "It was a reckless action that resulted in consequences."