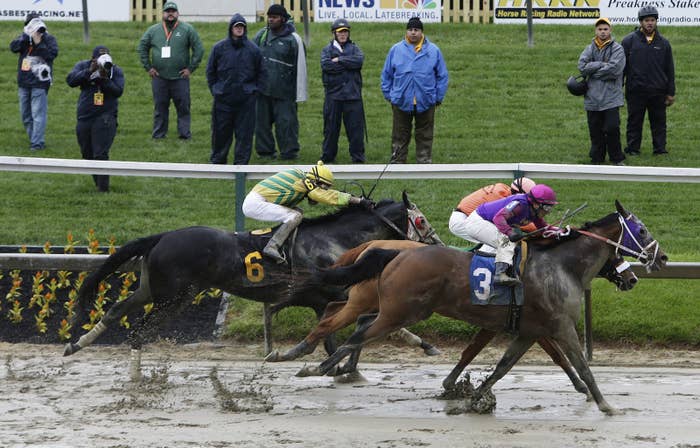 Two horses died at the Preakness races in Baltimore Saturday, casting a tragic shadow over what is otherwise usually a festive day at the annual event.
Homeboykris was the winner of the opening race at Pimlico Race Course, but he collapsed and died shortly after taking a victory picture, the Associated Press reported.
The 9-year-old horse had rallied from behind in the race to pull off a victory in the first contest of the day.
Then on the fourth race, Pramedya and her jockey, Daniel Centeno, took a fall during a turn.
Centeno was thrown into the turf and the 4-year-old filly broke her left front leg in the tumble, the AP reported. She was euthanized after her injury.
Centeno also broke his collarbone in the fall and was taken to a nearby hospital.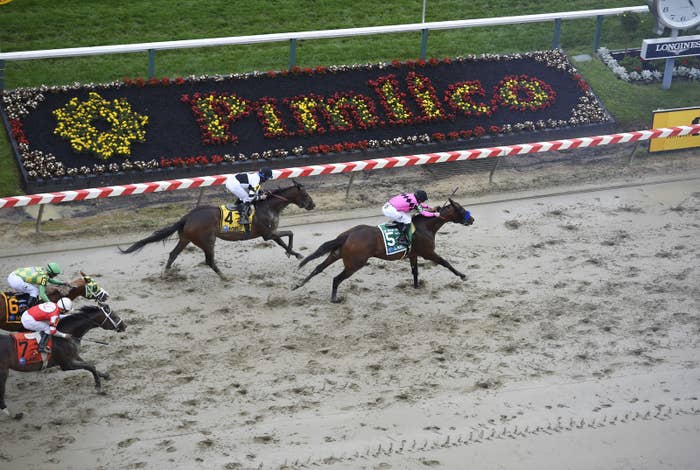 It was a rainy day in Baltimore Saturday, leaving a muddy track for the horses gunning for a win during the 14 races of the day.
Shortly after the deaths of the two horses, the People for the Ethical Treatment of Animals called for their owners to release the veterinary records of the animals to see what medications had been administered before the race.
According to PETA, many deadly breakdowns suffered by race horses occur when the horses have been heavily medicated before a competition, masking any possible illnesses or injuries that would keep them from being cleared for the race.
"It's still shocking when animals are pushed beyond their physical breaking points for the sake of human entertainment," the organization said in a statement.
Later Saturday, Exaggerator won the Preakness Stakes, ending Kentucky Derby winner Nyquist's bid for the Triple Crown.