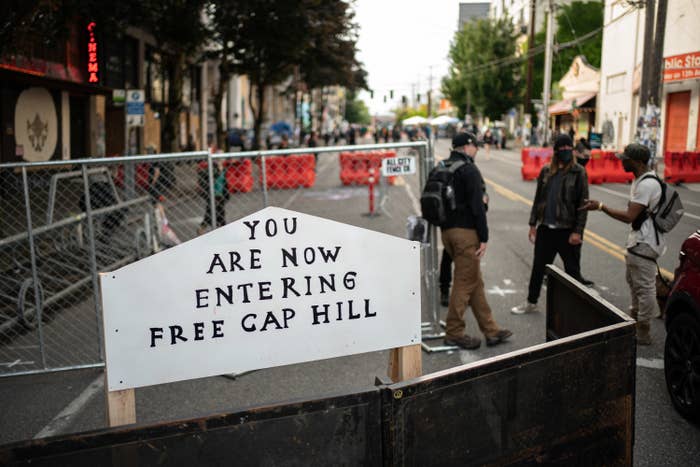 President Trump on Thursday threatened to "take back" Seattle as protesters occupy a six-block section of the city that they have dubbed the Capitol Hill Autonomous Zone.
"Take back your city NOW," Trump said on Twitter. "If you don't do it, I will. This is not a game. These ugly Anarchists must be stopped IMMEDIATELY. MOVE FAST!"
Trump called the protesters "domestic terrorists" and has continuously urged governors to "dominate" the streets and deploy the National Guard as protests and occasional looting have swept cities across the US over the killing of unarmed Black people by police.
But Washington Gov. Jay Inslee and Seattle Mayor Jenny Durkan have pushed back against the president, calling his messages "threats of military violence against Washingtonians."
As Trump blasted Seattle officials for their handling of protests, Durkan hit back on Twitter, telling the president, "Go back to your bunker," a reference to reports that Trump took shelter in the White House bunker as protests raged outside.
Inslee also urged the president to "stay out of Washington state's business."
The Twitter feud raged as officials in Seattle have been grappling with how to deal with protests that have at times turned violent, and a six-block area surrounding the Seattle Police East Precinct that has been taken over by protesters.
Criticized over their use of tear gas and rubber bullets, police officers abandoned the precinct. Protesters then took barricades to block off the area and called it the "Capitol Hill Autonomous Zone," or CHAZ.
For the past three days, the area has hosted marches, film screenings, and community councils amid demands to abolish the police department and youth jails, to drop charges against protesters, and that the federal government investigate officer brutality within the Seattle Police Department.
A website with a live feed into the occupied zone was also created, proclaiming "You are now leaving the USA," and "Welcome to free capitol."
The group also claims to have to leadership structure.
In a tweet, Inslee pointed out that the area is "largely peaceful," and that local leaders were working toward a peaceful resolution, rebuffing Trump's threats to intervene.
"The U.S. military serves to protect Americans, not the fragility of an insecure president," he tweeted.
But Seattle police officials have also been critical of the city's decision to abandon the department's East Precinct on June 8, calling it "an insult to you [officers] and the community."
"Leaving the precinct was not my decision," Police Chief Carmen Best said in the address. "Ultimately the city had other plans and relented to severe public pressure."
Best said the department had heard reports of armed people patrolling the area and allegedly demanding payment from business owners for protection.
"We also heard that they may be demanding to see identification from people who live in the area," she said. "This is not legal and we're asking anyone who may be experiencing this to come forward and file a police report so we may investigate the crimes."
On the CHAZ website, the rumors of armored checkpoints and "extortion rings" are denied by the group.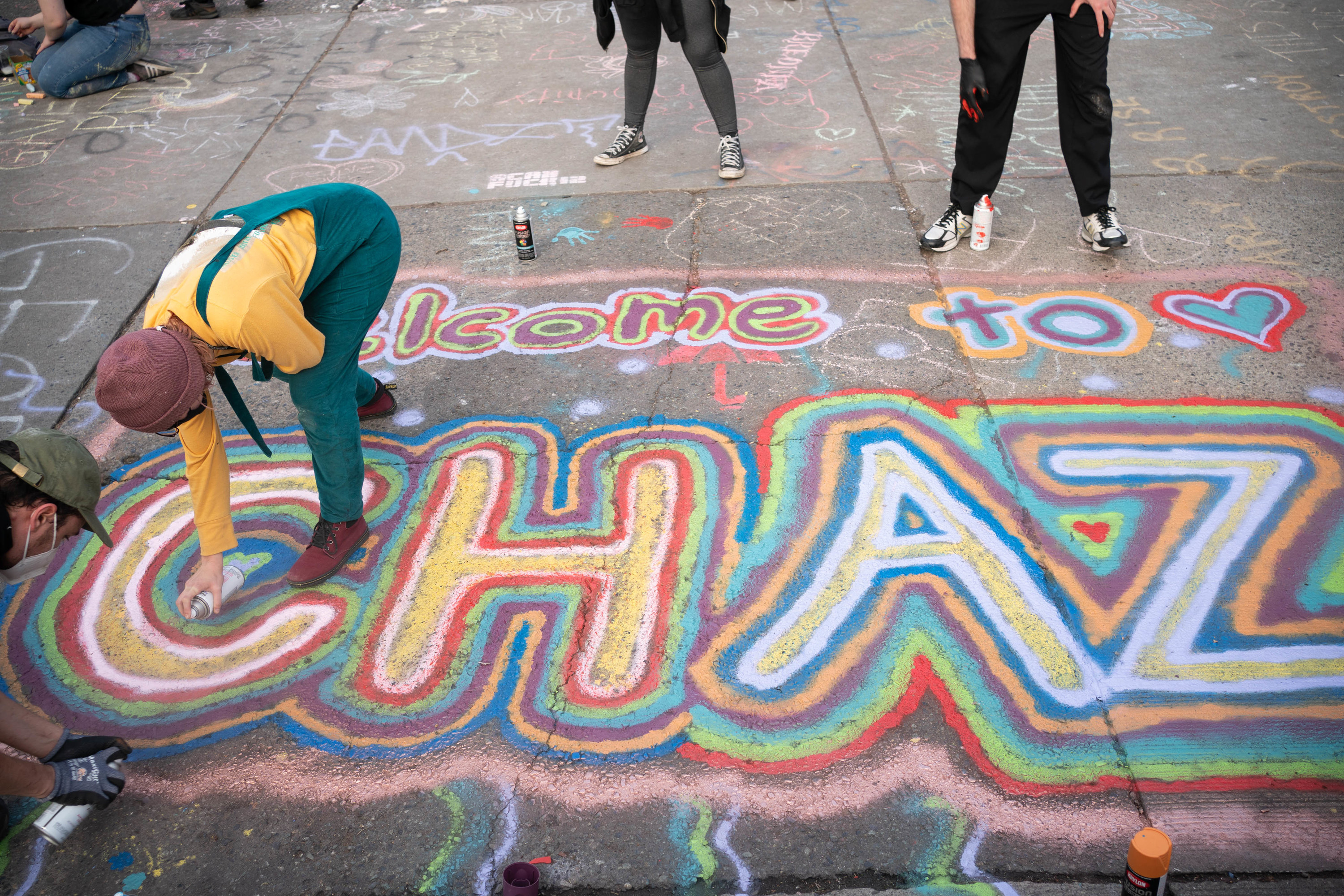 The Seattle Times reported seeing members of the community giving away free snacks at the "No-Cop Co-op" and gas masks being handed out from a resident's car.
In a televised address to the city, Durkan appeared to defend the protesters who had taken over the area, saying that the area of Capitol Hill has been "autonomous my whole life, and anyone who knows and loves Capitol Hill knows that."
"Clearly, unfortunately, our president wants to tell a story about domestic terrorists who have a radical agenda and are promoting a conspiracy that fits in his law-and-order initiatives," she said. "It's simply not true."
Durkan added that she been fighting to counter the rumors fueled by Trump's rhetoric.
"Lawfully gathering and expressing First Amendment rights, demanding we do better as a society, and demanding true equality for communities of color is not terrorism," she said. "It's patriotism."