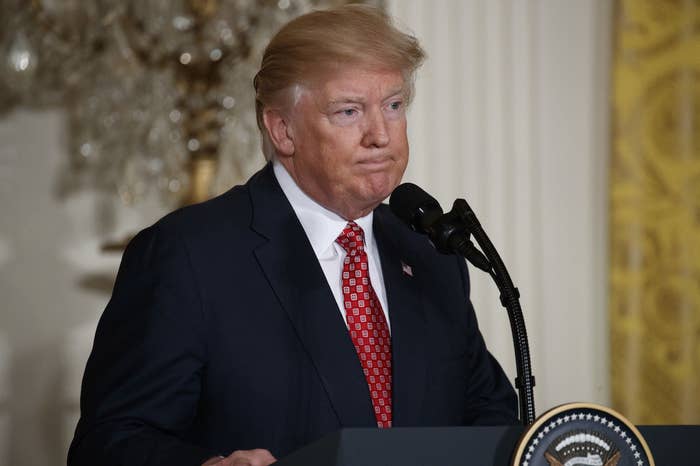 President Donald Trump again claimed there was widespread voter fraud during the November election, this time telling senators "thousands" of people were bussed in from Massachusetts to vote in New Hampshire.
Trump made the unsubstantiated claims in a closed-door meeting with 10 senators Thursday to discuss his Supreme Court nomination, Neil Gorsuch, Politico reported. Instead, Trump began talking about the election in New Hampshire, which both he and former Sen. Kelly Ayotte lost in November, costing him four electoral votes and Ayotte's seat in the Senate.
Trump blamed "thousands" of people who were "brought in on buses" from Massachusetts to vote illegally in New Hampshire during the meeting, which was also reported by the Associated Press.
Officials at New Hampshire's secretary of state office, US Attorney's Office, and Massachusetts' attorney general's office told BuzzFeed News there was no evidence to support the president's claim.
"We have not seen any evidence of busloads of out-of-state voters coming across the border to vote in New Hampshire elections," David Scanlan, deputy secretary of state for New Hampshire, said.
The president's unsubstantiated claims of voter fraud also sparked a member of the Federal Election Commission to ask the president to present his evidence to the public.
"The scheme the President of the United States alleges would constitute thousands of felony criminal offenses under New Hampshire law," FEC Commissioner Ellen L. Weintraub said in the statement. "The president has issued an extraordinarily serious and specific charge. Allegations of this magnitude cannot be ignored."
Days after being sworn into office, Trump floated the idea of launching a federal investigation into the widespread claims of voter fraud, which he has alleged involved thousands of people "who are illegal."
A study cited by White House press secretary Sean Spicer as evidence of possible widespread voter fraud was also found to be from a debunked study.
Since then, the president appears to have abandoned his plans for an investigation.
After winning the election, Trump continued to make unsupported claims of widespread voter fraud in the presidential election, which he blames for losing the popular vote.

One participant of the meeting Thursday told Politico "an uncomfortable silence" occurred after Trump made the voter fraud comments.

Politico reported Trump also told Ayotte, who is now working for his administration as a liaison for Gorsuch's nomination, that she would have won "if you'd been on my train."

Trump's claim of voter fraud was similar to allegations made by Scott Brown, who lost a New Hampshire 2014 senate race and also blamed people being transported in from Massachusetts.
The attorney general's office for Massachusetts told BuzzFeed News that it had not received any complaints of voter fraud committed during the 2014 or 2016 elections.