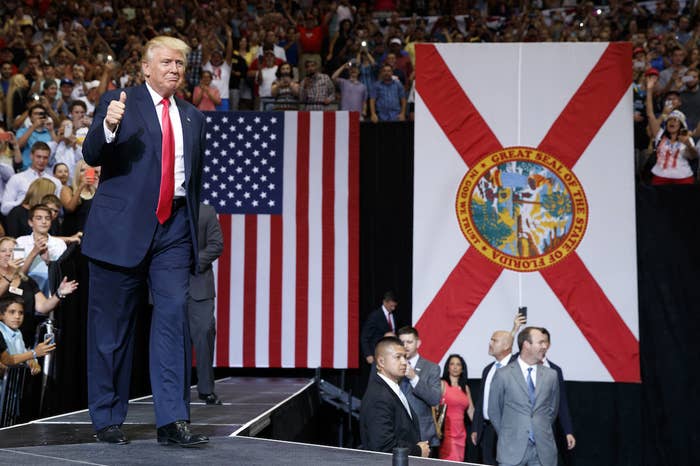 Days after his criticism of the family of a fallen Muslim-American soldier ignited outrage and prompted Republican leaders to distance themselves from the presidential nominee, Donald Trump said Wednesday he met with six Gold Star medal recipient families in Florida.
"Just a little while ago I met with the Gold Star families, six families," Trump said at a rally in Jacksonville. "Some really amazing Gold Star families."
Trump then called out to the families in the crowd as if to point them out, but no one stood out or walked up to the stage. They are "incredible people," said.
The identities of the individuals Trump met with were not known. A spokesperson for the campaign did not immediately return a BuzzFeed News request for information.
The meetings came after the Republican nominee faced days of withering criticism for comments he made about the parents of Capt. Humayun Khan, a US soldier killed in Iraq in 2004. Khan's father, Khizr Khan, spoke at the Democratic National Convention and challenged Trump to read the Constitution after slamming his proposal to ban Muslims from entering the US.
"You have sacrificed nothing and no one," Khizr Khan said.
Responding to the speech, Trump said in an interview with ABC News that he's, "made a lot of sacrifices. I work very, very hard."
Trump also suggested Khan's wife was not allowed to speak because the couple is Muslim, and that it was the candidate's position on keeping terrorists out of the country that bothered Khan.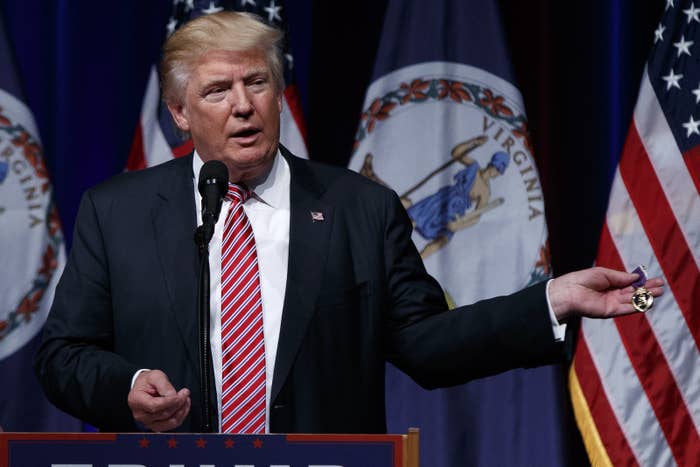 Rather than rallying behind the Republican nominee in the dispute, several party leaders backed the Khan family, including Republican party Chairman Reince Priebus, who said Gold Star families should be "off limits."
Trump's campaign has been playing defense over his responses to the Khans. On Tuesday, Trump said he was gifted a Purple Heart medal by a veteran who told him, "You're the one to lead this country, I want you to have it."
He's repeated the story during campaign stops since, showing the medal to crowds at rallies Wednesday in Florida.
While Trump didn't offer any details about his meeting with the Gold Star families in Jacksonville, he said, "the love in that room was so incredible."