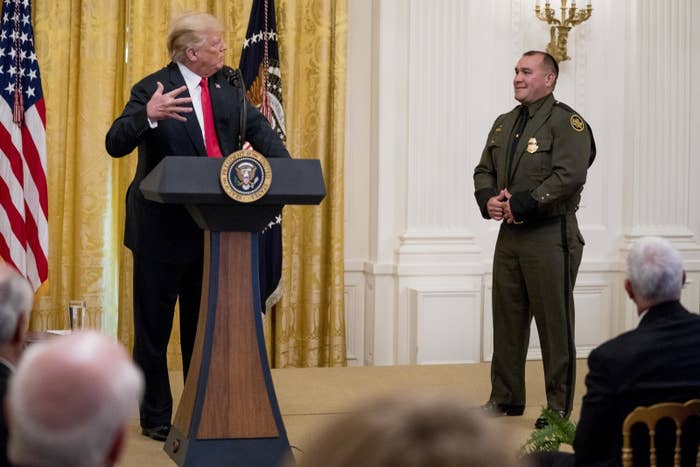 In an event to honor federal immigration agents Monday, President Trump asked a Latino border patrol officer to say a few words at the podium and commented about how he "speaks perfect English."
"Adrian, come here I want to ask you a question," Trump said, in what appeared to be an impromptu invitation to US Customs and Border Protection (CPB) agent Adrian Anzaldua.
Anzaldua was one of a handful of agents recognized for their work at the border Monday.
"You're not nervous, right?" Trump said to laughter from the room. "Speaks perfect English."
Anzaldua then shook Trump's hand after being recognized for discovering 78 undocumented immigrants locked inside a trailer at the Laredo, Texas, checkpoint.
It's not clear why the president made the comment as Anzaldua walked up to the podium, and the White House did not respond to a request for comment.

Anzaldua declined to comment to BuzzFeed News about the president's remark, but Hector Garza, vice president of the National Border Patrol Council, said Anzaldua was not offended by the remark, and that it was a shame to see his work and recognition overshadowed by it.
"It's a shame that the media would twist these heroic actions conducted by Agent Anzaldua," Garza said. "The attention should be on Anzaldua saving people from dying, and the fact that there is a crisis at the border."
Garza said Trump has sat down with the agents to discuss the situation at the US-Mexico border and was the first presidential candidate endorsed by the agents' union.
"[Anzaldua] was very honored that he was recognized by President Trump," Garza said. "He was not offended, and he did not feel anything negative from President Trump."
Garza said he has previously met with Trump as a candidate and as president, and that, "nothing in his behavior has indicated that he would mean anything negative about [Anzaldua.]"
The Trump administration organized the event at a time when the administration continues to face intense criticism over its immigration policies, including the separation of families at the border. A judge has ordered the administration to reunify those families.
The event took place in the face of increased scrutiny of CBP and Immigration and Customs Enforcement (ICE) as immigration officials have ramped up detentions and deportations.
Some Democrats have also called for either doing way with ICE as a deportation agency or reorganizing the immigration agencies, which Trump took issue with Monday.
"We have a little opposition called the Democrats," Trump said from the podium. "I guess they just don't mind crime."