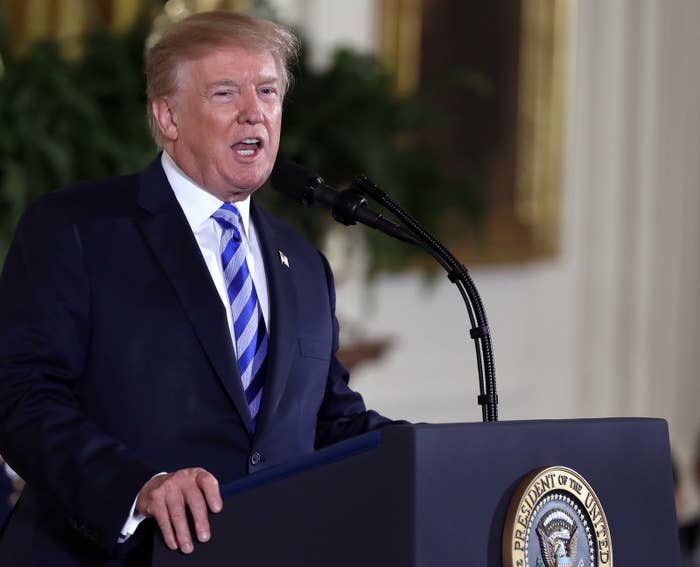 President Trump directed the Department of Justice on Tuesday to look at crafting regulations that would ban gun accessories that "turn legal weapons into machine guns," including the so-called bump stocks used in the Las Vegas mass shooting.
Trump's announcement comes as the White House is facing increased pressure after the Florida school shooting at Marjory Stoneman Douglas High School, where 17 people were killed. The mass shooting has once again reignited the national debate surrounding gun control.
"We must do more to protect our children," Trump said in the East Room of the White House before issuing Public Safety Medal of Valor awards. "I signed a memorandum directing the attorney general to propose regulation to ban all devices that turn legal weapons into machine guns. I expect that these critical regulations will be finalized very soon."
Trump's comments seem to allude to the Bureau of Alcohol, Tobacco, Firearms and Explosives and DOJ's review of what constitutes a "machine gun," and whether the bump stocks — which don't change the mechanism of a rifle but still make them fire like a machine gun — should fall under that definition.
"We cannot merely take actions that make us feel like we are making a difference," Trump said. "We must actually make a difference. We must move beyond clichés and debate."

"The Department understands this is a priority for the President and has acted quickly to move through the rulemaking process," Sarah Isgur Flores, spokesperson for the DOJ, told BuzzFeed News. "We look forward to the results of that process as soon as it is duly completed."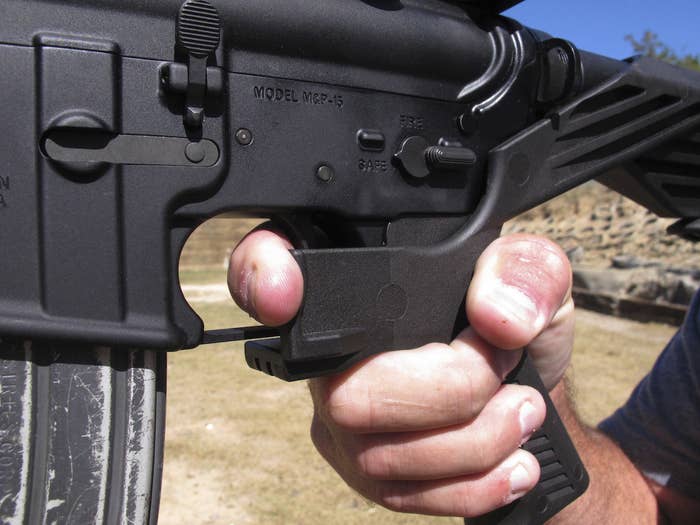 On Dec. 26, the ATF and DOJ asked for public input about possibly changing the ATF's definition of machine guns, the sale of which has been severely restricted since 1986.
Bump stocks came into the national discussion after the Oct. 1, 2017, mass shooting in Las Vegas, where the gunman altered several of his rifles in order to enable his weapons to fire like machine guns.
The stocks use the momentum of the rifles in order to pull the trigger repeatedly, simulating the rapid fire of a machine gun. Nevertheless, when manufacturers of the stocks asked the ATF to review their product, the federal agency determined that the stocks did not alter the weapon in a way that would fall under its definition of a machine gun, making them legal to sell.
Sen. Dianne Feinstein, however, said in a statement, "The ATF currently lacks authority under the law to ban bump stocks," pointing to the agency's prior statements. "If ATF tries to ban these devices after admitting repeatedly that it lacks the authority to do so, that process could be tied up in court for years, and that would mean bump stocks would continue to be sold. Legislation is the only answer."
Feinstein said that legislation proposed to ban bump stocks is the only real option: "If you want these devices off the street, call congressional Republicans and tell them to stop blocking our bill."
Here is President Trump's full memorandum: