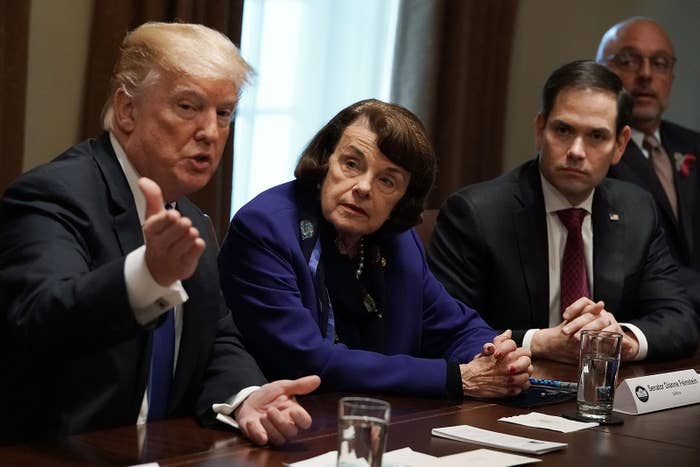 President Trump on Wednesday told members of Congress during a televised White House meeting that conservative lawmakers are afraid of the NRA and expressed support for confiscating guns from people suspected of being dangerous before legal proceedings can take place.
In the meeting with congressional Republicans and Democrats, Trump argued there should be more guns in the hands of trained people — he said "gun-free zones" need to be abolished — while airing ideas that stunned conservative lawmakers. Among them, Trump suggested authorities should "take the guns immediately from people that you could judge immediately they are mentally ill."
Trump referenced the Florida school shooter, who killed 17 students and faculty earlier this month, and blamed police for not disarming him beforehand.

"I think they should have taken [the guns] away immediately, whether they had the right or not," he said.
Completely unscripted during the televised discussion, Trump at times also suggested avoiding or ignoring the constitutional right to due process.
In one exchange, Vice President Mike Pence referenced a California law that requires those under restraining orders to turn over firearms or weapons in their possession.
"The focus is to literally give families and give local law enforcement additional tools if an individual is reported to be a potential danger to themselves or others," Pence said. "Allow due process so no one's rights are trampled, but the ability to go to court, obtain an order and then collect not only the firearms, but any weapons."
Trump interjected.
"Or take the guns first, go through due process second," he said. "A lot of times by the time you go to court, it takes so long to go to court, to get the due process procedures. I like taking the guns early."
Throughout the meeting, it was clear that emotions were running high. At one point, Democratic Sen. Dianne Feinstein of California looked absolutely giddy when Trump suggested adding an assault weapons ban to legislation. In another moment, Republican Sen. Chuck Grassley hung his head in seeming disbelief during a rant about how Hollywood depictions of violence are to blame.

Trump then asked Pennsylvania Sen. Pat Toomey, a fellow Republican, if his proposed bill included a provision to raise the minimum age to purchase an AR-15 rifle — the weapon used in the Florida school shooting — from 18 to 21.
"We didn't address it," Toomey said.
"You know why, because you're afraid of the NRA," Trump said, following his statement with laughter. "It's a big issue. A lot of people are talking about it."
Trump, who casually mentioned having lunch on Sunday with NRA President Wayne LaPierre, continued to suggest the gun-rights group held power over legislators.

"They have great power over you people," Trump said. "They have less power over me."
Repeatedly he slammed legislators and the NRA's influence over them.
"Some of you people are petrified of the NRA," the president, who has often touted the NRA's endorsement of his presidential campaign, said. "You can't be petrified. They want to do what's right."
The roundtable with legislators comes as the president faces pressure to take action after the school shooting on Feb. 14, during which a former student opened fire with an AR-15 rifle and killed 17 people.
Asked about the roundtable discussion with the president, a spokeswoman for the National Rifle Association said the organization supports securing schools and efforts to "keep firearms out of the reach of the hands of those who are a danger to themselves or others."
The NRA did not address specific questions about Trump's suggestion to circumvent due process to seize weapons of people who are mentally ill, or his assertion that lawmakers were afraid of the gun-lobbying group.
"We will continue to support legislative efforts to make our schools and communities safe and oppose gun control schemes that cannot keep us safe and only punish law-abiding Americans," Jennifer Baker, spokeswoman for the NRA, told BuzzFeed News in a statement.
The meeting was similar to another televised gathering with lawmakers where Trump met with legislators in front of reporters about Deferred Action for Childhood Arrivals, also known as DACA, making suggestions about bills with both Republicans and Democrats.
But since that January meeting, no legislation or action has been taken on DACA.
Trump has repeatedly expressed support for arming schoolteachers and provisions that would prompt law enforcement to act on "red flags."
He also criticized gun-free zones in public spaces Wednesday, suggesting they should be eliminated.
"They are the most dangerous places, gun-free zones," Trump said.
Trump also said he would take executive action to ban bump stocks, a device that enables semi-automatic rifles to fire like automatic weapons and was used during the shooting last year that left 59 people dead in Las Vegas.
"I'm going to write the bump stocks, essentially, out," he said.
The meeting caused a scattered reaction among Senate Republicans. Several declined to answer media questions about their reaction to the meeting.
Toomey said the meeting gave him an emboldened sense that his universal background check bill could become law, and said several Republicans who previously voted against his bill have told him they are reconsidering it.
"Today I saw a president who felt very strongly on this, and that can make a big difference," he said.
But others tried to pour cold water on the bill. Florida Sen. Marco Rubio said he would not vote for universal background checks, despite the president's endorsement. Senate Majority Whip John Cornyn said he believes Congress should focus on a narrower bill that does not expand background checks but does improve the national criminal background registry. Asked if he feared momentum was building for universal background checks, Texas Sen. Ted Cruz said, simply, "no."
But other Republicans seemed less sure. Several said they would have to reread the five-year-old bill before taking a formal position.
Democrats, meanwhile, expressed some optimism laced with a heavy dose of skepticism. They noted Trump initially called for a bipartisan immigration bill before turning around and tanking just such a bill. Several senators said the real test will be whether Trump sticks to his Wednesday positions. "I wouldn't bet the farm on it," said Democratic whip Dick Durbin.