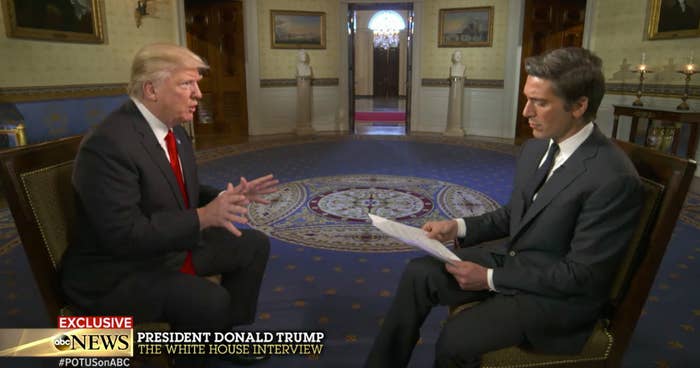 Donald Trump falsely claimed during his first major interview as president that two people were shot and killed in Chicago during former President Barack Obama's farewell speech.
"Look, when President Obama was there two weeks ago making a speech, a very nice speech. Two people were shot and killed during his speech," Trump told ABC News' David Muir. "You can't have that."
The president was referring to Obama's farewell speech on Jan. 10 in Chicago's McCormick Place.
"They weren't shot at the speech. But they were shot in the city of Chicago during his speech," Trump said during the interview, which aired Wednesday night. "What--what's going on?"
Trump was at the time answering a question about a tweet where he said he would "send in the feds" if crime was not reduced in the city. He said the federal government could provide help to the city, which he described as "carnage" and being "like a war zone."
"I want them to straighten out the problem," Trump said. "It's a big problem."
Chicago Police, however, told BuzzFeed News there were no fatal shootings in the city on Jan. 10, the day the former president gave the speech.
A police record of shootings in the city that day provided to BuzzFeed News also shows no shootings from about 8 to 9 p.m. while Obama spoke. According to the records, five shootings were reported in Chicago on the day of Obama's visit, but none of the victims were fatally wounded.
Trump's interview with Muir was his first as president since being sworn into office. His comments about a deadly shooting in Chicago, for which there is no record of, was made during a portion of the interview that was not aired Wednesday night.
ABC, however, posted the full transcript of its interview with Trump.
The White House did not immediately respond to a request for comment Thursday.